MAKE YOUR FREE

Disciplinary Letter
Other Names:
Warning Letter
Employee Warning Letter
Written Warning
Notice of Disciplinary Action
Employee Letter
Formal Reprimand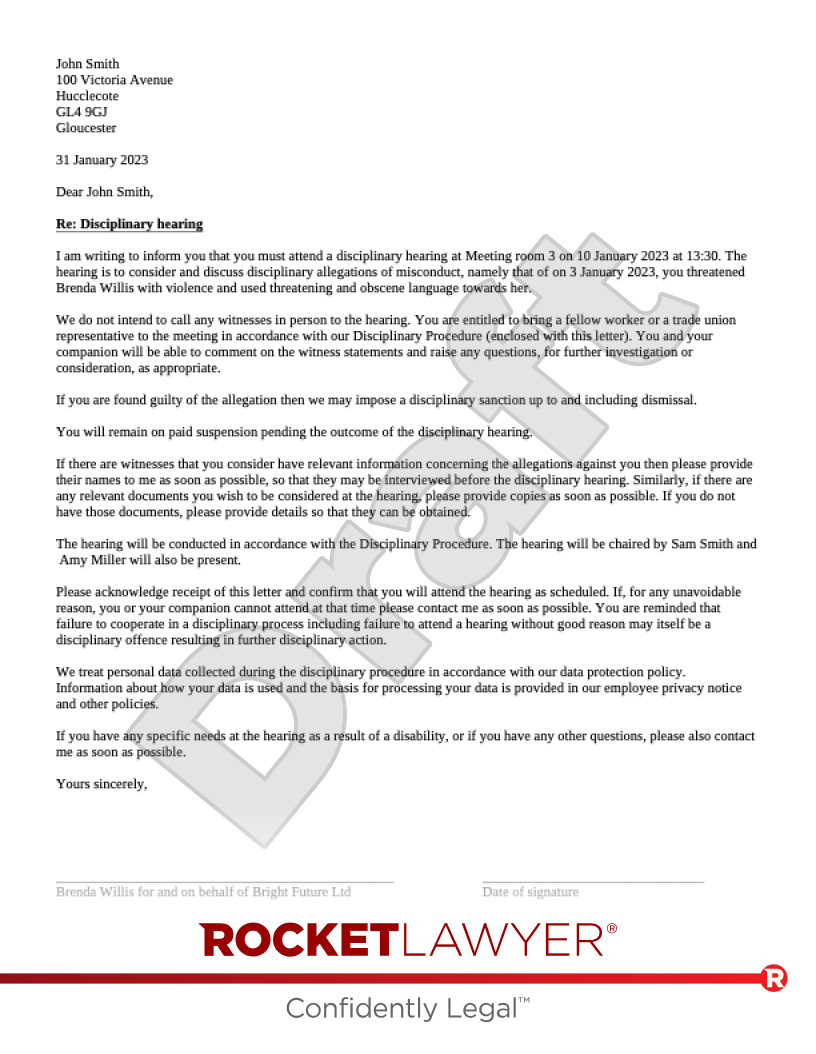 What is a Disciplinary Letter?
A Disciplinary Letter is a formal letter to an employee informing them about the relevant steps of a formal disciplinary process. Disciplinary Letters should be used by employers to help ensure that they follow fair and clear disciplinary processes.
This document is GDPR compliant.
When should I use a Disciplinary Letter?
Use this Disciplinary Letter:
if you engage staff members in England, Wales or Scotland

to invite a staff member to a disciplinary hearing for gross misconduct, misconduct or poor performance

to inform a staff member about the outcome of a disciplinary hearing for gross misconduct, misconduct or poor performance

to invite a staff member to a disciplinary appeal hearing

to inform a staff member about the outcome of a disciplinary appeal hearing for gross misconduct, misconduct, or poor performance
Sample Disciplinary Letter
The terms in your document will update based on the information you provide
These documents have been customised over 28.5K times
Documents and communicates
Ask a lawyer questions about your document
Sign this document online for free with RocketSign®
About Disciplinary Letters
Learn more about making your Disciplinary Letter
How to make a Disciplinary Letter

Making a Disciplinary Letter online is simple. Just answer a few questions and Rocket Lawyer will build your document for you. When you have all of the details prepared in advance, making your document is a quick and easy process.

Which information you need to make your Disciplinary Letter will depend on the document in question. However, the types of questions you may be asked include:

Employer and employee details

What are the employer's details (eg the employer's legal structure and name)?

What are the employee's name and address?

Hearing details

What is the nature of the allegation against the employee?

What are the details of the disciplinary or appeal hearing?

Letter details

On what date will the Disciplinary Letter be sent to the employee?

Common terms in a Disciplinary Letter

Disciplinary Letters are used by employers as part of their workplace disciplinary process. While the terms of Disciplinary Letters vary, depending on the document in question, examples of common provisions include:

Sender and recipient details

The Disciplinary Letter starts by setting out the details of the employer and the employee.

The body of the Letter

The body of the Disciplinary Letter provides details relating to the disciplinary process. This includes information about the employee's alleged conduct, the disciplinary hearing, (potential) outcomes of the disciplinary hearing and details relating to disciplinary appeals.

If you want your Disciplinary Letter to include further or more detailed provisions, you can edit your document. However, if you do this, you may want a lawyer to review or change the Disciplinary Letter for you to ensure it complies with all relevant laws and meets your specific needs. Ask a lawyer for assistance.

Legal tips for making a Disciplinary Letter

Adopt the relevant workplace policies and procedures

As an employer, it is fundamental that you treat your staff members fairly, transparently and equally. To facilitate this, you should adopt certain employment policies to ensure you have the relevant written processes in place. With regard to disciplinary matters, the most important policies to make are a Disciplinary procedure, setting out how you handle all disciplinary issues and a Grievance procedure, setting out how employees can raise workplace grievances and appeals.

For more information on the different types of workplace policies you should consider implementing, read HR policies and procedures.

Remember to always follow a fair, clear and transparent disciplinary process

You must follow a fair, clear and transparent disciplinary process when addressing disciplinary matters. Make sure to follow all existing and relevant documentation (eg workplace policies and employment contracts). While the details of a disciplinary process differ depending on the specifics of a given situation, your disciplinary process should typically include:

carefully and thoroughly investigating the facts of the situation

speaking to all relevant parties (eg the employee in question and any witnesses)

holding disciplinary hearings to discuss the details of the situation

informing the employee of the hearing's outcome in a timely and clear manner

allowing disciplinary appeals

For more information, read Disciplinary process and How to run a disciplinary hearing.

Understand when to seek advice from a lawyer

Ask a lawyer if:

you have employees based outside England, Wales and Scotland

you're unsure which Disciplinary Letter to use

you have questions about the disciplinary process

these Disciplinary Letters don't meet your needs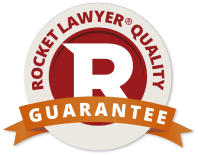 Our quality guarantee
We guarantee our service is safe and secure, and that properly signed Rocket Lawyer documents are legally enforceable under UK laws.
Need help? No problem!
Ask a question for free or get affordable legal advice from our lawyer.
Disciplinary Letter checklist
Complete your Disciplinary Letter with our Make it Legal™ checklist