MAKE YOUR FREE

Grievance Procedure
Other Names:
Grievance Policy
Grievance Process
Workplace Complaints Procedure
Grievance Policy and Procedure
Complaints Procedure
Workplace Grievance Procedure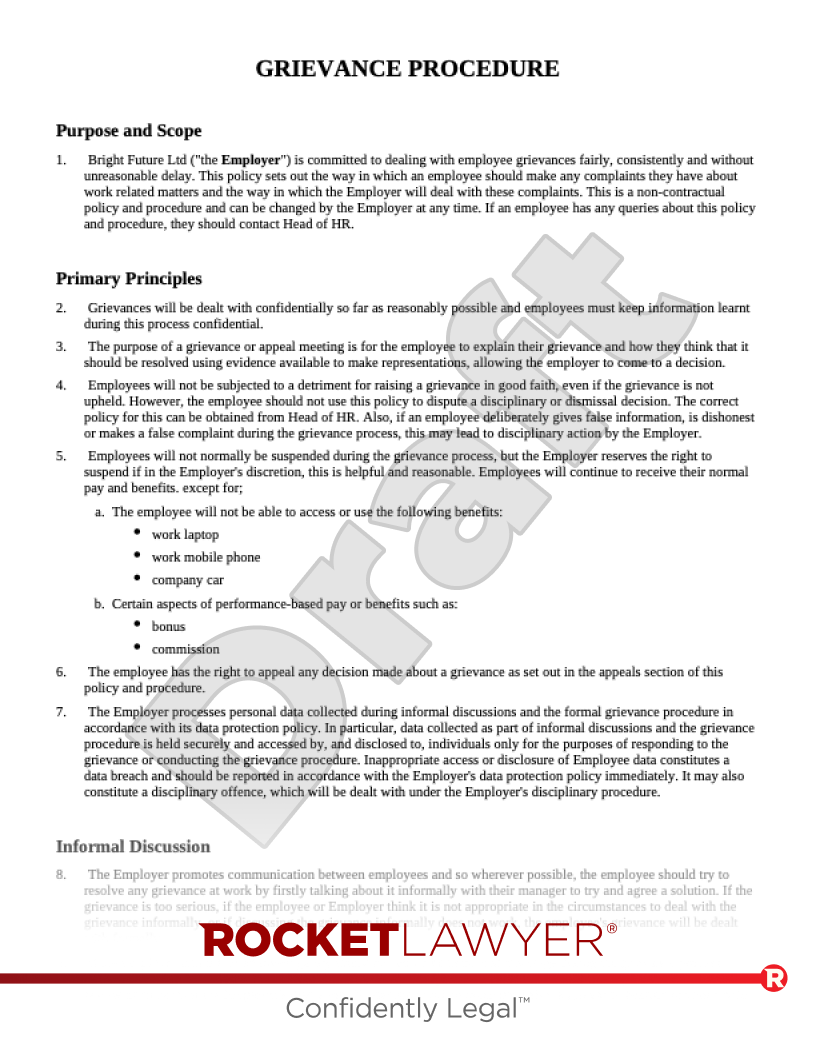 What is a Grievance Procedure?
Any problems, issues or concerns that employees encounter in the workplace are referred to as grievances. A Grievance Procedure sets out the steps employers and employees should take to address grievances. Grievance Procedures ensure that workplace grievances are handled in a consistent and appropriate manner.
This document is GDPR compliant.
When should I use a Grievance Procedure?
Use this Grievance Procedure:
to comply with the legal requirement to provide employees with information about how grievances will be dealt with
to help managers understand how to deal with grievances correctly and lawfully
only for employees based in England, Wales or Scotland
Sample Grievance Procedure
The terms in your document will update based on the information you provide
This document has been customised over 19.9K times
Documents and communicates
Ask a lawyer questions about your document
About Grievance Procedures
Learn more about making your Grievance Procedure
How to make a Grievance Procedure

Making a Grievance Procedure online is simple. Just answer a few questions and Rocket Lawyer will build your document for you. When you have all of the details prepared in advance, making your document is a quick and easy process.

To make your Grievance Procedure you will need the following information:

Employer details

What is the employer's name?

What is the job title of the person whom employees should contact about grievance matters?

Suspension

What benefits in kind will an employee be unable to access during a period of suspension?

What aspects of pay may be directly or indirectly reduced by an employee's suspension?

Common terms in a Grievance Procedure

Grievance Procedures outline the steps employers and employees must adhere to when addressing employee grievances. Typically, provisions of a Grievance Procedure include:

Purpose and scope

This section provides a brief overview of the Grievance Procedure and why it is being adopted. It also highlights the fact that the Grievance Procedure is a non-contractual policy which can be changed by the employer at their discretion.

Primary principles

This section outlines the main principles of the Grievance Procedure and how grievances are handled in the workplace, including the right to appeal. It also clarifies that employees will not be negatively affected for raising a grievance in good faith, even if the grievance is not upheld.

The section on primary principles also explains that employees will not typically be suspended during the grievance process. However, the employer may suspend employees where such a suspension is helpful and reasonable. This Grievance Procedure sets out which workplace benefits and performance-based payments will be available to employees during periods of suspension.

Informal discussion

This section sets out that the employer encourages open and honest communication between employees and that, as a first point of call, attempts should be made to resolve all matters informally.

Formal procedure

This section sets out the different stages involved in the formal grievance process. These include:

stage 1 - statement of grievance - detailing how an employee should formally raise a grievance

stage 2 - grievance meeting - detailing the steps involved in the formal grievance meeting (eg within how many days a meeting must be called and how a grievance meeting will be run)

stage 3 - appeal - detailing how an employee can appeal a decision reached as part of the grievance process

If you want your Grievance Procedure to include further or more detailed provisions, you can edit your document. However, if you do this, you may want a lawyer to review or change the Grievance Procedure for you, to make sure it complies with all relevant laws and meets your specific needs. Ask a lawyer for assistance.

Legal tips for making a Grievance Procedure

Make sure to act as soon as possible if you receive a grievance

It is always important to address all workplace issues as soon as possible as this can help you save time and money in the long run. If you receive a formal written grievance you should arrange a meeting as soon as possible and, in accordance with this Grievance Procedure, within 5 working days. Read Employee grievances and raising grievances for more information.

Be aware of your data protection obligations

Under the UK General Data Protection Regulation (GDPR) and Data Protection Act 2018, staff members have certain data protection rights. These include the right to make subject access requests to find out more about the personal data (eg their name or address) that their employer is processing (eg handling). This includes any data being processed in relation to grievances - especially if the grievance relates to discrimination or harassment.

For more information, read Data protection and employees.

Consider what other policies to adopt

Adopting and implementing a clear Grievance Procedure is important in building a good relationship with your workforce. Other policies you may consider adopting to foster a positive working environment include:

For more information on the different types of policies you may wish to adopt, read HR policies and procedures.

Understand when to seek advice from a lawyer

if this document doesn't meet your specific needs

for advice on employees based outside England, Wales or Scotland
Grievance Procedure FAQs
What is included in a Grievance Procedure?

This Grievance Procedure template covers:

the Procedure's aims

the stages of a grievance process

procedural safeguards which will be applied to ensure all grievance processes are fair

the role of the employee's companion at a grievance hearing

the non-contractual status of the Procedure and the employer's right to vary it

who the employee should contact in the first instance (eg their line manager) about a grievance and how they should be contacted

who the employee should talk to if this first point of contact is the subject of their grievance (eg if their line manager is bullying them)

what happens if the problem cannot be resolved informally

how to appeal the decision of a Grievance Procedure

what happens if the grievance is raised in the course of a disciplinary action

Why do I need a Grievance Procedure?

All employers are legally obliged to provide at least a minimal Grievance Procedure to all employees. This should state who should be contacted about a grievance and how, even if this is just included as part of their written statement of employment.

A more comprehensive Grievance Procedure not only helps employees understand how and when to raise a grievance but also ensures that managers handle grievances properly and in line with the Acas Code of Practice on disciplinary and grievance procedures.

What is the Acas Code of Practice on disciplinary and grievance procedures?

The Acas Code of Practice on disciplinary and grievance procedures outlines the minimum requirements an employer should comply with when handling disciplinary issues or grievances in the workplace. In other words, the Acas Code sets out minimum standards for handling grievances which should be reflected by the employer's Grievance Procedure. Employers who fall foul of the Code can be subject to an increase of 25% in any award (ie compensation for an employee) imposed by an employment tribunal.

By implementing a clear Grievance Procedure, you show your staff that you are a responsible employer with a transparent and fair process for dealing with workplace grievances. Every good employer knows that trust and confidence are a two-way street and that this is helped by having a proper process in place for handling grievances.

Who can accompany an employee at a grievance meeting?

Workers have a right to be accompanied at any grievance hearing by:

one of the worker's colleagues

a trade union official, or

an experienced workplace trade union representative

Although the companion does not have the right to answer on the worker's behalf, they can address the meeting, confer with the worker and respond to views expressed at the hearing.

Who should an employee contact about a grievance matter?

In the first instance, employees should normally talk to their line manager if they have any workplace concerns or complaints. However, sometimes it may be more appropriate to contact a more senior manager or the HR manager (eg if the line manager is the subject of the grievance). If an informal conversation fails to satisfactorily address the issue at hand, a formal grievance should be raised with the line manager, HR manager or someone more senior.

Can you suspend an employee during a Grievance Procedure?

Can employees appeal decisions under a Grievance Procedure?

Following a grievance meeting, an employer must write to the employee who raised the grievance, setting out their decision as well as the reasons behind it. They should also specify the appeals process and deadline. All employees are entitled to appeal the outcome of an initial grievance hearing.

Although the process of the appeal hearing is generally the same as the initial hearing, any new evidence should be considered, as well as the reasoning behind the appeal. If possible, an appeal hearing should not be heard by the same person who conducted the initial grievance hearing.

For more information, read Appealing decisions made by employers.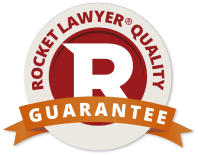 Our quality guarantee
We guarantee our service is safe and secure, and that properly signed Rocket Lawyer documents are legally enforceable under UK laws.
Need help? No problem!
Ask a question for free or get affordable legal advice from our lawyer.
Grievance Procedure checklist
Complete your Grievance Procedure with our Make it Legal™ checklist