MAKE YOUR FREE

Disciplinary Procedure
Other Names:
Disciplinary Process
Disciplinary Policy
Disciplinary Policy and Procedure
Workplace Disciplinary Procedure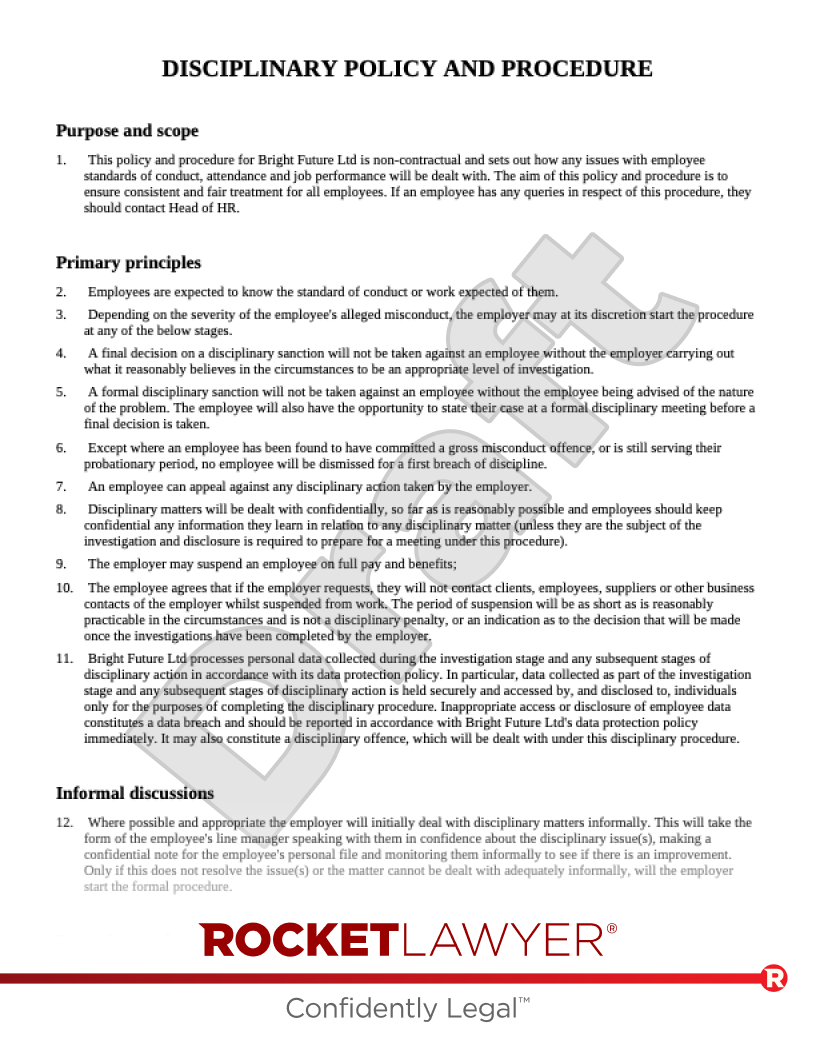 What is a Disciplinary Procedure?
A Disciplinary Procedure outlines the steps that will be taken to deal with
disciplinary issues at work
. By adopting Disciplinary Procedures, employers show their staff members that they are responsible employers with clear and fair procedures for dealing with disciplinary issues at work.
This document is GDPR compliant.
When should I use a Disciplinary Procedure?
Use this Disciplinary Procedure:
to inform employees about standards of conduct
to tell employees how disciplinary matters will be dealt with
to help managers understand how disciplinary matters will be dealt with
only for employees based in England, Wales or Scotland
Sample Disciplinary Procedure
The terms in your document will update based on the information you provide
This document has been customised over 20.3K times
Documents and communicates
Complies with relevant laws
Ask a lawyer questions about your document
About Disciplinary Procedures
Learn more about making your Disciplinary Procedure
How to make a Disciplinary Procedure

Making a Disciplinary Procedure online is simple. Just answer a few questions and Rocket Lawyer will build your document for you. When you have all of the details prepared in advance, making your document is a quick and easy process.

To make your Disciplinary Procedure you will need the following information:

Employer details

What is the employer's name?

What is the job title of the person whom employees should contact about disciplinary matters?

Who is required to authorise the dismissal of an employee?

Benefits

What benefits will an employee be unable to access during a period of suspension?

What aspects of pay may be directly or indirectly reduced by an employee's suspension?

Jurisdiction

Which country's law do you want to apply to this Procedure?

Common terms in a Disciplinary Procedure

Disciplinary Procedures outline the steps employers must follow when handling disciplinary matters. Typically, provisions of a Disciplinary Procedure include:

Purpose and scope

This section provides a brief overview of the Disciplinary Procedure and why it is being adopted. It also highlights the fact that the Disciplinary Procedure is a non-contractual policy which can be changed by the employer at their discretion.

Primary principles

This section outlines the main principles of the Disciplinary Procedure and how disciplinary matters are handled in the workplace, including the right to appeal. It also details what may happen during any period of suspension (including which workplace benefits and performance-based payments will be available to employees during a suspension).

It also highlights that the employer handles any personal data in accordance with data protection laws and their data protection documents (eg their Data protection and security policy).

Informal discussions

This section sets out that the employer, as a first point of call, will attempt to resolve disciplinary matters informally (eg by speaking to the employee's line manager). Formal disciplinary action will only be taken if the matter cannot adequately be dealt with informally.

Formal procedure

This section sets out the different stages involved in the formal grievance process. These include:

stage 1 - formal meeting - detailing the steps involved in the formal disciplinary meeting (eg the amount of notice an employee must be given and how the results of the meeting will be communicated)

stage 2 - second formal meeting - detailing when a second disciplinary meeting may be necessary (eg if there is serious misconduct, further misconduct or a failure to improve performance while under a prior warning) and what this will entail

stage 3 - final formal meeting - detailing when a final disciplinary meeting may be necessary (eg if there is sufficiently serious misconduct or still further misconduct or failure to improve performance) and what this will entail

Gross misconduct

This section deals with gross misconduct in the workplace. Due to the severity of gross misconduct, more stringent steps will be taken by the employer (including potentially suspension) while they investigate the matter. To help staff understand what exactly gross misconduct is, this section also includes a non-exhaustive list of the types of offences that constitute gross misconduct in the employer's eyes.

Appeals

This section details the employee's right to appeal the employer's disciplinary decision.

If you want your Disciplinary Procedure to include further or more detailed provisions, you can edit your document. However, if you do this, you may want a lawyer to review or change the Disciplinary Procedure for you, to make sure it complies with all relevant laws and meets your specific needs. Ask a lawyer for assistance.

Legal tips for making a Disciplinary Procedure

Bear in mind your data protection obligations

Under data protection laws (eg the UK General Data Protection Regulation (GDPR) and Data Protection Act 2018), employers need to ensure that they adequately protect their staff's personal data (eg their names or addresses). This is especially relevant in relation to any data collected as part of the investigation stage and any subsequent stages of disciplinary action. Any such data must be held securely and accessed by, and disclosed to, individuals only for the purposes of completing the disciplinary process. Any inappropriate access to or disclosure of employee data constitutes a data breach and should be reported in accordance with the employer's Data protection and security policy.

For more information, read Data protection and employees and Complying with the GDPR.

Consider what other policies to adopt

Adopting and implementing a clear Disciplinary Procedure is important in ensuring you treat your workforce fairly and transparently. Other policies you may consider adopting include:

For more information on the different types of policies you may wish to adopt, read HR policies and procedures.

Understand when to seek advice from a lawyer

if this document doesn't meet your specific needs

for advice on employees based outside England, Wales and Scotland
Disciplinary Procedure FAQs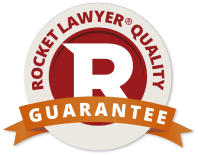 Our quality guarantee
We guarantee our service is safe and secure, and that properly signed Rocket Lawyer documents are legally enforceable under UK laws.
Need help? No problem!
Ask a question for free or get affordable legal advice from our lawyer.
Disciplinary Procedure checklist
Complete your Disciplinary Procedure with our Make it Legal™ checklist