MAKE YOUR FREE

Last Will and Testament
Other Names:
Will
Testament
Will and Testament
Last Testament
Last Will
Will and Last Testament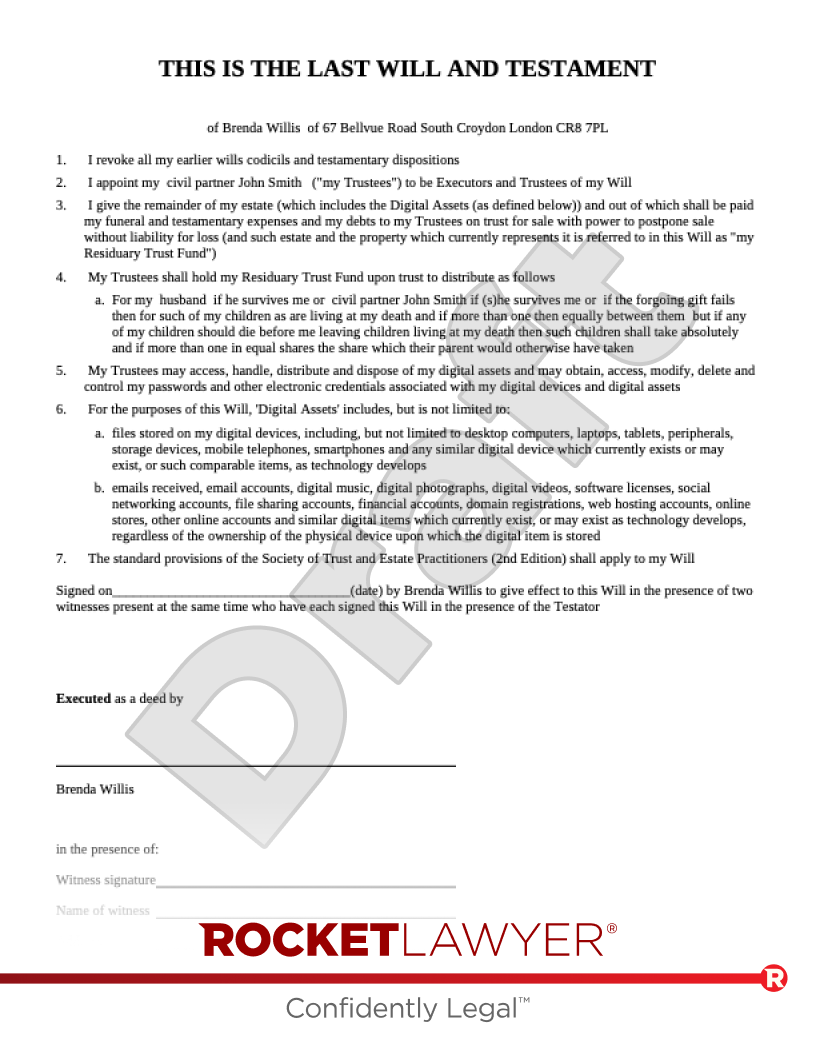 What is a Will?
A Last Will and Testament sets out how someone's estate, which includes property, savings and other assets, should be distributed after their death. This person is known as the 'testator'. Wills are essentially a written set of instructions specifying the beneficiaries, who will inherit the estate of the deceased, and the executors, who will ensure that assets are distributed according to the wishes contained in the Will.
For use in England and Wales only.
When should I use a Last Will and Testament?
Use this Will template:
if you are over the age of 18
if you are based in England or Wales
to set out how your estate (ie your belongings including money and property) is to be divided on your death
if you do not own property outside the UK
Sample Last Will and Testament
The terms in your document will update based on the information you provide
This document has been customised over 60.5K times
Legally binding and enforceable
Ask a lawyer questions about your document
Download and sign your document
THIS IS THE LAST WILL AND TESTAMENT
of of
I revoke all my earlier wills codicils and testamentary dispositions
I give the remainder of my estate out of which shall be paid my funeral and testamentary expenses and my debts to my Trustees on trust for sale with power to postpone sale without liability for loss (and such estate and the property which currently represents it is referred to in this Will as "my Residuary Trust Fund")
My Trustees shall hold my Residuary Trust Fund upon trust to distribute as follows

The standard provisions of the Society of Trust and Estate Practitioners (2nd Edition) shall apply to my Will
Signed on__________________________________(date) by to give effect to this Will in the presence of two witnesses present at the same time who have each signed this Will in the presence of the Testator
Executed as a deed by
in the presence of:
Witness signature
Name of witness
Address
Occupation
Witness signature
Name of witness
Address
Occupation
About Wills
Learn more about making your Will
How to make a Will

Making a Will online is simple. Just answer a few questions and Rocket Lawyer will build your document for you. When you have all of the details prepared in advance, making your document is a quick and easy process.

To make your Will you will need the following information:

Testator and executor details

What are your details?

Have you been known by any other names?

Are you married or in a civil partnership or about to get married or enter into a civil partnership?

What are the details of your (future) spouse or civil partner?

How many executors do you want to appoint?

Will your (future) spouse or civil partner be an executor?

What are your executor details?

Will you appoint substitute executors in case some executors cannot act?

Children

Do you have any children under the age of 18?

Will you appoint a guardian for any minors?

What are the guardian's details?

Gifts

Will you leave any gifts of money?

How much money are you leaving and to whom?

Will you leave any specific gifts?

What specific gifts are you leaving and to whom?

To whom will you leave the remainder of your estate?

If a beneficiary dies before you, who will their share of the residuary gift pass to?

Digital assets

Will your Will cover the handling of any digital assets?

What digital assets can be handled and how?

To whom will your digital assets be left?

Can an independent third party assist with the handling of digital assets?

Funeral and burial wishes

Do you have any specific funeral wishes?

Do you have any specific burial wishes?

Will you make your body available for organ donation?

Common terms in a Will

A Last Will and Testament outlines how a testator wishes to leave and divide their estate after they die. Typically, provisions of a Will include:

testator details - the details of the person making the Will, including their full name (and any alternative names, eg maiden name) and address

revocation of previous wills - cancels all previously made wills and codicils and clarifies that the new Will is the only one which should be considered

consideration of marriage or civil partnership - sets out that the Will is made shortly before getting married or entering into a civil partnership. This confirms that this Will shall not be revoked when the marriage or civil partnership takes place or is entered into

executors - appoints the executors who are responsible for administering the estate. Substitute executors, who take the place of a named executor if they are unwilling or unable to act, can also be appointed. Up to 4 executors can act to administer an estate

guardians - the details of any appointed guardian who will become responsible for any minors

specific bequests (specific gifts) - the details of any specific gifts and who they will be left to

legacies (gifts of money) - who any gifts of money will be left to and how much they will receive

residuary gifts - who the remainder of the estate will be left to in equal shares. Where the residuary beneficiary dies before the testator, alternate beneficiaries who will inherit in the residuary beneficiary's place can be appointed

digital assets - sets out whether the executors can handle digital assets and whether they can seek help from a third party (eg an individual contractor). Specific digital assets in question can be set out in an attached memorandum of digital assets which will also include instructions about how the assets are to be handled

funeral and burial wishes - the details of any specific wishes relating to funeral arrangements (eg religious) and burials (eg cremation).

organ donation - whether the testator's body can be made available for organ donation

Testators will often start with a standard Last Will and Testament and then customise it where necessary. Make sure to read your Will before signing it to make sure it fully reflects your wishes.

Our sample Will guides you through the items to include in your document.

If you want your Will to include further or more detailed provisions, you can edit your document. However, if you do this, you may want a lawyer to review or change the Will for you, to make sure it complies with all relevant laws and meets your specific needs. Ask a lawyer for assistance.

Legal tips for making a Will

Recording your wishes in a testament not only brings you and your family peace of mind but also helps you ensure your estate is handled in accordance with your wishes. To help make the testamentary and probate processes as simple as possible, consider the following guidelines:

Consider your prospective executors

As your executors will be handling your estate, it's crucial that you appoint someone you trust. Before appointing them, you should also speak to them to see if they're willing to take on the responsibility.

Consider the prospective guardian

As with executors, you should appoint someone you trust as a guardian. You should also speak with them before appointing them as guardian to ensure that they are willing and able to take on the responsibility of looking after your child.

Regularly review your Will

After making your Will, make sure to regularly review it to ensure that it continues to reflect your wishes and circumstances. Consider making a Codicil if you need to make small amendments to your Will (eg appointing a new executor). Consider creating a new Will if there have been substantial changes in your life (eg getting married or divorced).

Understand when to seek advice from a lawyer

While it is always a good idea to have your Will reviewed by a lawyer, there are certain circumstances in which you should seek specific advice. Ask a lawyer if you:

own any foreign property as it may be subject to the inheritance laws of that other country

want to leave your residual estate to named beneficiaries in unequal shares

are based outside of England and Wales

You may also want to Ask a lawyer for advice on inheritance tax if:

you own personal assets valued at over £325,000

you and your spouse or civil partner own combined assets with a value greater than £650,000

you have business interests, including shares in a private company, or if you are in a business partnership
Last Will and Testament FAQs
What is included in a Last Will and Testament?

This Last Will and Testament template covers:

leaving what you own to your spouse or civil partner, to your children, or other beneficiaries in equal shares
leaving specific gifts (including amounts of money and digital assets) to your loved ones
appointing a guardian for your minor children

Why do I need a Last Will and Testament?

Without a legally valid Will, your estate will be distributed according to the rules of intestacy. This old-fashioned set of instructions specifies a strict order of beneficiaries; primarily married or civil partners and close relatives.

If you lived with a partner for many years but were not married or in a civil partnership, they may not inherit anything if you die intestate (without making a Will). As a result, it's important to make a Will to ensure that you have a say in what happens to your estate after your death.

Put your mind at ease with this straightforward Last Will and Testament to make sure everything is properly dealt with. Making a Will also helps reduce stress on your family in the event of your death.

For more information, read Reasons to make a will.

Why do I need the fact that I am getting married to be noted in my Will?

In general, any Will that you made before getting married to a new partner will be revoked upon marriage and will become invalid. However, if your Will states that you are about to get married and confirms that you intend the Will to remain valid after marriage, it will not be revoked. This is known as 'making a will in contemplation of marriage'.

Do I need to specify a guardian in my Will if I have children?

If you have any children under the age of 18, you may want to consider appointing testamentary guardians in your Will. Guardians take over parental responsibility for your children, which means they need to look after your children as well as take decisions about things like their education or religious upbringing. Find out more about Appointing a guardian.

Can I leave gifts of money or specific items using a Will?

You can leave gifts of money (also known as 'pecuniary gifts') and specific items (known as 'specific gifts') in your Will.

You can go into as much or as little detail as you choose when specifying which assets are given to individuals. For example, you could specify that:

your house is inherited by your daughter and your car by your nephew

that your savings are divided equally between your children, your wife and a charity

For more information, read Elements of a will.

Can I leave digital assets using a Will?

You can leave digital assets (ie assets that exist in a digital format, including email, social media and online banking accounts) using a Will.

Your Will can specify which digital assets you wish to leave and to whom. You can also choose to set out instructions regarding the handling of any digital assets left in your Will. This is done in a memorandum of digital assets.

What is the remainder of the estate?

The remainder or residue of your estate refers to what is left of your estate after the distribution of gifts and deduction of debts, taxes and other expenses. If you have not made any gifts, the residue will make up your entire estate (after debts, taxes and expenses).

You can leave a percentage of the remainder of your estate to beneficiaries. This is known as a 'residuary gift'.

For more information, read Elements of a will.

Can I include funeral or burial wishes in a Will?

You can set out funeral arrangements in your Will (eg whether you would like to be buried or cremated), but it's important to note that these wishes are not legally binding. It is, nevertheless, useful to express these wishes in your Will, but normally your relatives will decide on funeral arrangements, and executors have the ultimate say.

If you wish to provide detailed plans for your funeral, it is a good idea to make a separate Funeral plan. For more information, read Making plans for your funeral.

What is the difference between an executor and a witness?

Your Will should name one or more executors (often family members or close friends), who will administer the estate (ie be tasked with carrying out your instructions and distributing your estate according to the Will).

The signature of Wills must be witnessed by at least two people who will not benefit under the Will (either directly or via their married or civil partners).

For more information, read Elements of a will.

Can an executor of a Will be a beneficiary?

An executor of a Will can also be a beneficiary of that Will.

A witness to a Will can also be an executor, as long as they (or their spouse or civil partner) are not named as a beneficiary.

For more information, read Elements of a will.

Is it necessary to use a solicitor to make a legally binding Will?

You do not need a lawyer to prepare a legally binding Will. As long as you are of sound mind and not being unduly influenced when you make and execute your Will, it should normally be legally valid. However, if you have a more complex estate, it will often be advisable to Ask a Lawyer to check things over. Alternatively, consider making use of our Will writing service.

How do I change a Will?

To make a minor change to a Will (such as changing the name of an executor), you can use a legal document called a codicil. Codicils need to be witnessed in the same way as when making a Will. If you are making more substantial changes, you should consider making a brand new Will, which states that your previous wills are revoked.

For more information, read Codicils. You can make a codicil using our Codicil template.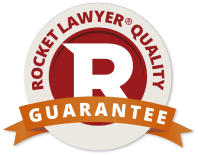 Our quality guarantee
We guarantee our service is safe and secure, and that properly signed Rocket Lawyer documents are legally enforceable under UK laws.
Need help? No problem!
Ask a question for free or get affordable legal advice from our lawyer.
Last Will and Testament checklist
Complete your Last Will and Testament with our Make it Legal™ checklist