MAKE YOUR FREE

Dismissal Letter
Other Names:
Employee Dismissal Letter
Notice of Dismissal
Letter of Dismissal
Dismissal Notice
Staff Dismissal Letter
What is a Dismissal Letter?
A Dismissal Letter is a formal notification informing an employee that their employment is being brought to an end and they are being dismissed. Dismissal Letters are used by employers as notice of termination of employment in accordance with the laws of England, Wales and Scotland.
When should I use a Dismissal Letter?
Use this Dismissal Letter:
Sample Dismissal Letter
The terms in your document will update based on the information you provide
These documents have been customised over 110.3K times
Documents and communicates
Ask a lawyer questions about your document
Sign this document online for free with RocketSign®
About Dismissal Letters
Learn more about making your Dismissal Letter
How to make a Dismissal Letter

Making a Dismissal Letter online is simple. Just answer a few questions and Rocket Lawyer will build your document for you. When you have all of the details prepared in advance, making your document is a quick and easy process.

Which information you need to make your Dismissal Letter will depend on why you're dismissing the employee and the type of Dismissal Letter in question. However, the types of questions you may be asked include:

Employer details

What are the employer's details (ie legal structure and name)?

If the employer is a partnership, LLP or company, who will sign on its behalf?

What is the date of the Dismissal Letter?

Hearing

Dismissal

Appeal

What is the final deadline for the employee to appeal against their dismissal?

Who should the employee contact if they wish to appeal and/or have any questions about their dismissal?

Common terms in a Dismissal Letter

Dismissal Letters are used to dismiss an employee. While the terms of a Dismissal Letter differ depending on the document in question, examples of common provisions in Dismissal Letters include:

Sender and recipient details

The start of the Dismissal Letter sets out the employer's and the employee's details.

The dismissal itself

The body of the Dismissal Letter provides details relating to the dismissal. This includes:

why the employee is being dismissed

where relevant, the date of the initial meeting held to discuss the matter (eg a disciplinary hearing or redundancy consultation meeting)

how much notice of their dismissal the employee is being given

the employee's last day of employment

any prior disciplinary warnings

how annual leave will be handled (ie how the employer will handle any accrued but untaken holiday or any holiday taken in excess of the accrued holiday)

when the employee's last payment date is

Data protection

The Dismissal Letter explains that any personal data (eg the employee's name and address) processed (eg used) during the dismissal process will be treated in accordance with the employer's Data protection policy. It also encourages the employee to check the Employee privacy notice for more information on the processing of their data.

The right to appeal

The Letter details the employee's right to appeal the dismissal. This includes details of who the employee should contact for such appeals and by what date an appeal should be made. It also clarifies that, if the employee's appeal is successful, they will be reinstated with retrospective effect to their last day and any lost pay will be reimbursed.

If you want your Dismissal Letter to include further or more detailed provisions, you can edit your document. However, if you do this, you may want a lawyer to review or change the Dismissal Letter for you, to make sure it complies with all relevant laws and meets your specific needs. Ask a lawyer for assistance.

Legal tips for making a Dismissal Letter

Adopt relevant HR policies and procedures

You should consider making and implementing certain workplace policies to ensure you treat your staff members in a consistent, fair and transparent manner. With regards to dismissals, it is particularly important that you adopt a Disciplinary procedure, setting out how any disciplinary issues are handled, and a Grievance procedure, setting out how employees can raise grievances and make appeals and how such grievances and appeals will be handled. For more information on other workplace policies you could adopt, read HR policies and procedures.

Always follow a fair and transparent dismissal process

Before dismissing an employee, regardless of the reason, employers should follow a clear and fair process. Make sure to follow the employee's contract and any relevant policies. This may involve:

investigating the facts of the situation

interviewing all relevant parties (eg the employee and any witnesses)

asking the employee to attend a disciplinary hearing or redundancy meeting to discuss the situation

considering alternatives to dismissal

For more information, read Dismissal, How to run a disciplinary hearing and Redundancy.

Understand when to seek advice from a lawyer

Ask a lawyer if:

this document doesn't meet your needs

you have employees based outside England, Wales and Scotland

you're unsure which document to use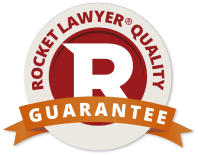 Our quality guarantee
We guarantee our service is safe and secure, and that properly signed Rocket Lawyer documents are legally enforceable under UK laws.
Need help? No problem!
Ask a question for free or get affordable legal advice from our lawyer.
Dismissal Letter checklist
Complete your Dismissal Letter with our Make it Legal™ checklist