MAKE YOUR FREE

Reference Letter
Other Names:
Employer Reference Letter
Employment Reference Letter
Recommendation Letter
Reference Letter From Employer
Employee Reference Letter
Letter of Recommendation
Job Reference
Work Reference Letter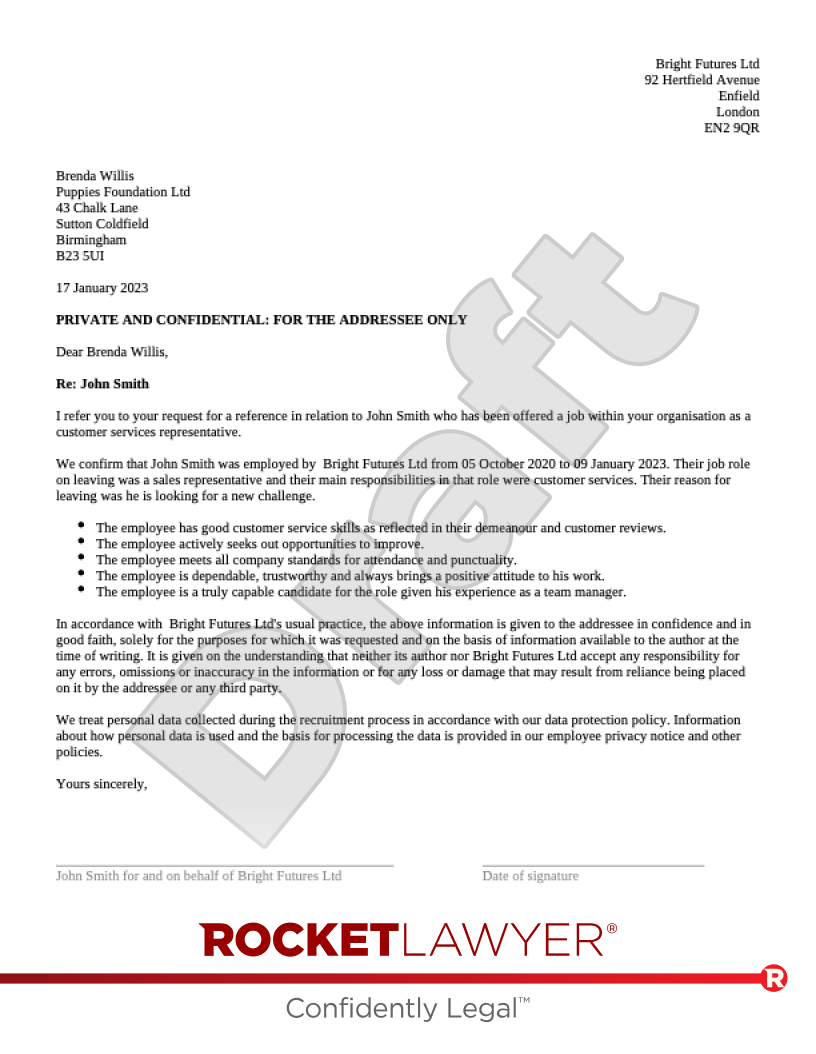 What is a Reference Letter?
A Reference Letter is a positive endorsement that outlines someone's work experience, skills, expertise, personal qualities and/or academic performance. Reference Letters are used when writing references about current or former employees.
This document is GDPR compliant.
When should I use a Reference Letter?
Use this Reference Letter:
when you are writing a reference about a current employee
when you are writing a reference about a former employee
only for employees based in England, Wales or Scotland
Sample Reference Letter
The terms in your document will update based on the information you provide
This document has been customised over 19.5K times
Documents and communicates
Ask a lawyer questions about your document
Sign this document online for free with RocketSign®
About Reference Letters
Learn more about making your Reference Letter
How to make a Reference Letter

Making a Reference Letter online is simple. Just answer a few questions and Rocket Lawyer will build your document for you. When you have all of the details prepared in advance, making your document is a quick and easy process.

To make your Reference Letter you will need the following information:

Current (or previous) employer details

The current (or previous) employer's details (eg its legal structure, name and address).

What is the name of the referee?

Potential/new employer details

The potential/new employer's details (eg its legal structure, name and address).

If they are a company, partnership or LLP, who requested the reference?

Employee details

What is the employee's name?

Has the employee applied to work for the potential/new employer?

What is the employee's current job title?

When was the employee first employed by their current employer?

What are the employee's main responsibilities?

Has the employee left the current employer for a new job?

What is the employee's former job title?

What is the employee's new role?

From what dates did the employee work for their previous employer?

What were the employee's main responsibilities?

What was the employee's reason for leaving?

Reference

Will the reference be a minimum or a detailed reference?

If the reference is detailed, will the employer provide a more detailed assessment of the employee's:

Performance?

Abilities?

Attendance?

Disciplinary record?

Character?

Suitability for the new role?

Other relevant aspects?

Date

What is the date of the Reference Letter?

Common terms in a Reference Letter

A Reference Letter is used to provide a written reference (and recommendation) about an employee's performance at work. To do so, this Reference Letter includes the following:

Sender and recipient details

The start of the Reference Letter provides details of the current (or former) employer and the potential/new employer.

The reference itself

The body of the Letter provides the employee's reference. This includes things such as the employee's date(s) of employment, job title at the current (or previous) employer and the role's responsibilities.

It also sets out that the reference is provided in good faith, on the basis of information available to the referee at the time of writing. It clarifies that neither the referee nor the employer is liable for any errors, omissions or inaccuracy in the information. It also addresses data protection matters, highlighting that personal data is processed in accordance with the employer's Data protection policy and Employee privacy notice.

If you want your Reference Letter to include further or more detailed provisions, you can edit your document. However, if you do this, you may want a lawyer to review or change the Reference Letter for you, to make sure it complies with all relevant laws and meets your specific needs. Ask a lawyer for assistance.

Legal tips for making a Reference Letter

Take care to avoid discrimination

Reference Letters should be accurate and fair and should all be provided by following a fair and consistent process. Employers must take particular care to avoid any conduct that is unfair or inconsistent, as this may result in allegations of discrimination.

For more information, read How to write a reference letter.

Comply with data protection obligations

Whenever an employer discloses any details about a (current or former) employee (like their name and address, known as 'personal data') to third parties (like prospective employers), they must comply with their data protection obligations. This is because conveying information about an employee will generally constitute the processing of personal data. Complying with data protection obligations includes having a legal basis for the processing. In most circumstances, this will be the employee consenting to a reference being provided. It is recommended that employers keep a clear record of whether an employee consented to their (former) employer providing references for them.

For more information on data protection considerations when providing references, read How to write a reference letter.

Follow the relevant administrative and procedural steps when an employee leaves

Whenever an employee leaves a job, employers need to consider certain administrative and procedural steps. Aside from providing a reference, these include:

For more information, read What to do when an employee leaves.

Understand when to seek advice from a lawyer

Ask a lawyer if:

the employee has any criminal convictions

the employee is based outside of England, Wales or Scotland

this document doesn't meet your needs
Reference Letter FAQs
What should a Reference Letter include?

This Reference Letter template covers:

the employee's potential/new role

the employer's policy on giving references

the requirement that the reference be given in confidence and good faith

information about the employee's performance, abilities, attendance, disciplinary record, character and suitability (if relevant)

Do I need a Reference Letter?

An employer does not have to give a reference by law unless it's:

While you do not have to give a work Reference Letter, it must be fair, accurate and appropriate if you do provide one.

How do I write a Reference Letter?

When you write a Reference Letter you should:

be accurate and fair

decide on the length of the letter. References can be short or long (these are known as a 'basic reference' and a 'detailed reference')

not be misleading or include irrelevant personal information

justify any opinions given with evidence (eg if an employee has a poor performance warning against their record, the reference should not say that the employee performed well in the job)

focus on how the employee's skills match the job description

provide contact information if further detailed information is needed

For more information, read How to write a reference letter.

What are the different types of Recommendation Letters?

There are various types of Reference Letters, which include:

Professional Reference Letters - these are usually needed when starting a new job and are usually written by the employee's employer (eg their line manager)

Academic Reference Letters - these are usually needed during the university admissions process and some employers require one (eg for a graduate scheme)

Character/Personal Reference Letters - these are about an employee as a person and include information about their work ethic and personality. `They should be written by someone that knows the person well (eg a mentor)

This particular document should be used for professional references.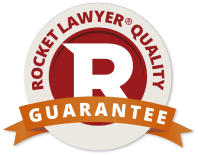 Our quality guarantee
We guarantee our service is safe and secure, and that properly signed Rocket Lawyer documents are legally enforceable under UK laws.
Need help? No problem!
Ask a question for free or get affordable legal advice from our lawyer.
Reference Letter checklist
Complete your Reference Letter with our Make it Legal™ checklist