MAKE YOUR FREE

Resignation Letter
Other Names:
Letter of Resignation
Employment Resignation Letter
Notice of Resignation
Resignation Notice
Letter of Resignation Template
Employee Resignation Letter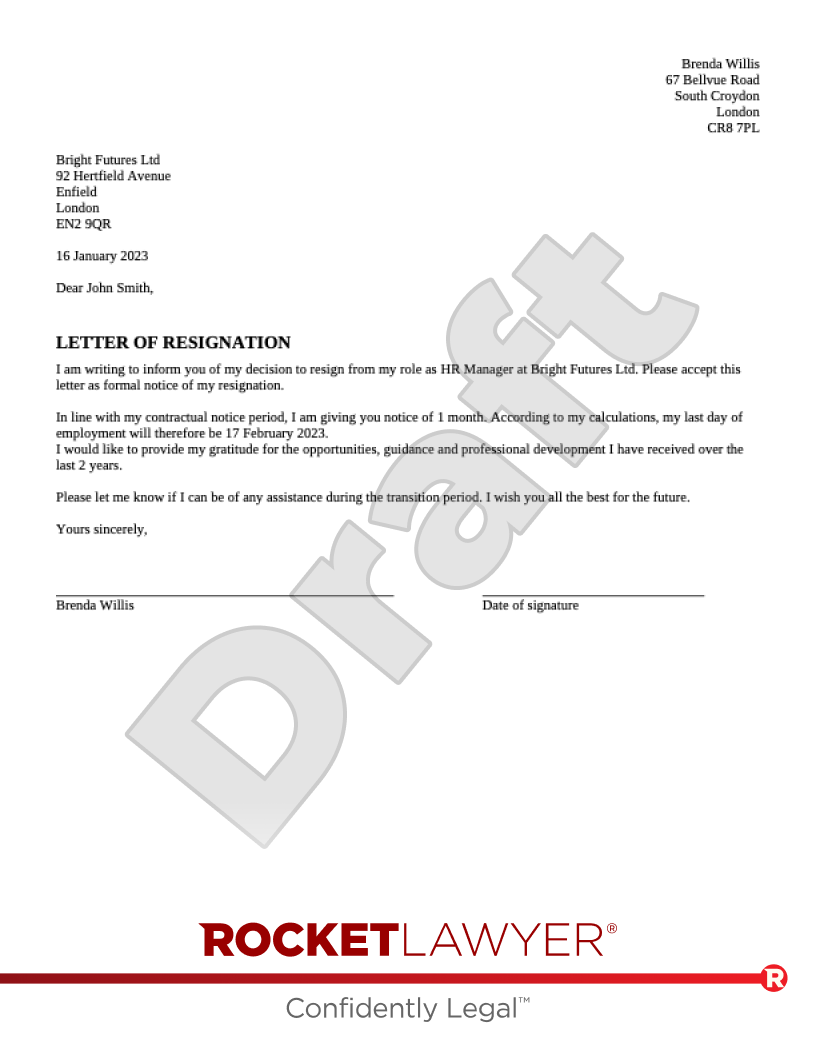 What is a Resignation Letter?
A Resignation Letter is a formal letter informing your employer of your decision to resign from your job. Resignation Letters are used by employees who want to leave their employment.
When should I use a Resignation Letter?
Use this Resignation Letter to resign from your job:
to take up a new job

for personal reasons (eg to spend more time with your family), or

because you simply no longer enjoy the job or it's no longer a good fit for you (eg if your circumstances have changed and you want to find a remote role)
Sample Resignation Letter
The terms in your document will update based on the information you provide
Rocket Lawyer members have customised over 4.8M documents
Documents and communicates
Ask a lawyer questions about your document
Sign this document online for free with RocketSign®
LETTER OF RESIGNATION
I am writing to inform you of my decision to resign from my role as . Please accept this letter as formal notice of my resignation.
In line with my contractual notice period, I am giving you notice of . According to my calculations, my last day of employment will therefore be .
I would like to provide my gratitude for the opportunities, guidance and professional development I have received over the last .
Please let me know if I can be of any assistance during the transition period. I wish you all the best for the future.
Yours sincerely,
| | |
| --- | --- |
| _________________________________ | _________________________________ |
About Resignation Letters
Learn more about making your Resignation Letter
How to write a Resignation Letter

Making a Resignation Letter online is simple. Just answer a few questions and Rocket Lawyer will build your document for you. When you have all of the details prepared in advance, making your document is a quick and easy process.

To make your Resignation Letter you will need the following information:

Party details

The employer's details (eg its legal structure, name and address).

Your details (eg name, address and job title).

Notice periods

How long is the notice period to end the employment contract?

What is the employment end date?

Resignation

Do you want to set out your reasons for resigning? If so, why are you resigning?

How long have you been in this job?

Letter details

If the employer is a company, partnership or LLP, who is the recipient of the Letter?

On what date will the Letter be sent or handed to the employer?

Common terms in a Resignation Letter

You can use a Resignation Letter to formally resign from your position. To facilitate your resignation, this Resignation Letter covers:

Sender and recipient details

The start of the Resignation Letter provides details of the employer and the employee who is resigning.

The resignation

The body of the Letter acts as the formal notice of resignation. It provides details of the resignation, including the notice period, the last date of employment and reasons for the resignation (if the employee wants to provide these). In the Resignation Letter, the employee also thanks their employer for the opportunities, guidance and professional development received during the course of employment and expresses the employee's willingness to assist during the transition period.

If you want your Resignation Letter to include further or more detailed provisions, you can edit your document. However, if you do this, you may want a lawyer to review or change the Resignation Letter for you, to make sure it complies with all relevant laws and meets your specific needs. Ask a lawyer for assistance.

Legal tips for making a Resignation Letter

Understand when this Resignation Letter may not be suitable

You should use this Resignation Letter when you are resigning from your current position because you have a new job lined up, for personal reasons, or because you no longer want to work in your current position.

You should not use this Resignation Letter template if you are resigning because of something that your employer did which may have been in breach of your employment contract. For example, if your employer didn't pay you or didn't address allegations you made regarding workplace bullying. If this is the case, you should create a Constructive dismissal letter instead. For more information, read Constructive dismissal.

Comply with your notice period

A notice period is the period for which an employee needs to work in their role after they have officially resigned. You should check your employment contract to see how long your notice period is.

Working through your notice period in accordance with your employment contract is a matter of courtesy. If you fail to work during part of your notice period, your employer can usually refuse to pay you in respect of time not worked (unless your absence is due to sickness, annual leave or being on family leave).

To avoid any disputes, you should work your notice period or reach an agreement with your employer.

For more information, read Notice periods.

Understand when to seek advice from a lawyer

Ask a lawyer for advice if:

you want to resign due to a problem at work which may lead to constructive dismissal (eg you experienced discrimination or were suddenly demoted without justification)

you are a director or you have shares in the company you wish to leave

there are any complicated issues which you need to resolve before leaving your job (eg restrictive covenants which you wish to negotiate)

this document doesn't meet your needs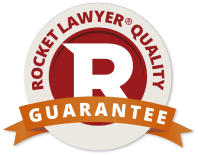 Our quality guarantee
We guarantee our service is safe and secure, and that properly signed Rocket Lawyer documents are legally enforceable under UK laws.
Need help? No problem!
Ask a question for free or get affordable legal advice from our lawyer.
Resignation Letter checklist
Complete your Resignation Letter with our Make it Legal™ checklist