MAKE YOUR FREE

Rent Receipt
Other Names:
Invoice for Rent Payment
Rent Receipt Template
Rent Invoice
Rent Payment Receipt
Rent Invoice Template
Rental Invoice
Tenant Payment Receipt
Tenant Rent Receipt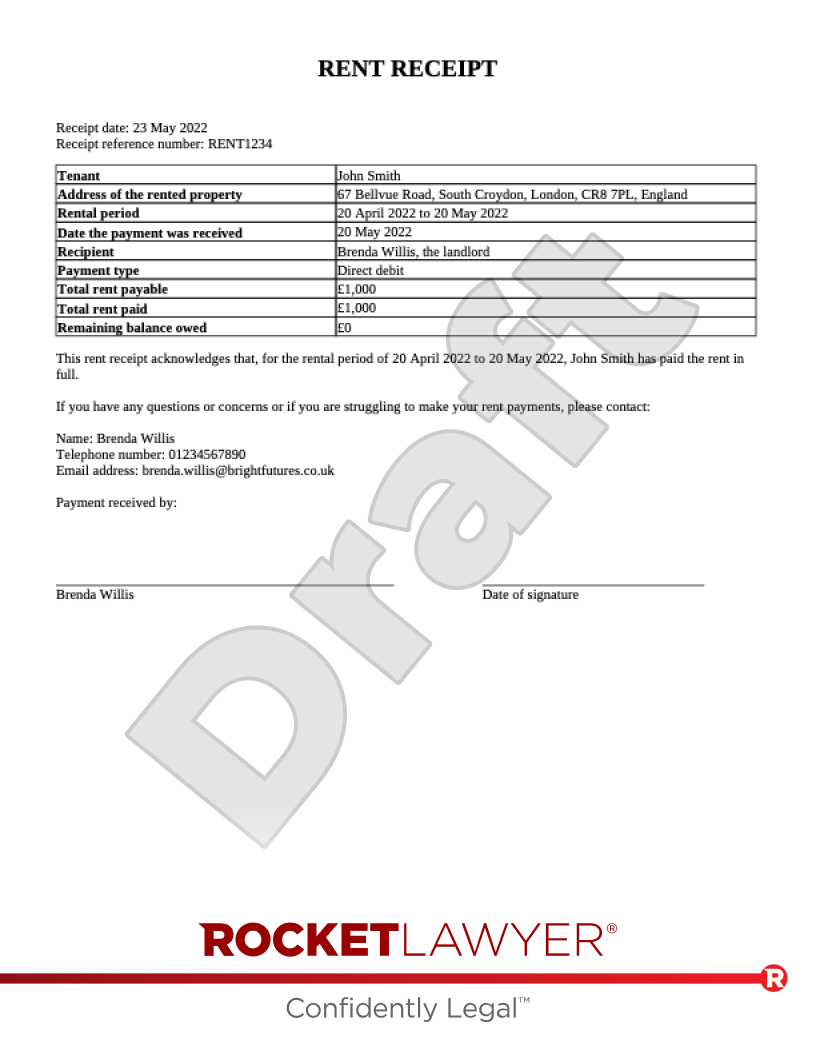 What is a Rent Receipt?
A Rent Receipt is a document given to tenants (also known as a 'contract holder' in Wales) by their landlord (or their landlord's agent) each time they make a rent payment. Rent Receipts provide a formal record of the rent tenants have paid (or not paid) for a rental period, to help landlords and tenants avoid any future disputes. For the avoidance of doubt, references to tenants also apply to contract holders unless otherwise specified.
When should I use a Rent Receipt?
Use this Rent Receipt:
if you're a private residential landlord (or the agent of a private residential landlord)
if the landlord is an individual (ie not a company or a partnership)
to provide your tenant(s) with a receipt for the rent they have paid
if the rental property is based in England, Wales or Scotland
Sample Rent Receipt
The terms in your document will update based on the information you provide
This document has been customised over 2.2K times
Documents and communicates
Ask a lawyer questions about your document
Sign this document online for free with RocketSign®
RENT RECEIPT
Receipt date:
Receipt reference number:
| | |
| --- | --- |
| Tenant | |
| Address of the rented property | , , |
| Rental period | to |
| Date the payment was received | |
| Recipient | |
| Payment type | |
| Total rent payable | £ |
| Total rent paid | £ |
| Remaining balance owed | |
This rent receipt acknowledges that, for the rental period of _________________ to _________________, has paid
If you have any questions or concerns or if you are struggling to make your rent payments, please contact:
Telephone number:
Email address:
Payment received by:
About Rent Receipts
Learn more about making your Rent Receipt
How to make a Rent Receipt

Making your Rent Receipt online is simple. Just answer a few questions and Rocket Lawyer will build your document for you. When you have all the information about the tenancy and rent payments prepared in advance, creating your document is a quick and easy process.

You'll need the following information:

The landlord and the tenant

What is the tenant's name? Or, if there are multiple, all of the tenants' names?

Is the landlord signing the Rent Receipt or the landlord's agent?

If the landlord, is it a single landlord or multiple joint landlords? What is the landlord's name? Or all of their names if there are multiple?

If an agent, what's the agent's name? This may be an individual or a company.

What's the landlord's, joint landlords', or agent's contact phone number and email address?

The property

What's the address of the rental property?

The rent payment

How did the tenant pay rent? By direct debit, cash, or cheque?

When did the landlord or their agent receive the rent payment?

What's the rental period (ie the dates) to which this rent receipt applies?

How much rent should be paid for this rental period?

Was the full rent payment received for this rental period? If not:

The Rent Receipt

Do you wish to include a reference number for this Rent Receipt?

What is the date of this Rent Receipt (ie the day it's being given to the tenant)?

Common terms in a Rent Receipt

Rent Receipts set out the details of a rent payment made by a tenant. To do this, this Rent Receipt template includes sections covering:

The Receipt date and reference number

These key details are provided at the top so that, if necessary, anybody can clearly identify the rental period and payment to which this Receipt relates.

Key details table

The table in the centre of the Receipt sets out key details regarding the rental period and payment. For example, it identifies the tenant(s), landlord, and rental property. It sets out what rent was received, when, and by whom (eg the landlord or their agent). If any rent is outstanding, this will be noted here.

This Rent Receipt acknowledges that…

This paragraph contains the key statements of the Rent Receipt. For instance, an acknowledgement that the rent or a portion of it has been paid.

If the rent has not been paid in full, the Receipt will request that the outstanding rent is paid immediately. Alternatively, if a Rent repayment plan is in place, it will request that outstanding rent is paid in accordance with the plan.

This section then directs tenants' attention to the possibility of interest being due on outstanding rent, if their Tenancy agreement and location allows (eg they're not in Scotland). It notes the possibility of the landlord starting eviction proceedings if the situation isn't resolved.

If you have any questions or concerns…

The Rent Receipt ends by setting out the landlord's or their agent's contact details and suggesting the tenant contacts them with any concerns. For example, if they're struggling to pay their rent.

Signatures

Finally, the Receipt provides a space for the landlord or their agent to sign to acknowledge the above provisions and that they received the relevant rent payment.

If you want your Rent Receipt to include further or more detailed provisions, you can edit your document. However, if you do this, you may want a lawyer to review the document for you (or to make the changes for you) to make sure that your modified Rent Receipt complies with all relevant laws and meets your specific needs. Use Rocket Lawyer's Ask a lawyer service for assistance.

Legal tips for landlords

Be understanding and consider your tenant's individual situation

Life is unpredictable and keeping on top of payments, like rent, can be difficult. For example, if somebody loses their job or needs to take time off for illness, injury, or bereavement, they may unexpectedly not have adequate income to cover all of their essential outgoings.

If your tenants are in a situation like this, as an empathetic person, it's good for you (a landlord) to see if you can come to an arrangement with them that lets them pay their rent (or most of it) in a way that's manageable for them and acceptable for you. For example, by agreeing to paying arrears in manageable instalments after a rent holiday, or even agreeing to waive a small amount. Making such arrangements also helps to maintain a healthy landlord-tenant relationship and, by making rent repayment a more realistic prospect for your tenants, makes it more likely you'll receive at least some of the rent you're owed.

Understand when to seek advice from a lawyer

In some circumstances, it's good practice to Ask a lawyer for advice to ensure that you're complying with the law and that you are well protected from risks. You should consider asking for advice if:

this document does not cover your legal needs

your rental property is not based in England, Wales or Scotland
Rent Receipt FAQs
What is included in a Rent Receipt?

This Rent Receipt template covers:

the tenant(s) names

the landlord's, joint landlords', or their agent's details

the rental period that the rent payment applies to

the amount of rent payable

the amount of rent paid

how much rent remains outstanding (if any)

whether a Rent repayment plan is in place

Why do I need a Rent Receipt?

Rent Receipts aren't a legal necessity. However, using them can give both landlords and tenants reassurance that everybody is on the same page about what rent payments have been made and whether any rent remains outstanding.

In essence, a Rent Receipt acts like a bill or a sales receipt, providing evidence that a transaction took place. This can help the parties quickly resolve any disputes that may arise in the future.

What is a rent repayment plan?

A Rent repayment plan is an agreement between a landlord and a tenant for the repayment of outstanding rent. Rent repayment plans set out how the landlord and tenant have agreed that such deferred rent payments will be made (eg at certain specified intervals).

If a tenant is struggling to pay their rent because of unforeseeable difficult circumstances (eg unpaid absence from work due to illness), they may ask their landlord to approve a rent holiday and/or deferred (ie delayed) rent payments. Agreeing to a repayment plan can help avoid any potential conflict by setting out clear rules for the repayment of the deferred rent by the tenant. It can also help make payments more manageable for tenants whilst making it more likely that landlords eventually receive the money they're owed.

What happens if rent is unpaid?

If their tenants are in rent arrears (ie there is overdue rent), landlords should act immediately. Where rent is not paid in full, this rent receipt formally requests that tenants make the necessary payment immediately.

If a tenant is not paying the whole of their rent, speak to them about this and ask about the reasons for their not paying. You may agree to enter into a Rent repayment plan to help them navigate the situation.

Alternatively (eg if a tenant does not reply to your initial requests to discuss the situation), you may consider sending a Rent demand letter. This letter enables you to request immediate payment of the outstanding rent from your tenant. If the rent remains outstanding after you have sent such a letter, you may need to take further action, including sending a Final rent demand letter.

If a tenant becomes financially unable to rent the property, it may be best to end their tenancy. Depending on the situation, this may involve the landlord and tenant agreeing to end the tenancy or the landlord evicting the tenant.

For more information, read Managing residential rent arrears.

Can interest be charged on overdue rent?

Interest can be charged on late payments of rent in England and Wales, under the Tenant Fees Act 2019. This rule does not apply in Scotland. Any rent that remains outstanding for at least 14 days may be subject to interest at a maximum rate of 3% above the Bank of England base rate. Interest is calculated from the date the rent was due to when payment is received.

You should check your Tenancy agreement to see if you can charge interest on any rent arrears owed. For more information, read Tenant fees and Managing residential rent arrears.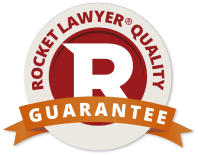 Our quality guarantee
We guarantee our service is safe and secure, and that properly signed Rocket Lawyer documents are legally enforceable under UK laws.
Need help? No problem!
Ask a question for free or get affordable legal advice from our lawyer.
Rent Receipt checklist
Complete your Rent Receipt with our Make it Legal™ checklist