MAKE YOUR FREE

Unpaid Internship Agreement
Other Names:
Unpaid Internship Contract
Unpaid Internship Letter
Unpaid Internship Agreement Letter
Voluntary Internship Agreement
Voluntary Internship Contract
Work Experience Agreement
Work Experience Contract
Work Shadowing Letter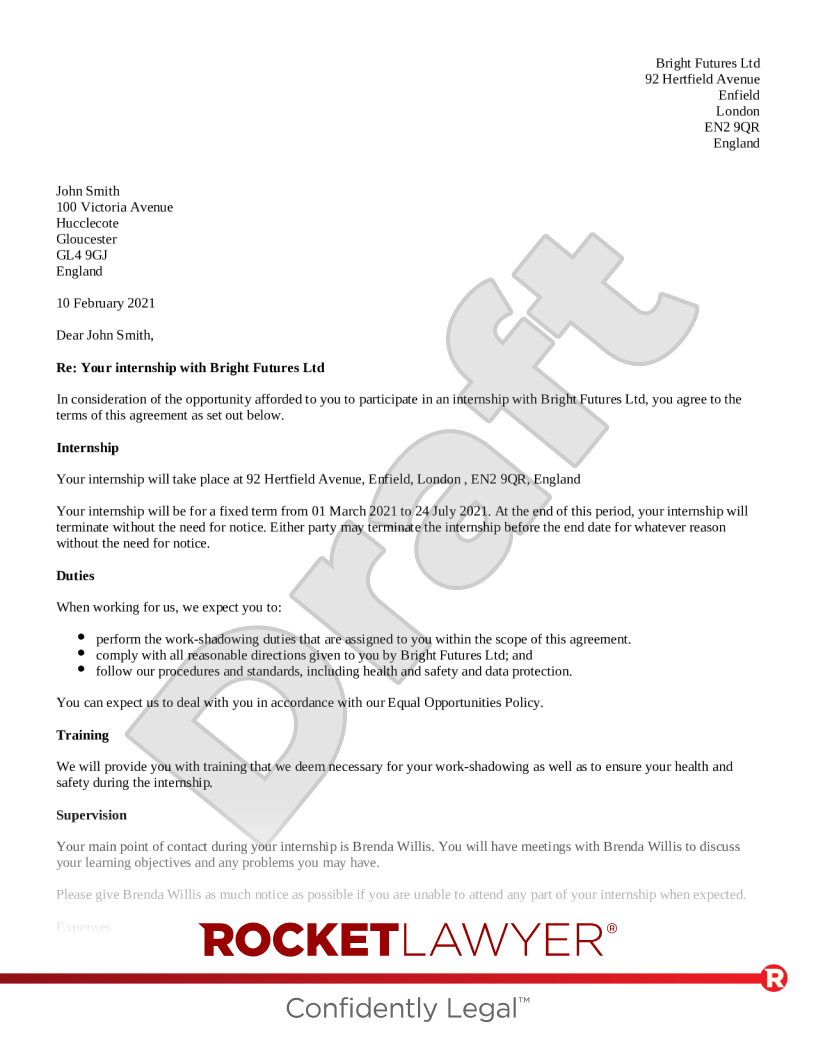 What is an Unpaid Internship Agreement?
When should I use an Unpaid Internship Agreement?
Use this Unpaid Internship Agreement:
to take on an intern on an unpaid (ie voluntary) basis

for interns who are at least 18 years old

if you want to use a straightforward document to clarify the basic terms of an internship

you are based in England, Wales or Scotland
Sample Unpaid Internship Agreement
The terms in your document will update based on the information you provide
Rocket Lawyer members have customised over 4.8M documents
Documents and communicates
Complies with relevant laws
Ask a lawyer questions about your document
Sign this document online for free with RocketSign®
Dear ,
Re: Your internship with
In consideration of the opportunity afforded to you to participate in an internship with, you agree to the terms of this agreement as set out below.
Internship
Your internship will take place at
Your internship will be for a fixed term from to . At the end of this period, your internship will terminate without the need for notice. Either party may terminate the internship before the end date for whatever reason without the need for notice.
Duties
When working for us, we expect you to:
Perform the work-shadowing duties that are assigned to you within the scope of this agreement.

Comply with all reasonable directions given to you by; and

Follow our procedures and standards, including health and safety and data protection.
You can expect us to deal with you in accordance with our Equal Opportunities Policy.
Training
We will provide you with training that we deem necessary for your work-shadowing as well as to ensure your health and safety during the internship.
Supervision
Your main point of contact during your internship is . You will have meetings with to discuss your learning objectives and any problems you may have.
Please give as much notice as possible if you are unable to attend any part of your internship when expected.
Expenses
Your internship is a work-shadowing opportunity and, as such, is outside of the National Minimum Wage legislation. We agree that if the circumstances of your internship change such that payment is required, we will abide by National Minimum Wage legislation, if applicable. Where agreed with you in advance, we will reimburse reasonable out-of-pocket expenses incurred in connection with your internship in accordance with our expense policy, as provided to you separately.
Neither party intends any employment relationship to be created either now or at any time in the future.
Insurance
We will provide adequate insurance cover for you while you are on your internship.
Data Protection
We will process personal data and sensitive personal data ('special categories of personal data') about you in accordance with our Data Protection Policy available from or our HR representative or the Staff Handbook, where applicable, as well as data protection laws, meaning all applicable laws relating to the processing of personal data, including, but not limited to the UK General Data Protection Regulation.
Intellectual Property
All intellectual property belonging to us and used by you during the internship shall belong to us. You agree to assign to us all intellectual property rights created by you during the internship and at our cost, do all things necessary for us to obtain the full benefit of this assignment. You agree to waive all moral rights you have in respect of any intellectual property created during your internship.
Confidentiality
In the course of your internship you may have access to confidential information in relation to.
You must not use this information or disclose this information to any person either during your internship or at any time afterwards.
As soon as your internship ends, or earlier if we request it, you must return to us:
All property that you have or control that belongs to us or relates to our business, including but not limited to all documents, laptops or mobile phones; and

Delete any such property and confidential information from any electronic device which belongs to you.
Yours sincerely,
I understand the contents of this letter.
| | |
| --- | --- |
| _________________________________ | _________________________________ |
About Unpaid Internship Agreements
Learn more about making your Unpaid Internship Agreement
How to make an Unpaid Internship Agreement

Making your Unpaid Internship Agreement online is simple. Just answer a few questions and Rocket Lawyer will build your document for you. When you have all the information about the internship prepared in advance, creating your document is a quick and easy process.

You'll need the following information:

The organisation and the intern

What is the organisation's (ie the internship provider's) name, address and legal structure? If it's a company, what is its company number?

Who is the organisation's signatory, if it's a company or a partnership? This is the person who will sign the Agreement on the company's or partnership's behalf.

What is the intern's name and address?

Who is the intern's main point of contact within the organisation?

The internship

At which address will the internship take place?

What are the start and end dates of the internship?

Which types of confidential information will the intern have access to during their internship?

The Unpaid Internship Agreement

What is the date of this letter (ie the date on which it will be sent or given to the intern)?

Common terms in an Unpaid Internship Agreement

Unpaid Internship Agreements set out the terms of an unpaid paid internship arrangement. To do this, this Internship Agreement template includes the following terms and sections:

The parties and addresses

The Agreement is made using a traditional letter structure, addressed from the organisation to the intern. It starts by setting out the names and addresses of both and the date of the letter.

Re: Your internship with…

The letter begins by identifying the purpose of the Agreement, namely communicating terms about the offered internship opportunity to which it's hoped the intern will agree.

Internship

This key section sets out when and where the internship will take place and explains that it can be ended by the organisation or the intern at any time without the need for notice to be given.

Duties

The things that the organisation hopes the intern will do during the internship are set out here. For example, performing work-shadowing and following the organisations' standards (eg health and safety and data protection rules).

Training

This section explains that the organisation will provide any training considered necessary to enable the intern to work-shadow and to comply with health and safety requirements.

Supervision

The intern's main contact within the organisation for the duration of their internship is specified here, alongside the expectations that the intern will have meetings with this person and should give this person notice if possible if they are unable to attend part of the internship.

Expenses

This section clearly states the intention that an employment relationship is not to be created and sets out the fact that this internship does not entitle the intern to the National Minimum Wage (ie because they are a volunteer and not a worker).

It's also stated that any genuine and reasonable out-of-pocket expenses (eg necessary travel or equipment costs) will be reimbursed by the organisation.

Insurance

Here the organisation commits to providing adequate insurance (eg public liability insurance) to cover the intern during their internship.

Data protection

This section sets out how the organisation will comply with data protection laws (ie rules under the UK General Data Protection Regulation (GDPR) and the Data Protection Act 2018). For example, by following the organisation's data protection policies.

Intellectual property

This section deals with the ownership of any intellectual property (IP) that's created or used by the intern in the course of their internship. Generally, the organisation will own any IP that the intern creates during their internship and the intern should do all things necessary (eg executing documents) to ensure ownership is properly transferred to the organisation. The intern is also required to waive moral rights to any copyrights that arise in their creations.

Confidentiality

This section identifies any types of confidential information that the intern may have access to during their internship. It requires that the intern does not disclose this information during or after their internship and that they return or destroy copies of the information on request.

Yours sincerely…

The Agreement ends with spaces for both parties to sign. The intern's signature is intended to indicate their understanding of the contents of the letter, not to form a legally binding contract for work or employment.

If you want your Unpaid Internship Agreement to include further or more detailed provisions, you can edit your document. However, if you do this, you may want a lawyer to review the document for you (or to make the changes for you) to make sure that your modified Unpaid Internship Agreement complies with all relevant laws and meets your specific needs. Use Rocket Lawyer's Ask a lawyer service for assistance.

Legal tips for internship providers

Be aware of your intern's employment status

Working out whether an intern that you take on is classified as a worker, an employee, or a volunteer can be a complex matter. The status that the person is given in the contract under which they work does not conclusively determine what they are under the law. Factors like the regularity of hours worked and whether payment is received determine somebody's employment status.

It's important that you're aware of what someone's employment status is, as different employment statuses confer different employment rights that employers must uphold. This Unpaid Internship Contract is designed to form a relationship with a volunteer. Read Consultants, workers and employees and Working with volunteers to find out more.

Uphold your intern's rights

As a conscientious and law-abiding organisation, it's important that you uphold interns' rights, whatever their employment statuses. For example, all volunteers are entitled to be treated in accordance with data protection and workplace health and safety laws.

A good way to keep track of which rights you must uphold as an organisation, and to communicate these to management and staff, is to create a comprehensive suite of employment policies. For more information, read HR policies and procedures and consider using our HR policies checklist. Creating an Employee handbook, which contains multiple policies in one document, is a good way to start.

Understand when to seek advice from a lawyer

In some circumstances, it's good practice to Ask a lawyer for advice to ensure that you're complying with the law and that you are well protected from risks. You should consider asking for advice if:

this document doesn't meet your needs or cover what you want

you need help determining somebody's employment status

you want to take on an intern based outside of England, Wales and Scotland
Unpaid Internship Agreement FAQs
What is included in an Unpaid Internship Agreement?

This Unpaid Internship Agreement template covers:

the duration of the internship

agreed hours of work

expenses

the intern's place of work

the intern's main point of contact

Why do I need an Unpaid Internship Agreement?

You should use Unpaid Internship Agreements if you wish to hire interns on an unpaid basis so that they can gain work experience. An Unpaid Internship Agreement isn't a legal necessity in these situations, but providing one enables an organisation to clearly set out the conditions of an internship and the organisation's expectations of the intern. Having a written Agreement ensures that the parties are aware of their respective rights and responsibilities over the course of the internship.

Providing unpaid internships (eg work shadowing opportunities) allows young people or career changers to gain valuable insight and experience into different career paths and helps them to improve their standing in the job market. Helping ensure such opportunities are available is a good way for organisations to support people's career development and the maintenance of a strong workforce within a given industry.

You may want to take on an intern who actually undertakes tasks for your organisation in return for pay. If you do this, you will need an Internship agreement instead of this Unpaid Internship Agreement.

Should an internship be paid or unpaid?

Internship providers can choose to offer paid or unpaid internships. This Unpaid Internship Agreement should be used for unpaid internships only.

It is illegal to use unpaid interns as workers. Therefore, it is very important that businesses are clear on what their unpaid interns are legally allowed to do. Unpaid internships are those where an individual carries out work-shadowing activities in order to develop their skills in the relevant profession. If an intern is given duties that go beyond work-shadowing or their internship contains the promise of future work, they may be considered to be a 'worker' or even an employee, both of which statuses confer an entitlement to payment of at least the National Minimum Wage (NMW) and to various other employment rights. For more information, read Consultants, workers and employees and Hiring an intern.

Do interns have employment rights?

Individuals receive the benefits of different employment rights depending on their employment statuses. Those with employee status have the most rights. If an intern is classified as an employee or a worker (eg because they are paid, work regular hours, and/or have been given a promise of future employment) they will be entitled to certain employment rights including sick pay, unfair dismissal rights, and holiday pay.

If an intern is classed as a volunteer they will typically not be entitled to any specific employment rights or be bound by any statutory responsibilities, except for basic protections (eg the health and safety law requirement that people be provided with a safe place of work).

This Unpaid Internship Agreement is intended to create a volunteering relationship, not an employment relationship or a worker relationship. Bear in mind that whether the contract under which a person works states that they are a worker, employee, consultant, volunteer, intern, or something else does not conclusively determine what they are under the law. Factors like the regularity of hours worked and whether payment is received determine somebody's employment status. It's important, therefore, that you don't accidentally create a worker or employee relationship by, for example, requiring that an intern must work consistent regular hours. For more information, read Hiring an intern, Working as a volunteer, and Consultants, workers and employees.

What else should I tell potential interns?

It is important to provide any future interns with all of the information they might need to gain the most value from their work experience. Some of the key details you should communicate to any potential interns prior to their start dates include:

what time they should arrive at the place of work to commence their internship

what they should bring with them on their first day (eg a notepad or laptop)

what dress code they are expected to adhere to

a basic itinerary of the internship (eg which departments they might gain an insight into and who they might be shadowing)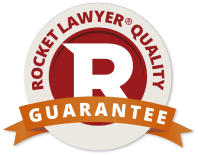 Our quality guarantee
We guarantee our service is safe and secure, and that properly signed Rocket Lawyer documents are legally enforceable under UK laws.
Need help? No problem!
Ask a question for free or get affordable legal advice from our lawyer.
Unpaid Internship Agreement checklist
Complete your Unpaid Internship Agreement with our Make it Legal™ checklist