MAKE YOUR FREE

Whistleblowing Policy
Other Names:
Whistleblowing Procedure
Public Interest Disclosure Policy
Employee Concern Policy
Reporting Misconduct Policy
Protected Disclosure Policy
Ethics Reporting Policy
Concerns at Work Policy
Disclosure of Wrongdoing Policy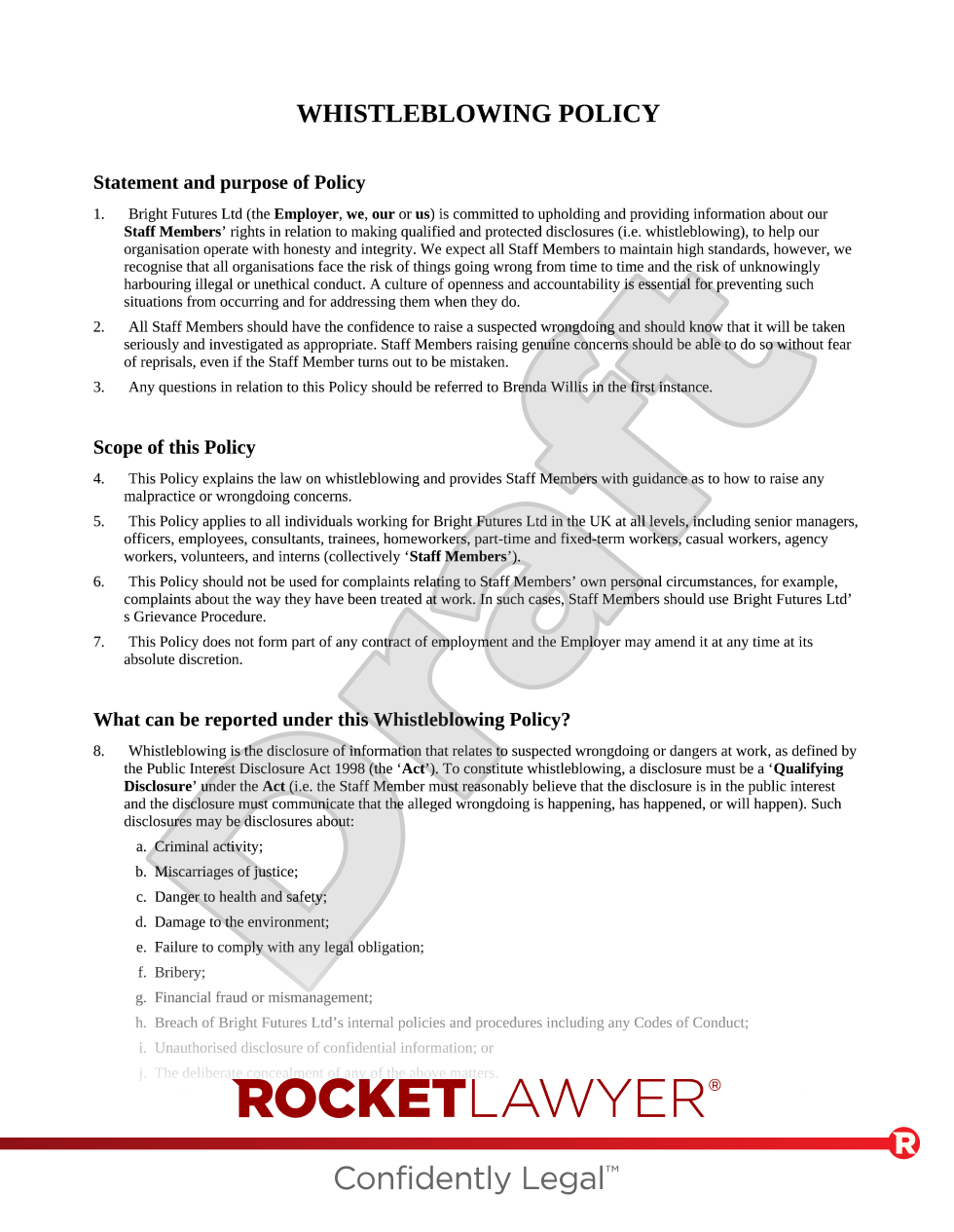 What is a Whistleblowing Policy?
Whistleblowing Policies communicate a staff member's right to make certain disclosures about wrongdoings within the organisation they work for without fear of reprisals. A Whistleblowing Policy explains which disclosures are protected and how an organisation's staff members can make a protected disclosure.
For more information, read Whistleblowing.

When should I use a Whistleblowing Policy?
Use this Whistleblowing Policy:
to let staff members know how to make any necessary whistleblowing disclosures

to demonstrate a commitment to upholding staff members' rights in relation to whistleblowing

if your organisation employs staff members in England, Wales or Scotland
Sample Whistleblowing Policy
The terms in your document will update based on the information you provide
Rocket Lawyer members have customised over 4.8M documents
Documents and communicates
Complies with relevant laws
Ask a lawyer questions about your document
Download and sign your document
About Whistleblowing Policies
Learn more about making your Whistleblowing Policy
How to make a Whistleblowing Policy

Making your Whistleblowing Policy online is simple. Just answer a few questions and Rocket Lawyer will build your document for you. When you have all the information prepared in advance, creating your document is a quick and easy process.

You'll need the following information:

The employer and contacts

What is the employer's name?
Who is the key contact for whistleblowing matters (ie the person to whom questions about whistleblowing should be addressed)?
Who should general whistleblowing disclosures be made to? This can be a person, a role, or a department.
Does the organisation have specific contacts to whom disclosures about legal matters (ie dishonesty, fraud, and corruption), HR matters (ie working terms and conditions and terms of employment), and/or health and safety matters should be made?

If so, who are the relevant people, roles or departments?

Types of wrongdoings covered by the Policy

In addition to the usual categories of wrongdoings that may be the subject of protected disclosures, will your Policy explicitly cover disclosures about:
Breaches of your organisation's internal policies or procedures?
Unauthorised disclosures of confidential information?

Other policies and procedures

Does the organisation have a Grievance procedure that is available online? If so, what is its URL?
Does the organisation have a Disciplinary policy or procedure? If so, is it available online? What is its URL?

Common terms in a Whistleblowing Policy

Whistleblowing Policies communicate information about protected disclosures to an organisation's staff members. To do this, this Whistleblowing Policy template includes the following terms and sections:

Statement and purpose of this Policy

The Policy starts by explaining why the employer is implementing this Policy. Specifically, to communicate information to staff members about their rights regarding making protected disclosures. This section also identifies the key contact within the organisation to whom questions about the Whistleblowing Policy and whistleblowing law should be addressed.

Scope of this Policy

This section clearly identifies to what and to whom the Policy's main provisions apply. Specifically, that it:

It's also highlighted here that the Policy may be changed by the employer at any time, as it does not form part of anybody's contract of employment.

What can be reported under this Whistleblowing Policy?

This section explains what whistleblowing is. It sets out which types of disclosures may be qualifying disclosures and clarifies that protected disclosures can only be made by those with worker or employee status.

How to raise a whistleblowing concern

The procedures that staff members should follow to make a protected disclosure are set out here. Staff members are generally asked to contact a certain specified person or department in the first instance and, where appropriate, are referred to various other contacts for more specialised issues (eg to the legal department for concerns related to alleged dishonesty, fraud, or corruption).

Wider disclosures

This section explains that, in some instances, it will be appropriate for whistleblowing disclosures to be made to somebody outside of the organisation. It explains when this may be appropriate and that different rules sometimes apply to determining when a disclosure is protected when it is made to an external party.

How the organisation will respond to disclosures

The guidelines that the organisation will follow when handling disclosures are set out here. For example, the staff member who made the disclosure should be given certain (but not always all) information about the matter's progression and the staff member may be required to attend meetings to provide additional information.
This section also states that staff members may be subject to disciplinary action if they make false allegations maliciously or with intent to achieve personal gain.

Assurances

This is where the protections available to staff members making protected disclosures are set out. For example, the entitlement not to be subject to detriment (eg disproportionate disciplinary action or threats).

Legal tips for organisations

Make sure you follow the law on whistleblowing

Having a Whistleblowing policy in place is an excellent way of communicating information about whistleblowing laws and an organisation's whistleblowing procedures. However, this alone is not enough to enable an employer to comply with whistleblowing law. Make sure to make and carry out clear plans to implement the provisions set out in your Policy (eg by assigning responsibility for whistleblowing queries to a certain person) and to follow the law (eg by being careful not to expose staff members to detriment in any way because they've made a protected disclosure).

If you're not sure if something counts as a protected disclosure, or you're not sure if an action or decision would expose a staff member to detriment, you can Ask a lawyer for assistance. For more information, read Whistleblowing.

Understand when to seek advice from a lawyer

In some circumstances, it's good practice to Ask a lawyer for advice to ensure that you're complying with the law and that you are well protected from risks. You should consider asking for advice if:

this Policy doesn't meet your needs or doesn't contain everything you need
your organisation deals with lots of confidential information

Whistleblowing Policy FAQs
What is included in a Whistleblowing Policy?

This Whistleblowing Policy template covers:

defining whistleblowing
how staff members can make protected disclosures
key contacts for whistleblowing disclosures
how the employer will handle disclosures
protections for staff members who make disclosures


Why do I need a Whistleblowing Policy?

There's no legal requirement for employers to have a Whistleblowing Policy in place, but having one is a great way of helping your organisation to meet its legal obligations related to whistleblowing. For example, the Policy communicates to managers and other staff about the legal requirement that staff members are not retaliated against if they make a whistleblowing disclosure.

Whistleblowing Policies also help employers to demonstrate their commitment to running a transparent, conscientious and accountable organisation that upholds its staff members' rights.

What is whistleblowing?

Whistleblowing is the making of a 'protected disclosure', ie a certain type of 'qualifying disclosure' that a staff member cannot be dismissed, made redundant, or subjected to detriment for making.

To be a protected disclosure, a staff member's reporting of a concern must be:

a disclosure of information
reasonably considered by the staff member to be in the public interest
a qualifying disclosure (see the FAQ 'What types of wrongdoing can be reported' for more information), and
made in a protected manner

A disclosure is made in a protected manner in various different situations. For example, if it's:

made to the staff member's employer
related to an exceptionally serious wrongdoing; is a reasonable disclosure to make in the circumstances; and the staff member making it reasonably believes it to be substantially true and isn't acting for personal gain, or
made in the course of obtaining legal advice

For more information, read Whistleblowing.


What types of wrongdoing can be reported?

To be protected, a disclosure must be one of the types of disclosure capable of being a 'qualifying disclosure' and the staff member making the disclosure must reasonably believe that it demonstrates one of these specified types of wrongdoing. The staff member must also reasonably believe that the disclosure is being made in the public interest. The relevant types of wrongdoing that disclosures can relate to include:

criminal offences (that have been committed or are likely to be committed)
endangering somebody's health and safety
endangering the environment
failures to comply with legal obligations
miscarriages of justice
attempts to conceal any of the above

For more information, read Whistleblowing.

Who can be a whistleblower?

To make a disclosure that's protected by the law on whistleblowing, somebody must be a worker or an employee (ie somebody working for the relevant employer under a contract of employment rather than, for example, an independent contractor).

Although people with worker status and people with employee status can both be protected by whistleblowing law, those with employee status have more options available in terms of protection.


Are whistleblowers protected?

Staff members who make eligible protected disclosures are protected from having certain things happen to them. This means that it is against the law for a staff member's employer, agents of the employer, or the staff member's co-workers to do certain things in retaliation to a disclosure. If they do these things, the staff member may start a legal claim against one or more of these parties (eg both the co-worker and the employer).

Generally, staff members can make claims for:

detriment - ie unfavourable treatment related to their employment (eg selection for redundancy or unjustified disciplinary action). This is established by comparing the staff member's treatment to that of a comparable staff member who didn't make a disclosure
dismissal - those with employee status can make claims for unfair dismissal, whereas those with worker status can make a detriment claim about dismissal

For more information, read Whistleblowing.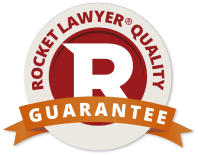 Our quality guarantee
We guarantee our service is safe and secure, and that properly signed Rocket Lawyer documents are legally enforceable under UK laws.
Need help? No problem!
Ask a question for free or get affordable legal advice from our lawyer.
Whistleblowing Policy checklist
Complete your Whistleblowing Policy with our Make it Legal™ checklist