MAKE YOUR FREE

Returns Policy
Other Names:
Goodwill Returns Policy
Supplementary Returns Policy
Return Policy
Return and Refund Policy
Returns and Refunds Policy
Exchange Policy
Return Procedure
Refund Procedure
Return and Refund Procedure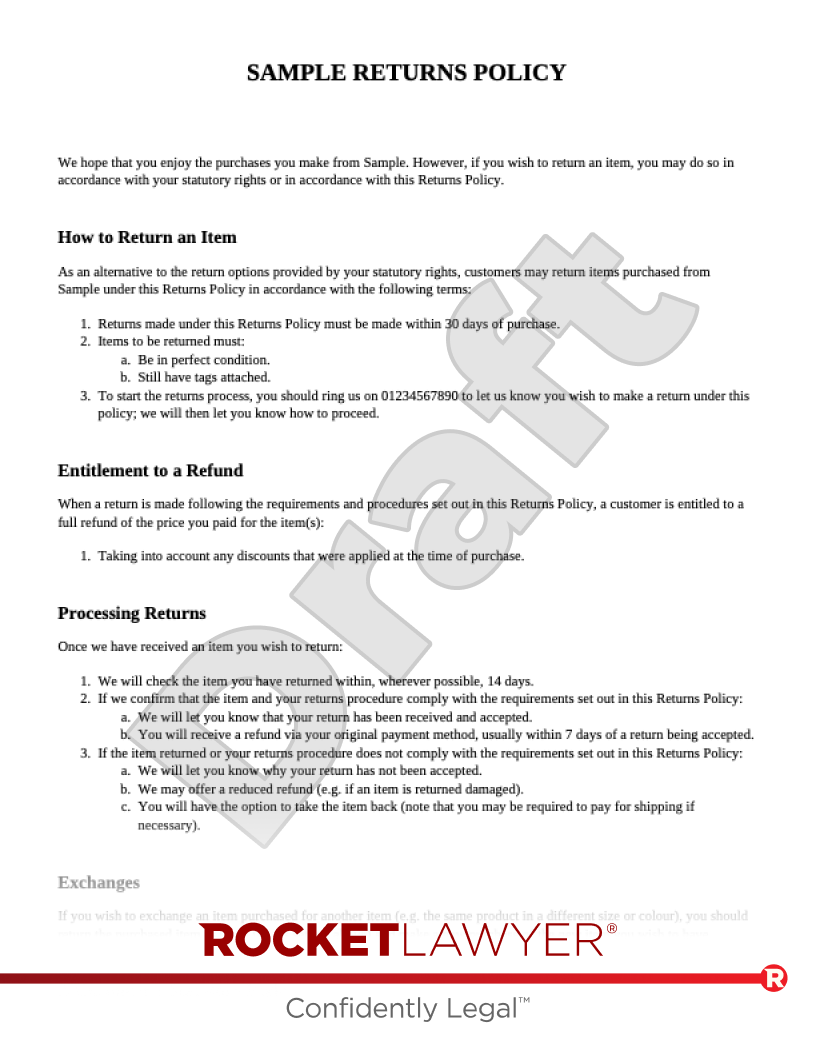 What is a Returns Policy?
A Returns Policy informs a business' customers about a way in which they can return items purchased from that business. Returns Policies apply in addition to a customer's statutory rights and offer an alternative means of returning items.
When should I use a Returns Policy?
Use this Returns Policy:
to set out a clear returns process and rules for following this process

for a business that sells items remotely (eg online) and/or from a physical premises (eg a store)

for sales made to customers (business customers or consumers) within the UK

for businesses based in England, Scotland, or Wales
Sample Returns Policy
The terms in your document will update based on the information you provide
Rocket Lawyer members have customised over 4.8M documents
Legally binding and enforceable
Ask a lawyer questions about your document
Download and sign your document
About Returns Policies
Learn more about making your Returns Policy
How to make a Returns Policy

Making your Returns Policy online is simple. Just answer a few questions and Rocket Lawyer will build your document for you. When you have all the information about your business' returns rules and processes prepared in advance, creating your document is a quick and easy process.

You'll need the following information:

Business details

What is the name of the business whose sales the Returns Policy is for?

Which items can be returned and when?

Under the Returns Policy, can customers return items that they purchased in-person (eg in-store), remotely (eg via your business' website), or both?

If items purchased in-store can be returned, how many days following purchase do customers have to return them?

If items purchased remotely can be returned, how many days following delivery do customers have to return them?

How items can be returned

Can customers return items by posting them, by giving them to a representative of your business (eg in-store), or both?

How can customers start a return: using your online returns portal, by sending a request via email, by giving or sending back an item with a provided returns slip, or in another way?

If using an online returns portal, what is its URL?

If via email, which email address should be used?

If by sending or giving items with a returns slip, and returns can be made by post:

Which address should returns be posted to?

Are there any requirements for how they should be posted?

If in another way, what is this?

Which requirements must items meet for customers to return them under this Returns Policy?

Can customers request an exchange as an alternative to a refund?

Fees and refunds

Must customers pay a return fee? If so:

How much is it? Does this apply per item returned or per order for which a return is made?

If exchanges are permitted, does the return fee apply to exchanges?

Will any shipping costs paid be refunded (if relevant)?

How returns will be processed

Within how many days will your business check a returned item to ensure it meets all return requirements?

Within how many days should a refund be received following an approved return?

Terms and conditions

Are your business' Terms and conditions documents available online?

Which email address can customers contact to request more information about their statutory rights and your business' terms and conditions?

Common terms in a Returns Policy

Returns Policies set out how customers can make returns under a business' specific returns procedures. To do this, this Returns Policy template includes the following terms and sections:

How to return an item

The Returns Policy starts by explaining that all of the rules and procedures contained in the Policy apply to the returns option that is supplementary to a customer's statutory options.

It sets out the time frames within which returns can be made, any requirements for these returns, and details for how a returns process should be started.

Entitlement to a refund

This section states that customers are entitled to refunds for items they return when these returns are successful (eg when they meet any necessary requirements).

Any deductions that will be taken from refunds are also set out. For example, for return fees, discounts, or shipping costs.

Processing returns

Next, the Policy explains how your business processes all returns that it receives in accordance with this Policy. For example, the timeframe within which returns will, where possible, be checked.

This section then specifies when refunds or exchanges are sent or given and what happens if a return is not accepted.

Exchanges

This section explains what happens if a customer wishes to return an item and exchange it for a different one (eg the same product in a different size or colour). Either, customers will be told to return an item as usual and then make a new purchase, or they will be told to specify that they would like to exchange their item during the returns process and that this will be accommodated where possible.

A customer's statutory rights

This final paragraph clarifies that the Returns Policy is not limiting customers' statutory rights in any way. It then provides information about customer rights and your business' terms and conditions.

If you want your Returns Policy to include further or more detailed provisions, you can edit your document. However, if you do this, you may want a lawyer to review the document for you (or to make the changes for you) to make sure that your modified Returns Policy complies with all relevant laws and meets your specific needs. Use Rocket Lawyer's Ask a lawyer service for assistance.

Legal tips for businesses

Make comprehensive terms and conditions

When a business sells something to a customer, they usually must provide the customer with certain information. For example, information about the business and about a customer's right to cancel an order (if applicable).

This Returns Policy does not provide most of the information needed to fulfil these requirements. Making comprehensive terms and conditions can help you to meet the requirements. You can use our Terms and conditions documents to do this.

For more information, read Terms and conditions, Online business regulations, E-commerce between businesses, and Doing business with consumers.

Communicate with your customers

Creating a Returns Policy is a great way to let your customers know that your business genuinely wants them to be happy with the purchases they make. Another way of building positive customer relationships is by providing information on returns, shipping, and any other relevant rights via confirmation emails.

Understand when to seek advice from a lawyer

In some circumstances, it's good practice to Ask a lawyer for advice to ensure that you're complying with the law and that you are well protected from risks. You should consider asking for advice if:

you need a Returns Policy that covers international returns

you want a Returns Policy that specifically applies to gift returns (eg by setting out how gift exchange notes can be used)

this Returns Policy doesn't meet your needs
Returns Policy FAQs
What is included in a Returns Policy?

This Returns Policy template covers:

timeframes within which returns made under the Returns Policy should be made

how returns can be started

requirements that must be met for an item to be returned

the entitlement to a refund and any deductions that will be made (eg of a returns fee)

how a return will be processed

whether an exchange can be requested and, if so, how exchanges are dealt with

a reminder that the Returns Policy does not in any way diminish a customer's statutory rights to return items in certain situations

information on the business' relevant Terms and conditions documents

Why do I need a Returns Policy?

A business does not have to have a Returns Policy in place. In the absence of one, a customer's statutory rights to make returns in certain circumstances will still apply (eg if an item is faulty).

However, creating a supplementary Returns Policy can confer many business advantages. For example, it can increase trust in and positive perceptions of your brand, make customers more comfortable purchasing from your business, and can avoid dissatisfied customers having to keep items that aren't quite right for them.

Making a Returns Policy helps you to obtain these benefits whilst clearly communicating the rules and procedures that customers should follow if they want to make returns under the additional returns route set out in your Policy.

Can I require that customers only return items using this Returns Policy?

This Returns Policy can be used to create a returns process that customers can use as an alternative to any returns options available to them under the law (ie those available in accordance with their statutory rights). Whatever your Returns Policy says, customers will always still have the statutory return rights available to them that they otherwise would.

Exactly which statutory return rights apply to a customer depends on multiple factors, such as whether they're a consumer or a business customer, and whether they purchased remotely or in-person. Return rights that may be applicable include:

the right to return items that aren't of satisfactory quality

the right to return items that aren't fit for purpose, and

the right to cancel a purchase within 14 days without needing to provide a reason

The rules and processes that you set out in your Returns Policy must not attempt or purport to limit customers' statutory rights in any way. This Returns Policy is written to help you do this - but be careful when adding your business' information to the Policy, to ensure that you do not attempt to limit customers' statutory rights (eg by saying something like 'no returns at all can be made after 30 days').

For more information, read Consumer rights.

If you're unsure if your returns policies and practices are legally compliant, you can Ask a lawyer for help.

Can I set requirements for when customers can return items?

As the returns process you set out in this Returns Policy will be provided to consumers in addition to their statutory rights (see the FAQ above for more information), you can impose restrictions on when returns can be made under this Policy. For example, you may specify that items can only be returned if they're unopened or in perfect condition. You should only impose restrictions that are fair.

Remember that you cannot limit customers' statutory rights in any way. Therefore, you cannot impose any restrictions on when customers can return items in accordance with statutory rights. Some restrictions on such returns, however, are permitted by law (eg you can generally require that a customer shows proof that they purchased an item from your business).

Can I charge a return fee?

As the returns process you set out in this Returns Policy will be provided to customers in addition to their statutory rights (see the FAQs above for more information), you can require customers to pay a fee when they return an item under this Policy. You should only impose fees that are fair.

You generally cannot charge a returns fee when a customer returns an item in accordance with their statutory rights.

How does this Returns Policy relate to terms and conditions?

Terms and conditions (T&Cs) are sets of standard terms that businesses use to apply to sales with various customers, to clarify aspects of these transactions. Exactly what a set of T&Cs should contain depends on which transactions they apply to. For example, whether they apply to a consumer sale or a business-to-business transaction.

T&Cs generally contain some information about a customer's statutory rights, including rights related to returning items. They may sometimes contain additional information about a business' additional returns options. Our Terms and conditions templates do not contain detailed information about additional returns options. Creating this Returns Policy is a great way of supplementing your existing terms and conditions with a clearly set out additional option for returning goods.

For more information, read Terms and conditions.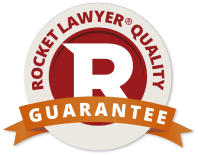 Our quality guarantee
We guarantee our service is safe and secure, and that properly signed Rocket Lawyer documents are legally enforceable under UK laws.
Need help? No problem!
Ask a question for free or get affordable legal advice from our lawyer.
Returns Policy checklist
Complete your Rent Repayment Plan with our Make it Legal™ checklist