MAKE YOUR FREE

Share Certificate
Other Names:
Stock Certificate
Certificate of Shares
Certificate of Stock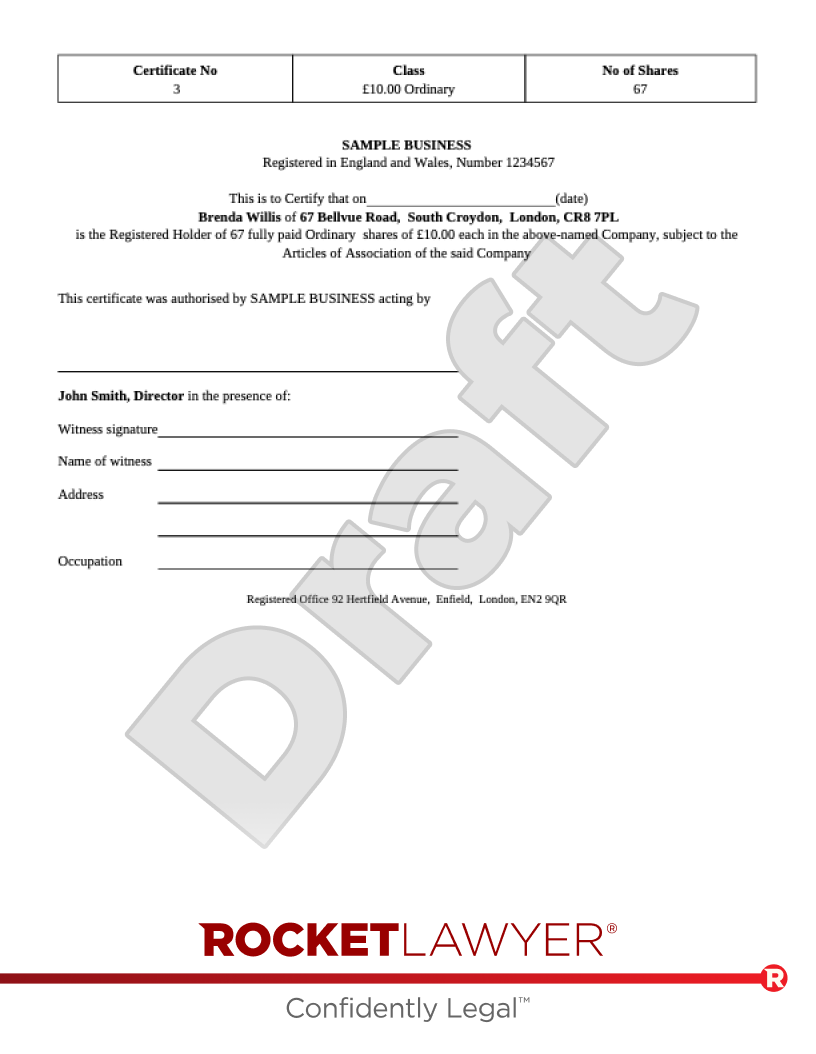 What is a Share Certificate?
A Share Certificate provides legal proof that the person named on it is a member (ie shareholder) of the stated company and holds shares in that company.
A company must issue Share Certificates for its shareholders within 2 months of its formation or the date of a new share issue or transfer. An issue of shares only becomes binding on a new shareholder when the company notifies them with a Share Certificate.
When should I use a Share Certificate?
Use this Share Certificate to issue fully paid ordinary shares to:
new individual shareholders:

in a recently formed private limited company

in an existing private limited company issuing more shares

receiving transferred shares

existing individual shareholders:

receiving additional transferred shares

that have lost their certificates
Sample Share Certificate
The terms in your document will update based on the information you provide
This document has been customised over 55.5K times
Legally binding and enforceable
Ask a lawyer questions about your document
Download and sign your document
Certificate No

Class
£ Ordinary
No of Shares


Registered in , Number

This is to Certify that on (date)
of ,
is the Registered Holder of fully paid Ordinary shares of £ each in the above-named Company, subject to the Articles of Association of the said Company
Registered Office ,
About Share Certificates
Learn more about making your Share Certificate
How to make a Share Certificate

Making a Share Certificate online is simple. Just answer a few questions and Rocket Lawyer will build your document for you. When you have all of the details prepared in advance, making your document is a quick and easy process.

To make your Share Certificate you will need the following information:

Party details

What are the shareholder's details (eg name, address, number of shares assigned to them and the nominal share price)?

What are the details of the company issuing the shares (eg its name, number and address)?

Signatory details

Will one or two directors sign the Share Certificate and what are their details?

Common terms in a Share Certificate

Share Certificates provide shareholders with proof of their share ownership. To do this, this Share Certificate covers:

The Certificate

The body of the Share Certificate sets out the details needed to identify the shares and the shareholder. This includes the certificate number, the class of shares, the share price and the number of shares.

It also provides the company's details and certifies that the shareholder (referred to as the 'registered holder') holds the fully paid ordinary shares in the company.

Signatures

This section is to be completed and signed by the director(s) of the company and, where relevant, the witness. Once signed, the Share Certificate clearly provides proof of share ownership.

If you want your Share Certificate to include further or more detailed provisions, you can edit your document. However, if you do this, you may want a lawyer to review or change the Share Certificate for you, to make sure it complies with all relevant laws and meets your specific needs. Ask a lawyer for assistance.

Legal tips for making a Share Certificate

Check the company's articles of association

Before making a Share Certificate, make sure to check your company's articles of association. See what they say about issuing and/or transferring shares and providing Share Certificates. You should follow anything set out in your company's articles.

Understand when to seek advice from a lawyer

Ask a lawyer for advice:

if a shareholder has shares of a class other than ordinary

if a shareholder has more than one class of shares

on joint shareholders
Share Certificate FAQs
What is included in a Share Certificate?

This Share Certificate template covers the key information needed, including the:

details of the shareholder

number of shares held by the shareholder

type of shares (ie ordinary)

share price

date of issue

unique Share Certificate number

details of the company issuing the shares

Do I need a Share Certificate?

You will need to create a Share Certificate to give to shareholders when you first create a company and whenever you issue or transfer new shares to a shareholder. A Share Certificate acts as the shareholder's proof of ownership of the shares set out in the Certificate.

What types of shares can be issued using this Share Certificate?

Share Certificates provide proof that shareholders hold shares in a private limited company. While there are various types of shares, this Share Certificate should be used for ordinary shares only. For more information, read Types of shares.

What is a Share Certificate number?

The unique Share Certificate number is the unique number that identifies the Share Certificate in question. The Share Certificate number should reflect the number of previously issued Certificates. For example, if a company has previously issued two Share Certificates, the next Share Certificate number should be number three.

When does a Share Certificate need to be issued?

Share Certificates need to be completed and issued whenever a company issues shares to a shareholder. This includes where new shares are being allotted to a shareholder and where existing shares are being transferred to a different shareholder.

Share Certificates need to be issued within two months of the shares being issued or transferred.

A company can issue one Share certificate for all shares issued or transferred at a particular time. The exception is if a shareholder requests a separate Share Certificate. In this case, a separate Share Certificate should be provided.

Once a shareholder receives their Share Certificate, they officially become a company shareholder.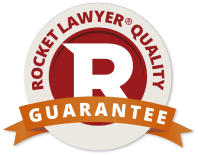 Our quality guarantee
We guarantee our service is safe and secure, and that properly signed Rocket Lawyer documents are legally enforceable under UK laws.
Need help? No problem!
Ask a question for free or get affordable legal advice from our lawyer.
Share Certificate checklist
Complete your Share Certificate with our Make it Legal™ checklist