Holiday season is here and with it a few celebrations. If you're lucky to work at a company like Rocket Lawyer (and if you want to join us, this is our career page FYI)you'll be attending a fabulous soiree.
Despite 'tis the season and parties everywhere, there are things that can be fun and festive and things that can turn excessive and disastrous.
To avoid the latter remember the keyword in "company holiday party" is company. In the interest of keeping your job (not to mention your reputation and self-respect) intact, take these company party do's and dont's into account:
You shall not skip it
It's a time for team morale and spending time with coworkers. It's a busy season and things come up, but attend if you can. Even for it's just a little bit. Fashionably late doesn't apply to work events either; arrive in the first 30 minutes if possible. Everyone remembers who stayed for just 10 minutes or departed early.
Keep your name on the "nice" list
Be kind to your colleagues and the guests that they bring. Everyone should have a good time and a tip for our HR pros: Make sure you have a game plan in place for how to handle inappropriate behavior that could potentially lead to a sexual harassment claim when the eggnog starts flowing.
Too much eggnog isn't a good idea
An open bar may be tempting, but keep it under control while you're at the party. It's a company event, so don't do anything that you'll regret later. Most firings take place the day after the company party.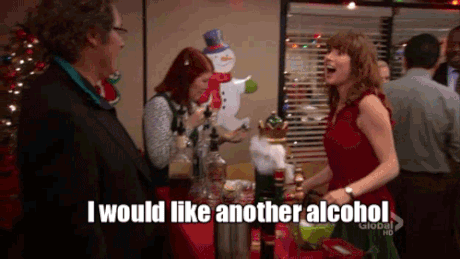 Be dashing not trashy
Just because the party may be after work hours and at a fun venue, doesn't mean it's time to bust out your dress with a super high slit or flannel pajamas because the invite said "casual." You work with these people, and you'll see them again on Monday (hopefully).
Be cheery
Complaining about your boss or your job will bring the mood down.  So will religion, politics, and inappropriate  topics (remember the eggnog before) so keep it nice and avoid awkward moments.
Do mingle
Talk to people outside of your teammates, get to know them. Don't be glued to your phone. The party is an opportunity to meet people. Don't spend your time tweeting or texting.
Don't gossip
Find some small talk topics before you go so that you have more to talk about than just coworkers and work. Here's a list of great tips to keep the conversation going.
Don't drink and drive
This is a basic one folks, use Uber. Or Lyft. Or a friend. Just not a cop car.
Say thank you
The holidays are a great time to express gratitude. Tell others how much their contributions meant throughout the year and don't forget to thank the people who put in all the hard work planning.
Be safe and have fun, everyone. And have a great holiday (party) season.