MAKE YOUR FREE

Jury Service Policy
Other Names:
Jury Duty Procedure
Jury Service Statement
Jury Duty Policy
Jury Duty Statement
Jury Duty Leave Policy
Jury Service Leave Policy
Time Off for Jury Service Policy
Jury Policy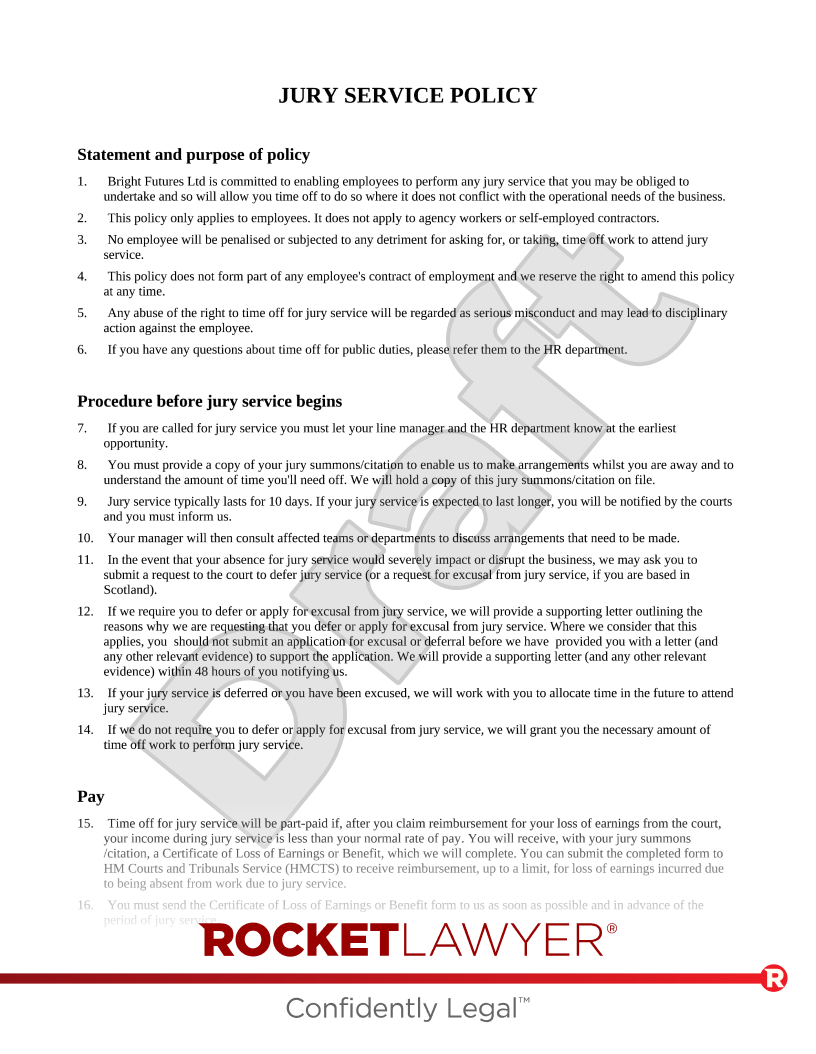 What is a Jury Service Policy?
Undertaking
jury service
requires employees to be absent from work for a period of time - sometimes a long period of time. Jury Service Policies set out procedures for making this inconvenience as manageable as possible. By adopting a clear Jury Service Policy you ensure your employees know how to handle their employment in light of upcoming jury service.
When should I use a Jury Service Policy?
Use this Jury Service Policy:
if you or your business employ staff in England, Wales or Scotland
to explain how staff should communicate with you about jury service
to set out your approach to pay and procedures related to jury service
Sample Jury Service Policy
The terms in your document will update based on the information you provide
Rocket Lawyer members have customised over 4.8M documents
Documents and communicates
Ask a lawyer questions about your document
About Jury Service Policies
Learn more about making your Jury Service Policy
How to make a Jury Service Policy

Making a Jury Service Policy online is simple. Just answer a few questions and Rocket Lawyer will build your document for you. When you have all of the details prepared in advance, making your document is a quick and easy process.

To make your Jury Service Policy you will need the following information:

Employer details

What is the employer's name?

Who should employees contact if they have questions about how jury service affects their employment?

Who should employees tell if they've received a jury summons or citation?

Jury service

Will employees be paid during jury service? If so, how much will they be paid?

Can or should employees return to work if their jury service finishes one or more days earlier than expected?

Can or should employees return to work if they are not needed in court for all or some of a jury service day?

Common terms in a Jury Service Policy

A Jury Service Policy sets out your business' procedures and payment practices for employees undertaking jury service. As a result, this Jury Service Policy template covers:

Statement and purpose of Policy

This section provides basic details about the Jury Service Policy. These include:

why the employer is adopting the Policy

an explanation that the Jury Service Policy applies to employees only and not to agency workers or self-employed contractors

clarification that this Policy is non-contractual and may be amended by the employer

who to contact about questions related to jury service

Procedure before jury service begins

This section outlines the process employees should follow before they have to undertake their jury service duty. This includes information on:

the amount of notice employees must give

whether a jury summons/citation needs to be provided as proof of jury service

when the employer may ask employees to defer jury service and how the employer will support such applications for deferral

Pay

This section sets out whether employees will receive pay while undertaking jury duty. Depending on the employer's payment policy, employees may either receive:

their normal pay in full (without the employee having to claim expenses from the court)

payment to the amount needed to bring their income to its normal rate

some of their normal pay

no payment

In all but the first situation, an employee should submit the Certificate of Loss of Earnings or Benefit form attached to the summons/citation to HMRC. This will allow them to receive reimbursement, up to a limit, for their loss of earnings due to their absence from work due to jury service.

Returning to work

This section covers employees returning to work early if their jury service ends before the expected end date. It sets out whether an employee can, should or cannot return to work if their jury service finishes one or more days earlier than expected or if they are not needed in court for all or some of a jury service day.

If you want your Jury Service Policy to include further or more detailed provisions, you can edit your document. However, if you do this, you may want a lawyer to review or change the Policy for you, to make sure it complies with all relevant laws and meets your specific needs. Ask a lawyer for assistance.

Legal tips for making a Jury Service Policy

Carefully consider whether employees can return to work early

Your Jury Service Policy will set out whether employees can return to work if their jury service ends earlier than expected. While you may think that it will be advantageous to allow or even require employees to return early, consider whether this is truly the case. If you have had to hire temporary cover to file the employee's role (eg because the jury service is longer than the typical 10 days) it may be better to ask the employee not to return on any days on which they aren't needed. For more information, read the FAQ 'Can I prevent employees from returning to work if their jury service finishes early?'.

Understand when to seek advice from a lawyer

Ask a lawyer for advice if:

this document doesn't meet your specific needs

an employee is undertaking a particularly long period of jury service and this is affecting your business

you need help explaining why an employee being absent for jury service would seriously harm your business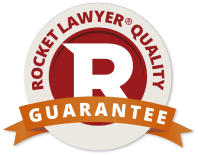 Our quality guarantee
We guarantee our service is safe and secure, and that properly signed Rocket Lawyer documents are legally enforceable under UK laws.
Need help? No problem!
Ask a question for free or get affordable legal advice from our lawyer.
Jury Service Policy checklist
Complete your Jury Service Policy with our Make it Legal™ checklist