The next step is an important one: getting ready for a new hire's arrival! As the saying goes, you only get one chance to make a good first impression, so you should be well-prepared with all the necessary paperwork and the equipment they need to do the job (be it a desk, a computer, a phone, a uniform etc.). Taking your new employee out to lunch is never a bad idea either.
Be ready to give an orientation for all the new hires on their first day. Take them around to meet the staff, show them the break room, and be polite and optimistic. After all, starting out on the right foot means you're more likely to stay that way in the future. At some point, you should review all the paperwork, including the Employee Handbook, which outlines company policies and guidelines (we'll discuss your handbook later in this guide).
Depending on the sort of work they're doing, it's a good idea to get your employee to sign a Non-Disclosure Agreement (NDA) if they're dealing with sensitive information. An NDA is a legal contract between you (the company) and the employee that specifies that confidential information cannot be shared with outside parties. Have an innovative idea that'll disrupt your industry? Don't worry; an NDA will protect allow you to get some legal recourse should an employee (or ex-employee) spill your company secrets.
After you answer any questions your hire might have, make sure you get their signature on their handbook (after they've read it of course) and their NDA.This is a smart time to distribute any other important information you might have for them, like tax forms or health care packets.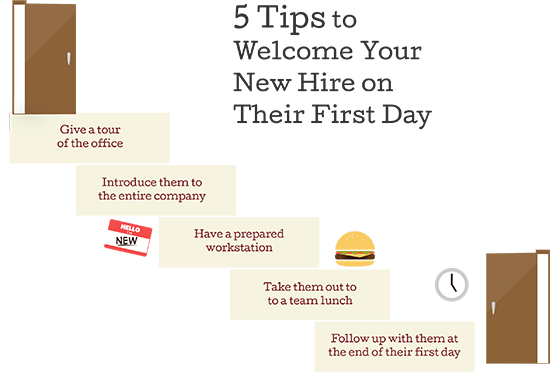 Where should I keep all this paperwork?
All this signed paperwork should go into a personnel file. These can be paper files or online files, or, better yet, both. Just make sure you (and only you) can access them whenever you need to.
As your company continues to expand and hire more employees, it'll be necessary to keep organized and save these files in a safe place available only to your HR team. Records are important to keep not only for future reference but for legal purposes. All the paperwork should be gathered into a personnel file except for their I-9 tax form. It's recommended to keep all I-9s in a separate master file.
Below you'll find most everything you should keep in an employee personnel file:
Resume, job position, description: This paperwork should clearly define the responsibilities and duties of the employee. Also, it is a good idea to keep their resume for future reference.

Emergency contact: In case of an emergency, each employee should provide an emergency contact.

Direct Deposit Form: If you offer direct deposit and your employee elects to participate, keep all relevant paperwork, which usually includes their bank account information and signed authorization.

Non-Disclosure Agreement (NDA): An NDA is a legal contract between you (the company) and the employee that specifies that confidential information cannot be shared with outside parties. If you had your employee sign one, keep it with their file.

Signed Employment Agreement: An Employment Agreement lays out the terms and conditions of the job offer and employment relationship.

IRS form W-4 (withholding allowance certificate): This form is used to determine the amount of tax withholding to deduct from employees' wages.

New Hire Reporting: Employers must notify the state of new hires. The rules vary in each state, so make sure you talk to an attorney about what you need to do.

Employee Invention Agreement: If you're developing products, designs, or other intellectual property, have everyone sign an Employee Invention Agreement. It should state that the employer owns any relevant inventions developed during the employee's time with the company. Or, it could state that the employee owns what he or she invents. It just depends on what you want here.

Signed Employee Handbook: By signing their handbook, your employee agrees to the provisions you lay out. Keep that with their file. To read more about handbooks, just click here.

Ongoing documents: Performance evaluations and documentation related to salary increases and promotions
EXCEPT
I-9 Tax Form: This document verifies whether an employee can legally work in the United States. Be sure to make copies of the legal credentials your employee provides to verify eligibility (i.e. passports, green cards, birth certificates, etc.)