Whether you're looking at using a recruiter or posting your new position of any of the hundreds of job boards out there, it's important you know first what exactly you expect the new position to entail. Hiring is a big step for your business (not to mention your applicants), so you want to outline exactly what you're looking for in your job posting.
You want to start off by answering a few standard questions that applicants might have: What are the responsibilities and duties of the job? Does the position require any prior experience? What qualifications does the applicant need to perform the role properly?
Before you start writing up the job description, remember to be sensitive in the language you use; that means avoiding any wording that might be discriminatory or offensive. Stay away from any language that about age, race, religion, ethnicity, and nationality. For instance, it's better to say that you're looking for an "energetic entry-level employee," rather than a "young and eager person." You want to cast a wide net out there without discriminating against any potential applicants that might be a great asset to your company.
Remember to include any deal-breakers in your posting. For example, say you're hiring a new delivery driver. They'll obviously need a clean driving record and a valid license. Distinguish between qualifications that applicants need to have and the ones you'd simply like to see.
Also, it's a great idea to provide a list of benefits your company offers, especially if you're in a competitive space. Things like compensation, vacation days, or company-sponsored training can net you the best candidates around.
Now, you're all set. You should be well-equipped to send out the job listing and begin your search for your superstar employee. Good luck!
Where can I find potential candidates?
The first thing you should do is simple: talk to the people around you.
Your network of colleagues, acquaintances, friends, or family members may know the perfect candidate for your open job position. It's usually a win-win situation (for both job seeker and you, the employer) since a reference already establishes a layer of trust through your network connection. Most of the people in your network will only refer friends and colleagues they trust to do a great job, so you can generally rest assured that you're getting a hard-working professional. Moreover, by looking at referrals, you'll save time and money by not having to plunge into the sea of job boards and blind applications.
If you've exhausted all your connections or if you want to expand your search, you can post your job listing on an online job board or in your local classifieds. There are plenty of websites out there dedicated to posting jobs, like Monster, LinkedIn, and Craigslist, just to name a few. Each site prices its services differently so you should do some research and evaluate which provide the best value as well as give you the most visibility to job seekers.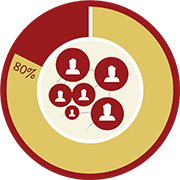 HUMAN RESOURCES FACT:
Four of five jobs are filled by recommendations, networking, and referrals. That's a full 80%! *
What should I do before I start interviewing?
Depending on the job, it's often a good idea to create an employment application. This allows you to ask specific questions that pertain to the position and to ask them of all your candidates. That gives you a nice baseline for comparing candidates. You'll also want to make sure you understand what you can and can't ask your prospective employees. A good rule of thumb? Stay away from personal questions.
For example, you shouldn't ask about an applicant's race, marital status, sexual preference, anything to do with their religion, or any question that could be construed as discriminatory. Our Employment Application only lets you ask questions that are federally legal and compliant with the law, so not only will you be protected from a legal standpoint but you'll be able to find the best candidate for the job.
So what can you ask your applicants? Here's a handy chart to help you out.