MAKE YOUR FREE

Bid Proposal
Other Names:
Proposal Template
Project Proposal
Estimate Template
Bid Proposal Template
Contract Proposal Template
Bid Sheet
Bidding Form
Bid Proposal Form
Bid Form Template
Quote Template
What is a Bid Proposal?
A Bid Proposal is a proposal template created by contractors or businesses who would like to bid on a project. Bid Proposals contain the project details, time and cost estimates for labor, materials and fees, scheduling or timing details, and other essential information, along with the bidding party's contact information. Bid Proposals may also help inform project owners about the terms and conditions for accepting a project.

Bid Proposals may be created by the bidding party, or a Bid Proposal template may be created by the project owner and included in an invitation to bid or Request for Proposal. A Bid Proposal template gives the project owner a standardized way to collect information from multiple proposals.

Whether you're the owner of a project or a contractor trying to place a bid, creating a Bid Proposal is a great way to explain all the details of a bid. Not only does it help both parties align on the details and terms of a potential contract, but it may also help determine the best bid for the project, which means the project can begin as soon as possible.

Note: If you are a construction contractor or own a construction project, a Construction Bid Form is a more specialized type of Bid Proposal that allows you to specify details specific to the construction industry.
When to use a Bid Proposal:
You are a business, freelancer, or contractor who would like to bid on a project.
You have a project and you want to collect Bid Proposals from potential contractors, freelancers, and businesses in a standard form.
Sample Bid Proposal
The terms in your document will update based on the information you provide
This document has been customized over 109.9K times

Documents and communicates
Ask a lawyer questions about your document
Sign this document online for free with RocketSign®
Bid Form
Bidder:
Project:
To:
Contract Price
I propose, as general contractor, to furnish all labor and materials required for the above Project and to construct the Project in strict conformity with all plans, Invitation to Bid, other specification and drawings provided by the Project Owner and any laws, statutes, ordinances, rules, or regulations of any governmental agencies or public authorities relating to the Project for the sum of .
Time of Completion
I agree to execute a Contract for the Project, deliver the bonds required by that Contract, commence actual work on the Project within the times specified in the contract documents issued in connection with the Project, and to complete the Project within working days, excluding Saturdays, Sundays, and legal holidays, after commencement of actual work on the Project unless delayed by any of the causes mentioned in the form of Contract issued in connection with the Project.
Examinations and Investigations
I acknowledge that I have performed the following:
A.Carefully examined the drawings and specifications for the Project as provided by the Project Owner.
B.Carefully examined all documents issued in connection with the Project, including:
C. Examined the job site on which the Project is to be constructed, including all soil borings, and have made other tests concerning subsoil conditions, and have
D.Determined to my own satisfaction all conditions or limitations that exist or that may arise affecting the Project and all difficulties that may be encountered in the construction of the Project.
E.Made this bid on the basis of the above examinations, inspections, and determinations, and not on the basis of any representations or promises made to me by or by any agent of .
Bid Proposal FAQs
What is typically included in a Bid Proposal template?

Bid Proposal templates usually outline all the terms and conditions of a bid on a project. They also state that the contractor has reviewed the project documents and it contains all the bid details.

You may want to include the following information in your Bid Proposal: the name of the project, where the bid will be returned, a list of all the documents provided to the contractor in connection with the project, a list of all the documents attached to the Bid Proposal, any estimates made in the bid, and the date the document was created. If there is an Invitation to Bid or RFP, the Bid Proposal should be completed according to the specifications in the invitation.

How do I make an effective Bid Proposal?

In all likelihood, your Bid Proposal will be competing against the Bid Proposals of other companies and contractors. To create the best possible Proposal and give yourself the highest chance of securing the project, here are a couple things you'll want to do:

Give a reasonable time estimate: Everyone wants work done quickly and efficiently, but there's such a thing as "too fast." Avoid giving excessive estimates in your Bid Proposal. It shows the receiving party that, although you might not have the fastest estimate, you're being reasonable. That can go a long way.
Provide project specifics: If you're a web design specialist bidding on a contract to design a new website for a client, for example, you likely know far more about those particulars than the person soliciting these bids. Be specific about your knowledge. Note all the details and how you came to your estimates of price and time.
Supply relevant information about your business: Note whether your business specializes in the process you're bidding for, whether you're more of a generalist, etc.

You may want to consult an attorney with any questions.

How is a Bid Proposal signed?

The Bid Proposal will be signed by the contractor or business who is submitting the bid. You do not need witnesses to the signing, nor do you need to have the signatures notarized. You may want to use RocketSign®, which enables both parties to sign the agreement electronically without the need for each party to sign a printed out agreement.

What are some other documents that I might need?

If you're using a Bid Proposal, chances are you might also need one or more of the following:

If you have any questions about what's right for you and your business, we can connect you with a Rocket Lawyer network attorney for quick answers or a document review.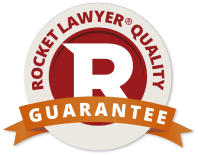 Our quality guarantee
We guarantee our service is safe and secure, and that properly executed Rocket Lawyer legal documents are legally enforceable under applicable US laws.
Need help? No problem!
Ask a question for free or get affordable legal advice when you connect with a Rocket Lawyer network attorney.
Bid Proposal checklist
Complete your free Bid Proposal with our Make It Legal™ checklist