MAKE YOUR FREE

Change Order
Other Names:
Change Order Form
Engineering Change Order
Construction Change Order Form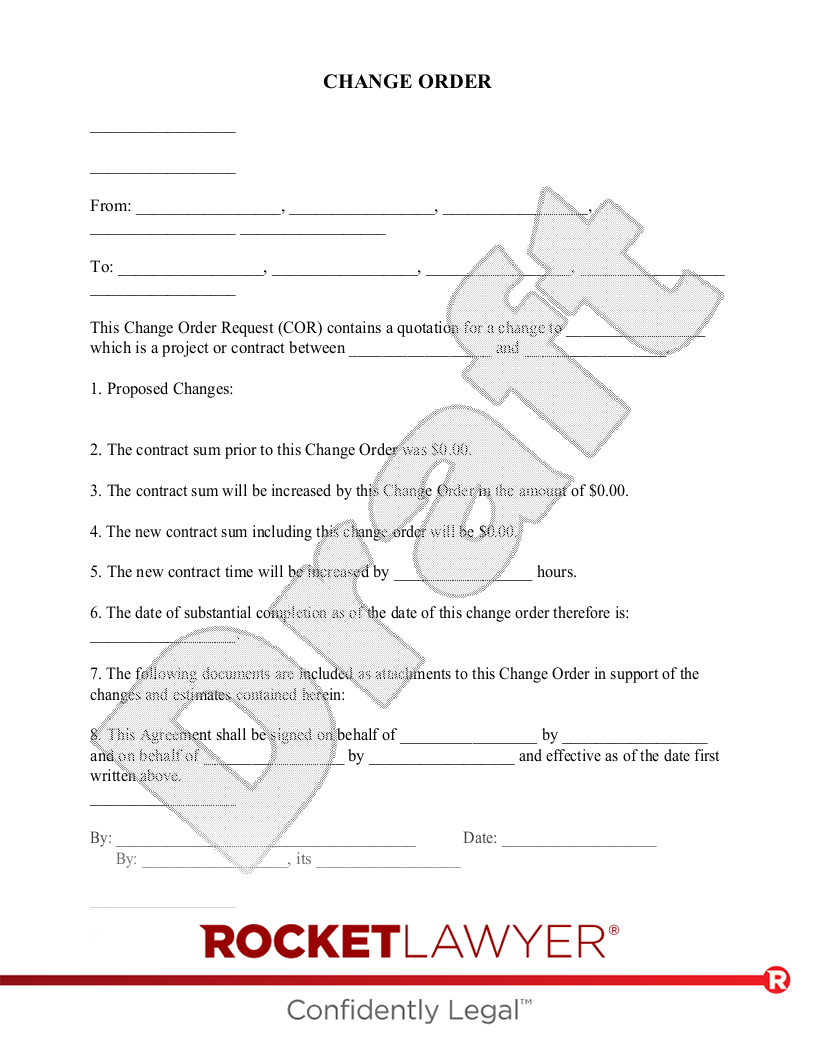 What is a Change Order?
Construction Change Orders are used for altering a construction contract and can be used between a contractor and a client or between a contractor and subcontractors. A Construction Change Order documents that both parties agreed to the change and understand how it changed the original agreement.

A Construction Change Order may be needed when the following changes: contract amount, contracted hours, or completion date. You can attach additional documents or drawings if needed. The contract will need to be signed by both parties to be binding.
When to use a Change Order:
You need to add a change to a construction contract.
You need to alter the deadline of a construction contract.
You need to change quoted prices for supplies or labor supplies.
Sample Change Order
The terms in your document will update based on the information you provide
This document has been customized over 79.1K times
Legally binding and enforceable
Ask a lawyer questions about your document
Sign this document online for free with RocketSign®
CHANGE ORDER
From: , , ,
To: , , ,
This Change Order Request (COR) contains a quotation for a change to which is a project or contract between and .
2.The contract sum prior to this Change Order was .
3.The contract sum will be increased by this Change Order in the amount of .
4.The new contract sum including this change order will be .
5.The new contract time will be
6.The date of substantial completion as of the date of this change order therefore is: .
7.The following documents are included as attachments to this Change Order in support of the changes and estimates contained herein:
8.This Agreement shall be signed on behalf of by and on behalf of by and effective as of the date first written above.
Change Order FAQs
Making a Change Order

While carrying out the actual work a Change Order requires may be stressful, making a Change Order document is rather simple. A few sums will need to be configured to fill out the form, including:

Increase amount.This is how much will be added to the original contract total.

Increase in hours.You'll need to estimate the number of billable hours that will be added to the contract to complete the change.

Completion date.The new date that work is expected to be completed.

You can attach additional documents or drawings if needed. The contract will need to be signed by both parties to be binding.

Change Order vs. change request

Sometimes these terms are confused. A change request is a term most often used in project management. Change requests are simply a request for a change. It does not define how the change might occur, how much it might cost or what resource changes might be required. A Change Order defines the costs and alters the original construction contract. While an external party such as a client may submit a change request, Change Orders are two-way contractual agreements. It is important that your clients understand the difference and that submitting a change request does not immediately cause work to change. They need to know that you need to research the cost, labor and material changes associated with the request and create the Change Order. Then both parties are required to sign it before the work can begin on the change.

How to limit Change Orders

The first way to avoid Change Orders is to spend extra time creating the best initial contract. You can greatly reduce construction contract changes by knowing your clients, subcontractors and suppliers well. Those with a lot of experience in the industry are well equipped to create better contracts by knowing what common issues to avoid. If you don't have extensive experience, ask a seasoned colleague for advice on how to avoid typical bid and contract issues. Your subcontractors may have previous experience with the clients that may prove helpful, as well. Once you have your contract created, double- or even triple-check numbers before you submit it to the client.

There are some provisions you can build into the original contract to help limit change orders. Such as:

Require written change requests from clients and attach a compensation value to work halted to accommodate the change order.
Remind your client that no work to accommodate the change will take place before a Change Order is signed by both parties.
Add extra time to your project completion date. Trying to rush a project often results in Change Orders to accommodate new completion dates.
Write into the contract exactly who you want to work with regarding your subcontractors. Problems may arise if your subcontractor sends out less experienced crew members or subcontracted workers to complete your project.

Change Order vs. a separate contract

In some cases, it may make sense to create a separate contract rather than adding to or changing the original contract. The first question you may ask yourself is how the change affects the original contract? Is it a separate building or structure? It might be easier in some instances to create an additional contract with its own budget, resources and completion date. An example might be that a client wants to add a second parking area but doesn't need it completed until two months after the original contract ends and the construction of the new parking area does not interfere with the existing project. In this case, you might benefit from writing a separate contract for the project.