MAKE YOUR FREE

Request for Proposal (RFP)
Other Names:
RFP
Request for Proposal Form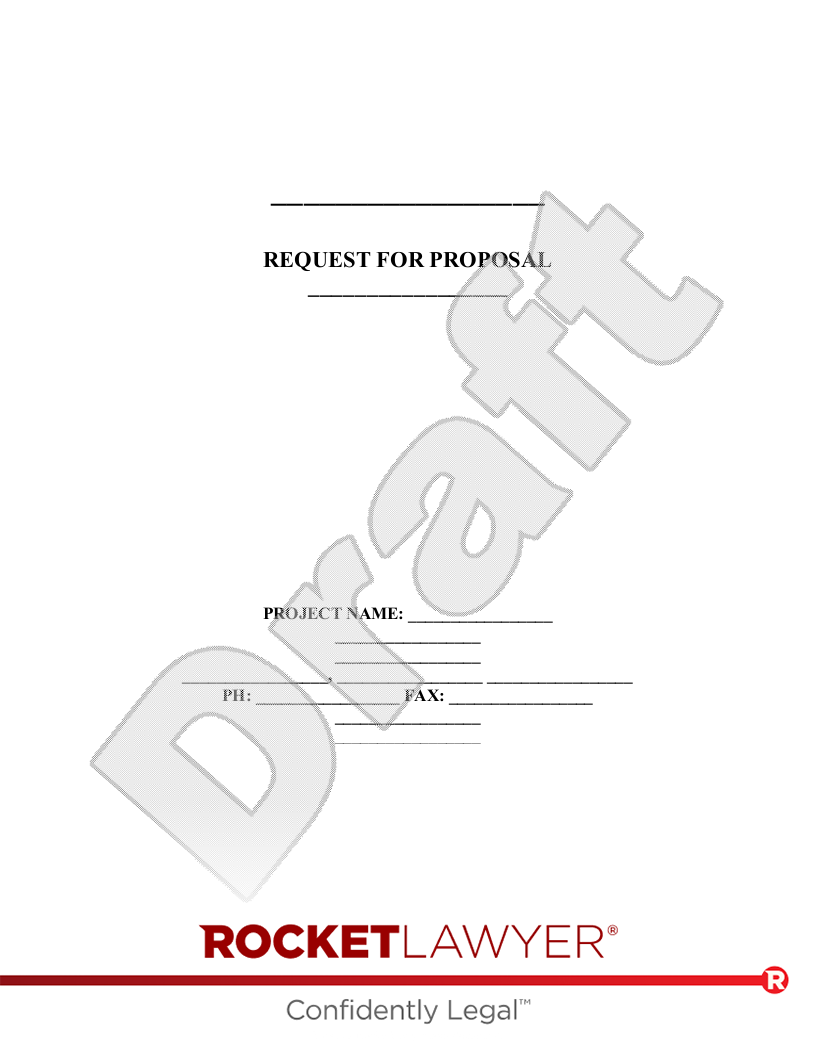 What is a Request for Proposal (RFP)?
When your business depends on contractors and you want to choose wisely, you'll need to issue a Request for Proposal. You can use this document to find out more about the qualifications of a potential contractor, or you can set off a bidding war to get the best proposal. If you're a contractor, this is your chance to shine. With a Request for Proposal, you'll know what a potential client is looking for, and whether you're the right fit for the project.

Contractors might come with glowing recommendations. But when you use a Request for Proposal, you'll be able to evaluate them yourself, and to quickly compare rivals' qualifications. Do they have the right skills for the job? Do they have the appropriate licenses, and any necessary insurance? Using a formal document puts the ball back in your court and lets contractors prove themselves. Perhaps you just want to cast your line and get some nibbles for your project. You might have a strict budget and want to test the waters to see if it's feasible. In a Request for Proposal, you can ask contractors to give you their rates, estimates on how long it will take, and ideas on how they'd approach it. You might even discover a fresh idea from a perfect candidate you've never worked with. If you're a contractor, a Request for Proposal is your gateway to your new gig. Use it to make yourself stand out from the pack.
When to use a Request for Proposal:
You want to request proposals or bids for services on an upcoming project.
Sample Request for Proposal
The terms in your document will update based on the information you provide
This document has been customized over 49.7K times

Documents and communicates
Ask a lawyer questions about your document
REQUEST FOR PROPOSAL
PROJECT NAME:
,
PH: FAX:
REQUEST FOR PROPOSAL
,
requests that your company make a proposal for your services on . The following proposal request will outline the project goals and detail the format you should submit your proposal. Please read the timeline carefully. In order for your proposal to be considered, your proposal must meet our deadlines included in the timeline under Section 2.02.
Section 1.01
Location and Sponsor
Your bid is for operation on located at , , .
will be managing this project. They will be on location during the project. will be responsible for the project's timely completion.
Section 1.03
Contact Information
Please contact for questions about the proposal submission details:
Please contact for questions about the project details:
By the end of this project we hope to achieve the following:
Section 2.02
Project Specifications
Section 2.03
Contractor Requirements
Should your proposal be accepted, we expect you to contribute the following to the project:
In order to complete our mission, we have set the following timetable. This timetable is subject to change by the managers of this project.
Requests for Proposals Sent Out
Letter of Intent or No-Bid Letters Sent In
Article III.
The Proposal
Section 3.01
Summary of Proposal
Contracts will be awarded based on the information presented in the proposals received. We will award contracts based on the proposal expected to be the most beneficial to our project based on a variety of factors. reserves the right to award more than one contract, accept the lowest price offer, award contracts before the proposal deadline listed in the timeline, award contracts before all proposals are received, and refuse any contract without obligation to or to the company offering the proposal.
Please forward a letter of intent by if you intend to submit a proposal. Likewise, if you do not intend to make a proposal, please forward a no-bid letter by the same date.
All proposals must be submitted to by to be considered for their contribution to .
All offers submitted will be considered based upon the materials provided in the proposal. Consideration will be given to performance projections as well as cost and staff requirements. Only those proposals submitted by the deadline above will be considered. The following criteria will be the primary considerations for selecting a proposal:
1.
Submission of all proposals in the correct format by the stated deadline.
2.
The perceived effectiveness of the proposal's solution for 's stated mission.
3.
The perceived ability for the proposing company's ability to deliver their services set forth in their proposal.
4.
The proposing company's past performance in delivering such services.
5.
Availability of sufficient high quality personnel with the required skills for the specific approach proposed.
6.
Overall cost of the proposal.
may suspend or discontinue proposals at any time without notice or obligation to the company that submitted the proposal.
(e)
Proposal Format: suggests that you include the following information in your proposal. Proposals should adequately address the details of the proposed contract.
(ii)
Capabilities and Methodology
(iv)
Executives, Staffing, and Management
(ix)
Licensing and Bonding
Section 3.02
Proposal Details
Include a brief history of your company including your past experience in dealing with similar projects. Also include the owners' names or those persons authorized to sign contracts for your business.
(b)
Capabilities and Methodology
Detail your company's capabilities in delivering the requests in this proposal. You should use this section to outline specifically your proposed method for achieving your goal. This should include a detailed timeline of milestones for completing the project.
Use this section to summarize the expected results of your methodology listed above. This should include a summary of your timeline for completing the project.
(d)
Executives, Staffing, and Management
List the high level executives or officers in charge of completing the project and a summary of their background. You should also use this section to list the projected staffing and management necessities and their estimated cost. Specify how you will obtain the staff to complete the project.
Explain how you intend to communicate between executives, management, and staff in addition to how you will communicate to the project manager to ensure the project stays on schedule.
Detail the equipment necessities as well as their estimated cost. If you will need additional services or space from you should list those requirements here with a brief explanation.
Build a detailed list of all expected expenses.
Give a brief summary of the total costs for your proposed contract. You may also include a brief explanation of the contributing costs to the total cost.
(i)
Licensing and Bonding
If applicable, include the details of your licenses and bonds for the services you are proposing. If possible, enclose proof of your licenses and bonds.
If applicable, provide the details of insurance your company will provide for your staff and the project.
Provide references for similar past projects.