MAKE YOUR FREE

Business Proposal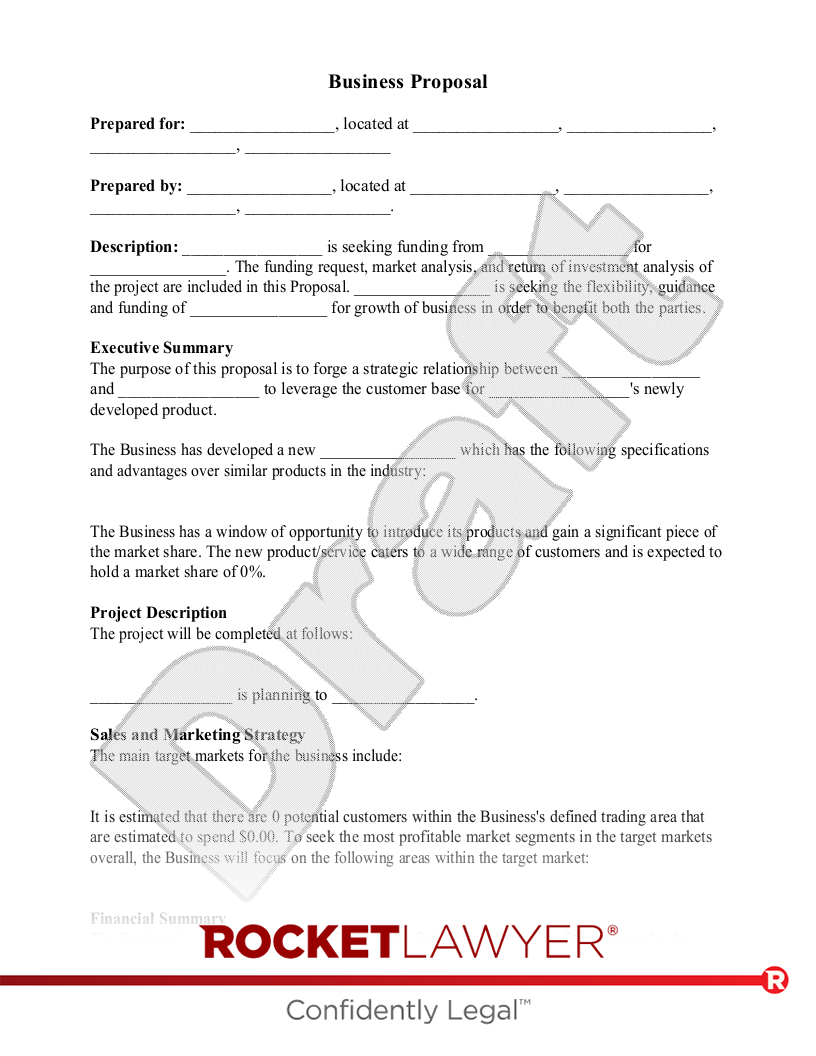 What is a Business Proposal?
A Business Proposal is a document you send to prospective clients with the goal of obtaining a specific job. You can send it unsolicited to try to gain new clients, or you can send one in response to an official or unofficial Request for Proposal. Sometimes you may be asked for a proposal during the business-to-business sales process. Or, you may receive a formal request in the form of a Request for Proposal (RFP). This document can also be used in the process of seeking funding from investors to support a specific business need.

A Business Proposal includes routine information such as your company's address, business description, executive summary and market advantages. Your basic company information you can likely pull from your Business Plan. But you'll also need to respond uniquely to the parameters of the job or business need specifically.
Sample Business Proposal
The terms in your document will update based on the information you provide
This document has been customized over 257.1K times
Ask a lawyer questions about your document
Prepared for:, located at , , ,
Prepared by:, located at , , , .
Description: is seeking funding from for . The funding request, market analysis, and return of investment analysis of the project are included in this Proposal. is seeking the flexibility, guidance and funding of for growth of business in order to benefit both the parties.
Executive Summary
The purpose of this proposal is to forge a strategic relationship between and to leverage the customer base for 's newly developed product.
The Business has developed a new which has the following specifications and advantages over similar products in the industry:
The Business has a window of opportunity to introduce its products and gain a significant piece of the market share. The new product/service caters to a wide range of customers and is expected to hold a market share of %.
Project Description
The project will be completed at follows:
is planning to .
Sales and Marketing Strategy
The main target markets for the business include:
It is estimated that there are potential customers within the Business's defined trading area that are estimated to spend . To seek the most profitable market segments in the target markets overall, the Business will focus on the following areas within the target market:
Financial Summary
The Business is expected to generate in the first year and gross profit is expected to be . Out of the gross profits % will be earmarked to pay back loans. will also get a share of profits generated every year, which shall be determined on a consensual basis. Fixed costs are limited to our office space and equipment lease at per month. Variable costs include repair and maintenance, sales and marketing expenses. Regular monthly expenses are estimated at for paying the employee salaries and meeting the administrative costs.
Closing Section
Future growth prospects are extremely positive for the new business venture. The strategic partnership between and should ensure a % of increase in the total revenue from the new business.
Business Proposal FAQs
What are the key elements of a Business Proposal?

A Business Proposal includes routine information such as your company's address, business description, executive summary and market advantages. Your basic company information you can likely pull from your Business Plan. But you'll also need to respond uniquely to the parameters of the job or business need specifically.

Key points to consider:

Market gain: If you are communicating with investors, they'll want to know what percentage of the current market you estimate to gain.
Project description: Include a general description of the project, the steps to complete the project and why your company is suitable to complete the project (or provide the service).
Sales and marketing: If proposing to investors, say how you plan to increase sales and how your marketing strategies will facilitate sales.
Financial summary: You will need to include information about projected incomes, profits and operating costs. Investors will want to know how you plan to share profits with them.

How to respond to a Request for Proposal (RFP)

If a company or government entity has sent your company a Request for Proposal , they want to know exactly how your company can satisfy their needs. They want to know much more than just the bottom line. Often organizations, especially government entities, are required to go through a thorough bidding process and will ask for proposals from many of your direct competitors.

RFP Response Tips

Understand the customer's need. Don't guess but do the best you can to understand their specific and unique needs and how you can help them. Your potential customer wants to see how you can address their exclusive needs, not a generic version of how you would solve the problem. You may even benefit from simply printing the RFP and going through it line-by-line to ensure you meet every request.
Do not underestimate the unknown. An experienced company will know how to best avoid common issues and project changes. The "ideal" scenario, is most often not what actually ends up happening. Show the company how you can manage typical issues well.
Don't under bid. While it is tempting, the price is not always the deciding factor on how your client may determine who wins the bid. Include in your Business Proposal a fair market price that doesn't cause you to short change yourself. The cheapest is not always the best, so you are not necessarily doing yourself any favors by bidding unusually low.
Edit your proposal. The proposal should be easy to read and understand. Your value should be obvious, realistic and simple to envision. Ask a colleague or non-interested party to review the proposal for clarity and obvious errors. If necessary, you can ask the editor to sign a simple Non-Disclosure Agreement (NDA) to protect your proprietary interests.
Include additional resources. Often it helps to include supporting documentation such as organizational charts, graphs, images and references. If you are chasing a large contract, it is worth your time to put extra energy into your proposal. Make sure the basics of the document are clear and that the additional information is supportive rather than distracting.
Be prepared. Sometimes you will be given an RFP with a short deadline. You can speed up your response time by having a template with your basic information already created. You'll also benefit from carefully saving copies of proposals you have submitted in the past. You can use proposals sent to similar clients as a reference for making a quick Business Proposal.

Business Proposal vs. Business Plan

These two business documents are often seen in each other's company, but they are not the same thing. However, they do cover some of the same key elements such as product (or service) descriptions, market information and financial projections. While a Business Plan shows the overall vision of the company, a Business Proposal focuses on a specific objective. The objective is most often to win a bid for a specific job or to acquire funding from an investor. If you have a comprehensive business plan, you can use elements from it to create Business Proposals.

What is the difference between an estimate and a Business Proposal?

An estimate is a less formal document that only includes a few details such as billable hours and pricing information. It is often used for lower-priced jobs. A Business Proposal includes many more details and needs to show not just the cost, but how your company plans on completing a project or satisfying supply needs. It is often used for larger projects or long-term service agreements.

We offer numerous documents for small businesses if you need other types of forms and documents, see our Essential Documents for Running a Business. If you need a simple Bid Form rather than a Business Proposal, we provide a Bid Form Template.