MAKE YOUR FREE

Course Partnership Agreement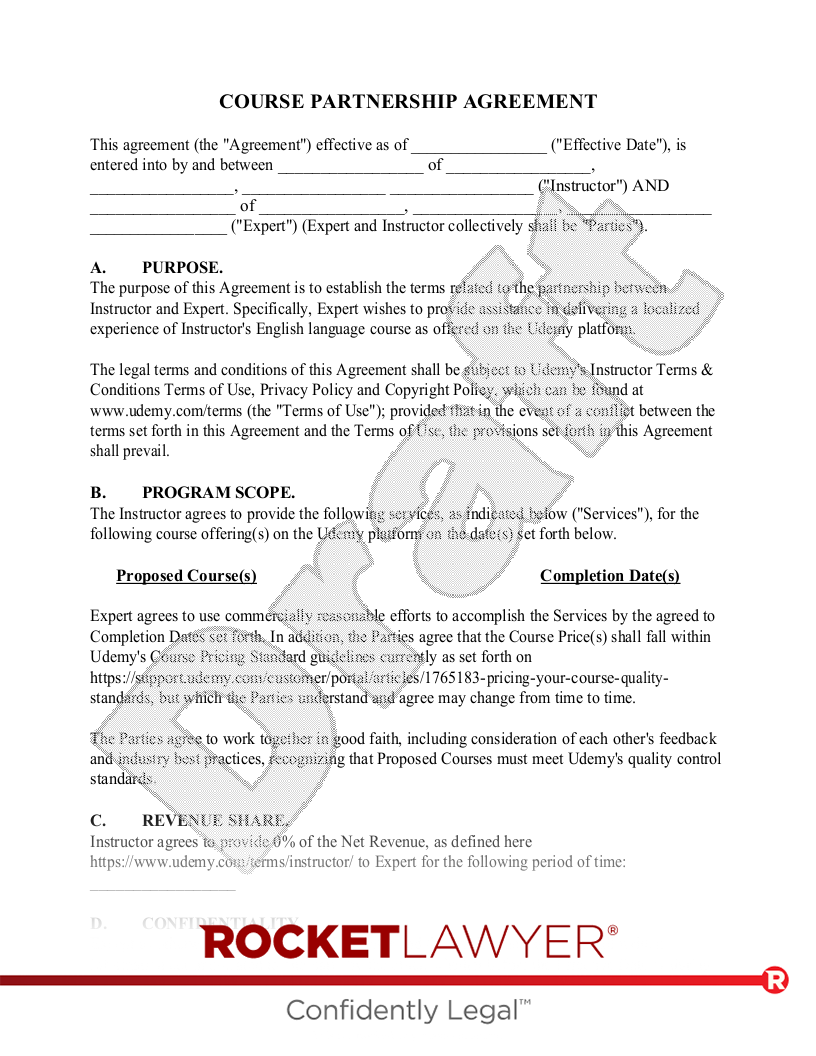 What is a Course Partnership Agreement?
When an online instructor wants to share the responsibilities of dealing with an online course with another party, it's a smart idea to use an agreement to make sure everyone knows what their responsibilities and rights are.

This agreement will allow you to spell out exactly who owns what in the course and how any revenue will be shared.

While many people work without an agreement, this can backfire down the line. What will your co-instructor be able to do with the localized content? Who gets paid how much and how? Like every contract, having the exchange on paper, signed by the parties involved, means everyone has to keep up their end of the bargain.
When to use a Course Partnership Agreement:
You have an existing published course on the Udemy platform and you want to hire a co-instructor to localize your content into another language and provide services to students in that language on the Udemy platform.
Sample Course Partnership Agreement
The terms in your document will update based on the information you provide
Rocket Lawyer members have customized over 93.5M documents
Legally binding and enforceable
Ask a lawyer questions about your document
This agreement (the "Agreement") effective as of ("Effective Date"), is entered into by and between , , ("Instructor") AND , , ("Expert") (Expert and Instructor collectively shall be "Parties").
The purpose of this Agreement is to establish the terms related to the partnership between Instructor and Expert. Specifically, Expert wishes to provide assistance in delivering a localized experience of Instructor's English language course as offered on the Udemy platform.
The legal terms and conditions of this Agreement shall be subject to Udemy's Instructor Terms & Conditions Terms of Use, Privacy Policy and Copyright Policy, which can be found at www.udemy.com/terms (the "Terms of Use"); provided that in the event of a conflict between the terms set forth in this Agreement and the Terms of Use, the provisions set forth in this Agreement shall prevail.
The Instructor agrees to provide the following services, as indicated below ("Services"), for the following course offering(s) on the Udemy platform on the date(s) set forth below.
Proposed Course(s)
Completion Date(s)
Expert agrees to use commercially reasonable efforts to accomplish the Services by the agreed to Completion Dates set forth. In addition, the Parties agree that the Course Price(s) shall fall within Udemy's Course Pricing Standard guidelines currently as set forth on https://support.udemy.com/customer/portal/articles/1765183-pricing-your-course-quality-standards, but which the Parties understand and agree may change from time to time.
The Parties agree to work together in good faith, including consideration of each other's feedback and industry best practices, recognizing that Proposed Courses must meet Udemy's quality control standards.
Instructor agrees to provide % of the Net Revenue, as defined here https://www.udemy.com/terms/instructor/ to Expert for the following period of time:
Except as otherwise provided herein, Instructor and the Parties each agree that all written information communicated to one party by the other, whether before the Effective Date or during the Term, and (a) marked as confidential or proprietary or that reasonably should be understood to be confidential given the nature of the information and the circumstances of disclosure; or (b) regarding customers; human resources; financial costs, expenses or operations; inventory, purchasing or merchandising; or plans, strategies or forecasts (hereinafter collectively referred to as "Confidential Information") shall be used only for the purposes of this Agreement, and that no Confidential Information of the disclosing party shall be disclosed to outside parties by the recipient party, its agents or employees without the prior written consent of the disclosing party. Each party agrees to take all reasonable precautions to prevent disclosure to outside parties of Confidential Information, including without limitation, the terms of this Agreement. This obligation of non-disclosure shall not apply to any Confidential Information which is (i) not marked as confidential or proprietary or included in the categories identified above, (ii) already known by or available to the receiving party or its parent or subsidiaries at the time of disclosure; (iii) independently generated by either of the parties hereto or its parent or subsidiaries and not derived from the Confidential Information of the disclosing party, (iv) generally known or available to the public, or which may later become generally known or available to the public except where such knowledge or availability is the result of an unauthorized disclosure by one of the parties hereto, (v) disclosed to the receiving party or its parent or subsidiaries by a third party who is lawfully permitted to make such disclosure, (vi) made available by the disclosing party to a third party without a similar restriction; or (vii) required to be disclosed by either party or their parent or subsidiaries by law, regulation, court order or other legal process. This obligation of confidentiality shall cease two (2) years after the return of such Confidential Information to the disclosing party by the receiving party or two (2) years after the termination of this Agreement, whichever is later.
The Parties agree that the other may make use of the following tools and tactics, as well as other mutually agreed upon promotional means to market the Proposed Courses. As such, Instructor agrees to opt in to the following Udemy Marketing Programs, which is accessed through the Instructor's premium account:
. Udemy Deals Program
. Marketing Boost Program
.
OWNERSHIP, INTELLECTUAL PROPERTY AND REPRESENTATIONS.
.
INDEPENDENT CONTRACTOR.
It is the express intention of the Parties that Expert performs the Services as an independent contractor to the Instructor. Nothing in this Agreement shall in any way be construed to constitute Expert as an agent, employee or representative of Instructor. Without limiting the generality of the foregoing, Expert is not authorized to bind Instructor to any liability or obligation or to represent that Expert has any such authority.
All charges and fees provided for in this Agreement are exclusive of any taxes, duties, or similar charges imposed by any government. Each Party agrees that it is responsible for its own taxes.