MAKE YOUR FREE

Non-Disclosure Agreement (NDA)
Other Names:
Secrecy Agreement (SA)
Confidential Disclosure Agreement (CDA)
Proprietary Information Agreement (PIA)
Confidentiality Agreement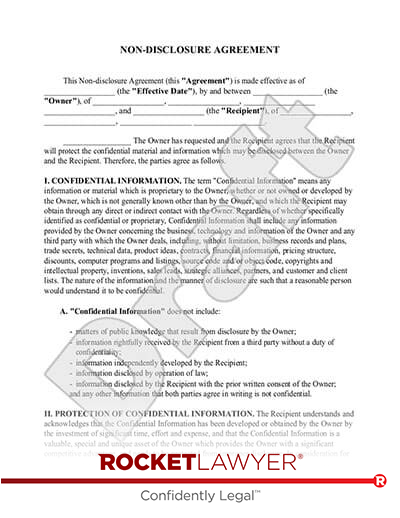 What is a Non-Disclosure Agreement (NDA)?
A Non-Disclosure Agreement (NDA) is a legally enforceable contract that establishes confidentiality between two parties—the owner of protected information and the recipient of that information. By signing an NDA, participants agree to protect confidential information shared with them by the other party. In addition to not divulging or releasing the information without consent, the recipient also agrees not to copy, modify, or make use of the information in any way that is not authorized by the owner.
When can you use a Non-Disclosure Agreement?
You're a business, and you want to ensure that the proprietary information you're sharing with another person or organization won't become public.
You're a consultant who's been given access to proprietary information belonging to another person or organization, and you want to clarify the terms under which information is shared.
Sample Non-Disclosure Agreement
The terms in your document will update based on the information you provide
This document has been customized over 204.7K times
Legally binding and enforceable
Complies with relevant laws
Ask a lawyer questions about your document
Sign this document online for free with RocketSign®
NON-DISCLOSURE AGREEMENT
This Non-disclosure Agreement (this "Agreement") is made effective as of (the "Effective Date"), by and between (the "Owner"), of , , , and (the "Recipient"), of , , .
The Owner has requested and the Recipient agrees that the Recipient will protect the confidential material and information which may be disclosed between the Owner and the Recipient. Therefore, the parties agree as follows:
. CONFIDENTIAL INFORMATION. The term "Confidential Information" means any information or material which is proprietary to the Owner, whether or not owned or developed by the Owner, which is not generally known other than by the Owner, and which the Recipient may obtain through any direct or indirect contact with the Owner. Regardless of whether specifically identified as confidential or proprietary, Confidential Information shall include any information provided by the Owner concerning the business, technology and information of the Owner and any third party with which the Owner deals, including, without limitation, business records and plans, trade secrets, technical data, product ideas, contracts, financial information, pricing structure, discounts, computer programs and listings, source code and/or object code, copyrights and intellectual property, inventions, sales leads, strategic alliances, partners, and customer and client lists. The nature of the information and the manner of disclosure are such that a reasonable person would understand it to be confidential.
A. "Confidential Information"

does not include:
-
matters of public knowledge that result from disclosure by the Owner;
-
information rightfully received by the Recipient from a third party without a duty of confidentiality;
-
information independently developed by the Recipient;
-
information disclosed by operation of law;
-
information disclosed by the Recipient with the prior written consent of the Owner;
and any other information that both parties agree in writing is not confidential.
. PROTECTION OF CONFIDENTIAL INFORMATION. The Recipient understands and acknowledges that the Confidential Information has been developed or obtained by the Owner by the investment of significant time, effort and expense, and that the Confidential Information is a valuable, special and unique asset of the Owner which provides the Owner with a significant competitive advantage, and needs to be protected from improper disclosure. In consideration for the receipt by the Recipient of the Confidential Information, the Recipient agrees as follows:
A. No Disclosure. The Recipient will hold the Confidential Information in confidence and will not disclose the Confidential Information to any person or entity without the prior written consent of the Owner.
B. No Copying/Modifying. The Recipient will not copy or modify any Confidential Information without the prior written consent of the Owner.
C. Unauthorized Use. The Recipient shall promptly advise the Owner if the Recipient becomes aware of any possible unauthorized disclosure or use of the Confidential Information.
D. Application to Employees. The Recipient shall not disclose any Confidential Information to any employees of the Recipient, except those employees who are required to have the Confidential Information in order to perform their job duties in connection with the limited purposes of this Agreement. Each permitted employee to whom Confidential Information is disclosed shall sign a non-disclosure agreement substantially the same as this Agreement at the request of the Owner.
. UNAUTHORIZED DISCLOSURE OF INFORMATION - INJUNCTION. If it appears that the Recipient has disclosed (or has threatened to disclose) Confidential Information in violation of this Agreement, the Owner shall be entitled to an injunction to restrain the Recipient from disclosing the Confidential Information in whole or in part. The Owner shall not be prohibited by this provision from pursuing other remedies, including a claim for losses and damages.
. RETURN OF CONFIDENTIAL INFORMATION. Upon the written request of the Owner, the Recipient shall return to the Owner all written materials containing the Confidential Information. The Recipient shall also deliver to the Owner written statements signed by the Recipient certifying that all materials have been returned within five (5) days of receipt of the request.
. RELATIONSHIP OF PARTIES. Neither party has an obligation under this Agreement to purchase any service or item from the other party, or commercially offer any products using or incorporating the Confidential Information. This Agreement does not create any agency, partnership, or joint venture.
. NO WARRANTY. The Recipient acknowledges and agrees that the Confidential Information is provided on an "AS IS" basis. THE OWNER MAKES NO WARRANTIES, EXPRESS OR IMPLIED, WITH RESPECT TO THE CONFIDENTIAL INFORMATION AND HEREBY EXPRESSLY DISCLAIMS ANY AND ALL IMPLIED WARRANTIES OF MERCHANTABILITY AND FITNESS FOR A PARTICULAR PURPOSE. IN NO EVENT SHALL THE OWNER BE LIABLE FOR ANY DIRECT, INDIRECT, SPECIAL, OR CONSEQUENTIAL DAMAGES IN CONNECTION WITH OR ARISING OUT OF THE PERFORMANCE OR USE OF ANY PORTION OF THE CONFIDENTIAL INFORMATION. The Owner does not represent or warrant that any product or business plans disclosed to the Recipient will be marketed or carried out as disclosed, or at all. Any actions taken by the Recipient in response to the disclosure of the Confidential Information shall be solely at the risk of the Recipient.
. LIMITED LICENSE TO USE. The Recipient shall not acquire any intellectual property rights under this Agreement except the limited right to use as set forth above. The Recipient acknowledges that, as between the Owner and the Recipient, the Confidential Information and all related copyrights and other intellectual property rights, are (and at all times will be) the property of the Owner, even if suggestions, comments, and/or ideas made by the Recipient are incorporated into the Confidential Information or related materials during the period of this Agreement.
. INDEMNITY. Each party agrees to defend, indemnify, and hold harmless the other party and its officers, directors, agents, affiliates, distributors, representatives, and employees from any and all third party claims, demands, liabilities, costs and expenses, including reasonable attorney's fees, costs and expenses resulting from the indemnifying party's material breach of any duty, representation, or warranty under this Agreement.
. ATTORNEY'S FEES. In any legal action between the parties concerning this Agreement, the prevailing party shall be entitled to recover reasonable attorney's fees and costs.
. TERM. The obligations of this Agreement shall survive from the Effective Date or until the Owner sends the Recipient written notice releasing the Recipient from this Agreement. After that, the Recipient must continue to protect the Confidential Information that was received during the term of this Agreement from unauthorized use or disclosure indefinitely.for an additional .
. GENERAL PROVISIONS. This Agreement sets forth the entire understanding of the parties regarding confidentiality. Any amendments must be in writing and signed by both parties. This Agreement shall be construed under the laws of the State of . This Agreement shall not be assignable by either party. Neither party may delegate its duties under this Agreement without the prior written consent of the other party. The confidentiality provisions of this Agreement shall remain in full force and effect at all times in accordance with the term of this Agreement. If any provision of this Agreement is held to be invalid, illegal or unenforceable, the remaining portions of this Agreement shall remain in full force and effect and construed so as to best effectuate the original intent and purpose of this Agreement.
. WHISTLEBLOWER PROTECTION. This Agreement is in compliance with the Defend Trade Secrets Act and provides civil or criminal immunity to any individual for the disclosure of trade secrets: (i) made in confidence to a federal, state, or local government official, or to an attorney when the disclosure is to report suspected violations of the law; or (ii) in a complaint or other document filed in a lawsuit if made under seal.
. SIGNATORIES. This Agreement shall be executed by , , on behalf of and , , on behalf of and delivered in the manner prescribed by law as of the date first written above.
Non-Disclosure Agreement Checklist
Make It Legal™
Find out next steps for your document
___Sign this document. This document needs to be signed by:
The Agreement can be signed online. It becomes effective as of the date specified in the Agreement.
___Everyone gets a copy. Anyone named in the document should receive a copy of the signed document. If you sign this agreement online a copy will be securely stored in your account. You can share your document from your account.
Important Details
If you send your NDA along with additional supporting documents, make sure you mark all supporting documents as "Confidential" before giving them to another party.
Example: If you send specs for new software to a potential employee, write "Confidential" on all pages of the document you send over.
About Non-Disclosure Agreements
Learn how to ensure that proprietary information stays private
How To Write a Non-Disclosure Agreement

A Non-Disclosure Agreement (or "NDA") is an agreement under which a party (the "Recipient") agrees not to disclose proprietary and confidential information ("Confidential Information") that it receives from another party (the "Owner"). This type of agreement may be useful in a variety of circumstances. For example, a company might choose to share information with a web marketing consultant for the purpose of improving its online sales through its website. In such a situation, the company would probably be sharing product and customer information with the marketing consultant and would want to protect this information from disclosure by the consultant to third parties by using a Non-Disclosure Agreement.

Non-Disclosure Agreement templates contain a variety of clauses with legal terms that can be confusing. We'll cover the most common clauses below and explain what they mean.

Confidential Information

In a Non-Disclosure Agreement, confidential information is the data or information the parties want to protect. It can be business-related, such as proprietary information (trade secrets) or business financial records. It could also be personal information, such as bank statements or tax returns.

Confidential information can be written or oral and might be received directly or indirectly. The information that an NDA seeks to protect can be very extensive or extremely limited, based on the document's language.

Examples of confidential information might include:

Pricing or discount structures.
Technical data or designs.
Customer lists or sales leads.
Research and related information.
Business plans or records.
Inventions or new product ideas.

​In the employment context, confidential information is usually internal information about a company. Employers might use a Non-Disclosure Agreement to protect their business practices, such as how they make their products or perform their services. In that situation, even observations are protected, not just communications or documents.

However, confidential information is not automatically confidential simply because one party says it is. Instead, confidential information cannot be information already public knowledge or that a party lawfully received from another source. An NDA might also include specific descriptions of data that is not considered confidential information.

In some Non-Disclosure Agreements, confidential information must be marked as "confidential" by putting the word on the top of the document in a conspicuous way. However, not every NDA uses this marking method. Some agreements will state that every document or any information received is confidential, so there is no need to mark everything.

Protection of Confidential Information

Every Non-Disclosure Agreement aims to protect the disclosure of confidential information. Parties cannot share with others the specific confidential information that the NDA seeks to protect. However, sharing might be permitted if the third party that receives the information also agrees to the terms of the Non-Disclosure Agreement.

Once a party receives confidential information under an NDA, they have an affirmative duty to protect that confidential information. That means more than just not sharing the information. They must also take steps to keep the data safe so that other parties cannot access it. In some situations, that can mean ensuring that they have digital protections on computers or keeping confidential information in a locked location.

Protection of confidential information also generally requires that the receiving party notify the providing party if there has been a data breach or any other action that would expose the information to someone that should not have it. Copying, modifying, and methods of disclosure might be addressed as well.

Unauthorized Disclosure of Information - Injunction

A Non-Disclosure Agreement specifically requires the parties to keep information safe and confidential. If it is shared, there are consequences. Specifically, the sharing party might be legally liable for any damages caused by sharing the information.

In most cases, the party who owns the confidential information can also request an "injunction" from the court. An injunction is a court order that stops a party from taking a specific action. To receive an injunction, the party requesting it must show that they would suffer irreparable harm if the action does not stop.

Consider an example. Imagine an employee signed an NDA as part of their employment. The employee decides to quit and start his own business. He takes a confidential client list from his prior employer. He starts calling those individuals and offering the same services provided by his previous employer at a slightly lower rate—because he knows what those clients were paying for services from his prior employer.

In that situation, the employer can file a legal complaint asking the court to issue an injunction to stop the employee from stealing its clients and violating its NDA. The injunction request would likely be granted because the employer's business would be significantly harmed if the employee did not stop his actions. If the employee ignores the court order, he could be fined and even imprisoned in some cases.

Non-Circumvention

In some situations, one business shares its client information with another business or person to further its business. A common example is when a company uses a third-party contractor to perform part of its services, such as in the construction context.

For instance, a company called "Maintenance Company" might have an ongoing relationship with a client where the client pays for maintenance and cleaning services. Maintenance Company then hires various other companies to fulfill their contract obligations, such as an elevator repair company, a cleaning company, an electrician, etc.

A non-circumvention agreement would prevent, for example, the cleaning company from reaching out to the client directly to provide services. Instead, the cleaning company has to go through Maintenance Company when it comes to anything related to the client. The cleaning company cannot go behind Maintenance Company's back to solicit business from the client under a non-circumvention agreement.

Non-circumvention clauses are commonly used in Non-Disclosure Agreements because a company has to disclose the identity of some of its clients to work with another business occasionally. The NDA then protects not only the identity of clients but also the business model of a company that uses third parties to service its clients.

If a party violates a non-circumvention clause, they must often turn over those commissions, funds, or other benefits to the party providing the information.

Return of Confidential Information

There is a clause in many NDA forms that require the return or destruction of confidential information when the NDA's term is over or when the business relationship between the parties ends. This clause further protects confidential information by ensuring it is destroyed or returned when a party no longer needs it.

A return of confidential information clause also usually applies to any copies or duplicate information a party creates. While this type of clause is most often invoked at the end of the relationship between the parties, it can be "on demand" as well. That is, the providing party can specifically ask that the information be returned at any time.

This clause might also require a signed affidavit or statement from the receiving party that they have turned over all confidential information that was in their possession.

Relationship of Parties

Most NDAs will include a clause limiting or restricting the parties' relationship. For example, in the employment context, a relationship clause might specifically state that the NDA does not create an employment contract and that the employee is still an "at-will" employee.

In other contexts, the relationship clause might state that no employee/employer relationship is created because of this agreement. It might also state that there is no joint venture or partnership as well.

This clause helps the parties stay on the same page about their relationship. For example, it is much harder for an individual to argue that they thought they were an employee because of an NDA when the NDA specifically defines the relationship between the parties.

No Warranty

A section of an NDA form might include a short "no warranty" clause. This section generally sets out that the party providing information does not warrant the information provided. In most cases, the warranty applies to whether the information is accurate or comprehensive. The no warranty section might specifically state the information is provided "as is" and is provided only for a specific purpose.

Limited License to Use

Some NDAs provide specific restrictions about how the disclosed information can be used. This type of clause deals specifically with intellectual property rights. Because the confidential information disclosed often falls under several intellectual property rights protections, this section spells out that the receiving party can use the information without violating those rights.

This section also often specifically sets out that the party receiving the information only has a license to use it and does not own the intellectual property rights. It usually includes an acknowledgment that the receiving party is aware that the providing party owns the intellectual property rights to the confidential information as well.

Indemnity

The term "indemnity" means that one party will reimburse or cover the costs associated with any damages related to a particular agreement or action. In the context of an NDA, the indemnity clause generally sets out that the receiving party will reimburse (or indemnify) the providing party if there is a breach of the agreement and a third party makes a legal claim about it.

Essentially, if one party shares information that they should not have shared, and it results in damages to a third party, then the receiving party is responsible for those damages. This removes any risk that the confidential information harms a third party when the receiving party shares that information.

Attorney's Fees

If the NDA is violated, the party trying to enforce it might need to involve the assistance of an attorney. Because litigation can be costly, the NDA might include a provision that requires the violating party to pay attorney fee expenses to the other party. This term can be very valuable in the event of a breach of the agreement.

However, remember that not every state allows attorney fee provisions in contracts. Be sure the NDA you use is tailored to the laws in effect in your state.

Term

The term provided in an NDA sets out how long the NDA is effective. The term can be for a certain period (such as five years), or it can set out that it will terminate a specific period after something occurs. For example, if the NDA is used in the employment context, the term might be for a year after the last date of employment.

The term can be very long when an NDA is used to protect business information or trade secrets. In fact, some provisions might state that the trade secret is protected until it is no longer considered a trade secret. In some cases, that might mean the information will be protected under the NDA indefinitely.

Keep in mind that the term in the NDA should be the time that the NDA is effective. It does not affect the relationship between the parties directly. The relationship term might affect the term of the NDA, but they are not the same concept.

General Provisions

A general provisions section is a "catch-all" section that incorporates some necessary terms that do not fall into the other sections. For example, it might include a provision that any amendments (changes) to the agreement must be in writing and signed by both parties. It might also set out which state's laws should apply to the agreement and where a lawsuit should be filed if there is a breach of the agreement. It also often contains a "severability" clause, which states that if any section of the NDA is invalid or void, then the rest of the contract will remain valid, and the court will only ignore that invalid section.

Whistleblower Protection

A whistleblower is someone who reports illegal or unethical activities, usually an employee reporting an employer for violations of state or federal law. In some circumstances, an NDA might discourage individuals from reporting these violations for fear of breaching the NDA.

A whistleblower protection clause in an NDA essentially provides that it is not a breach of the NDA to act as a whistleblower. In some cases, this clause is required by law. For instance, the Whistleblower Protection Enhancement Act of 2012 applies to federal employees. It requires that every NDA between the federal government and its employees must contain a clause that sets out that the NDA does not limit or trump an employee's right to be a whistleblower.

Certain additional industries and some states may also require this type of provision as part of an NDA.

Definitions of Non-Disclosure Agreement Terms

| Term | Definition |
| --- | --- |
| Injunction | A court order that prevents a person or company from doing something, such as continuing a violation of an NDA. |
| Intellectual Property | Work or an invention that results from creativity, such as a product, design, music composition, written work, or artwork. |
| Trade Secrets | Secret or private information that a business uses in the production of its goods or creation of its services. |
| Whistleblower | An individual (usually an employee) who reports unethical or illegal activity to state or federal authorities, such as Congress, the Securities Exchange Commission, OSHA, the IRS, or the Department of Labor. |
Non-Disclosure Agreement FAQs
What is the purpose of a Non-Disclosure Agreement?

A signed Non-Disclosure Agreement (NDA) can help you avoid a lot of problems as a business owner. Without an NDA in place, your confidential information can be disclosed publicly or otherwise used by employees, vendors, clients, or anyone else with whom you share the information. A Non-Disclosure Agreement lets the recipients of your proprietary information know that you expect confidentiality and it authorizes you to take legal action if the contract is violated.

Confidentiality agreements typically serve three key functions:

NDAs protect sensitive information. By signing an NDA, participants promise to not divulge or release information shared with them by the other people involved. If the information is leaked, the injured person can claim breach of contract.

In the case of new product or concept development, a confidentiality agreement can help the inventor keep patent rights. In many cases, public disclosure of a new invention can void patent rights. A properly drafted NDA can help the original creator hold onto the rights to a product or idea.

Confidentiality agreements and NDAs expressly outline what information is private and what's fair game. In many cases, the agreement serves as a document that classifies exclusive and confidential information.

Is an NDA legally binding?

While a properly executed NDA form is usually enforceable, there are a few key considerations to keep in mind if you want to take a dispute to court:

Does your state have protections against unreasonable or overly broad scopes?
Was the information shared accidentally (e.g. overheard, hacked or otherwise stolen?)
Is the information well-known or easily findable?
Can the process or product easily be developed without access to your information?
Do you have proof that the recipient of the information was the true source of the leak?
Can you prove that the release of information actually caused monetary or other types of damage to your company?

Even the most simple confidentiality agreement can benefit from attorney review. If you have questions about the enforceability of your Non-Disclosure Agreement, ask a lawyer.

How long should an NDA last?

Generally, the time period is limited to as long as the confidential information is considered useful. Depending on the nature of the information that was exchanged, a shorter or reasonable amount of time, like one year, may be more legally enforceable. However, information like trade secrets may benefit from being kept confidential for an indefinite amount of time.

What happens if you break a Non-Disclosure Agreement?

Breaking an NDA is the same as breaking any other contract, however there are certain legal exceptions. Generally speaking, you may legally break a Non-Disclosure Agreement if there is a misrepresentation of material fact (hiding or fabricating important details in the contract) or if illegal activity is involved. If you are considering breaking any legal contract, it is usually best to talk to a lawyer beforehand.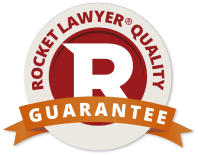 Our quality guarantee
We guarantee our service is safe and secure, and that properly executed Rocket Lawyer legal documents are legally enforceable under applicable US laws.
Need help? No problem!
Ask a question for free or get affordable legal advice when you connect with a Rocket Lawyer network attorney.
Non-Disclosure Agreement checklist
Complete your free Non-Disclosure Agreement with our Make it Legal™ checklist