MAKE YOUR FREE

Cooperation Agreement
Other Names:
Agreement of Cooperation
Partnership and Cooperation Agreement
Business Cooperation Agreement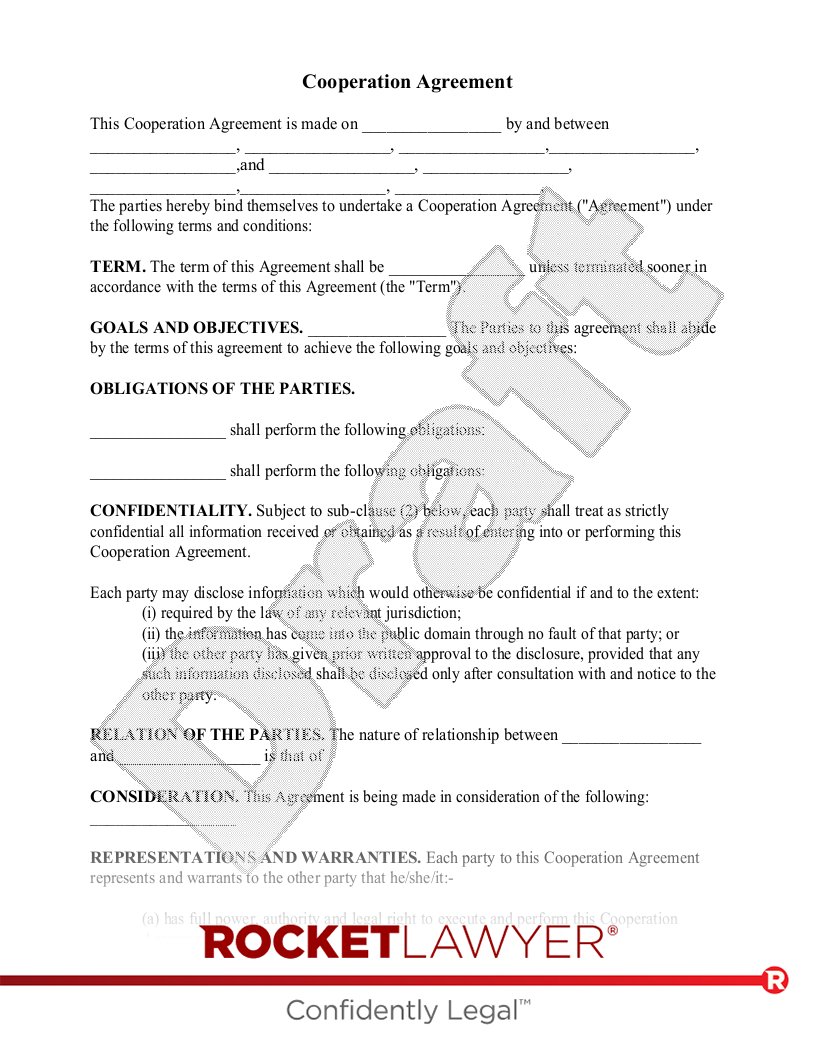 What is a Cooperation Agreement?
So you're getting ready to enter into a business arrangement. Before creating a detailed contract, you can use a Cooperation Agreement to outline the terms of your preliminary agreement. It can help you settle on the most important points to include in the contract so you can get closer to the final deal.

A Cooperation Agreement is a formal business document outlining the basic terms of your agreement with another individual, group or entity. Also called a Memorandum of Understanding or cooperation contract, it's one of the first steps toward a more detailed contract. It shows that there's an understanding between your two parties, a mutual desire to work together on an agreed-upon goal. Your Business Cooperation Agreement should include details like: the names of the parties involved; the purpose, goals and objectives of this agreement; the date and initial term of the agreement; each party's responsibilities; any additional warranties or promises; how many days each party has to correct any problem; who will own any intellectual property created by either party; whether both parties can be excused from obligations due to causes beyond their control; any arbitration, assignment, and non-disclosure clauses; and more. We're here to help you get it done, step by step.
When to use a Cooperation Agreement:
You are ready to enter into a transaction (e.g. purchase, partnership, employment) with a party and would like to have a general understanding of the agreement in place before the details are negotiated and finalized in a subsequent agreement.
Sample Cooperation Agreement
The terms in your document will update based on the information you provide
This document has been customized over 29K times
Legally binding and enforceable
Ask a lawyer questions about your document
Sign this document online for free with RocketSign®
Cooperation Agreement
This Cooperation Agreement is made on by and between , , ,, ,and , , ,,
The parties hereby bind themselves to undertake a Cooperation Agreement ("Agreement") under the following terms and conditions:
TERM. The term of this Agreement shall be unless terminated sooner in accordance with the terms of this Agreement (the "Term").
GOALS AND OBJECTIVES. The Parties to this agreement shall abide by the terms of this agreement to achieve the following goals and objectives:
OBLIGATIONS OF THE PARTIES.
shall perform the following obligations:
shall perform the following obligations:
CONFIDENTIALITY. Subject to sub-clause (2) below, each party shall treat as strictly confidential all information received or obtained as a result of entering into or performing this Cooperation Agreement.
Each party may disclose information which would otherwise be confidential if and to the extent:
(i)required by the law of any relevant jurisdiction;
(ii)the information has come into the public domain through no fault of that party; or
(iii)the other party has given prior written approval to the disclosure, provided that any such information disclosed shall be disclosed only after consultation with and notice to the other party.
RELATION OF THE PARTIES. The nature of relationship between and is that of partners in a partnership.
CONSIDERATION. This Agreement is being made in consideration of the following:
REPRESENTATIONS AND WARRANTIES. Each party to this Cooperation Agreement represents and warrants to the other party that he/she/it:-
()has full power, authority and legal right to execute and perform this Cooperation Agreement;
()has taken all necessary legal and corporate action to authorize the execution and performance of this Cooperation Agreement;
()this Cooperation Agreement constitutes the legal, valid and binding obligations of such party in accordance with its terms; and
()shall act in good faith to give effect to the intent of this Agreement and to take such other action as may be necessary or convenient to consummate the purpose and subject matter of this Cooperation Agreement.
TERMINATION. Either party may terminate its performance of related obligations under this Agreement if the other party fails to rectify a material breach under a portion of this Agreement within thirty (30) days of receipt by the breaching party of written notice of such breach from the non-breaching party. In such case, the non-breaching Party shall be entitled, without further notice, to cancel that Party's involvement pursuant to the agreement, without prejudice to any claim for damages, breach of contract or otherwise. The parties agree that the failure or termination of any portion or relevant provision of this Agreement will not be a basis for terminating other severable obligations or provisions of this Agreement, unless the failure or breach is such that the entire Agreement loses substantially all of its value to the non-breaching party.
Any termination of this Agreement shall not absolve the Parties from the obligation to observe the confidentiality measures and other restraints as set out herein.
REMEDIES ON DEFAULT. In addition to any and all other rights a party may have available according to law, if a party defaults by failing to substantially perform any provision, term or condition of this Contract (including without limitation the failure to make a monetary payment when due), the other party may terminate the Agreement by providing written notice to the defaulting party. This notice shall describe with sufficient detail the nature of the default. The party receiving such notice shall have days from the effective date of such notice to cure the default(s). Unless waived by a party providing notice, the failure to cure the default(s) within such time period shall result in the automatic termination of this Agreement.
WORK PRODUCT OWNERSHIP.
Any copyrightable works, ideas, discoveries, inventions, patents, products, or other information (collectively the "Work Product") developed in whole or in part by in connection with the Services will be the exclusive property of . Upon request, will execute all documents necessary to confirm or perfect the exclusive ownership of to the Work Product., or other labor disputes
NOTICE. Any notice or communication required or permitted under this Agreement shall be sufficiently given if delivered in person or by certified mail, return receipt requested, to the addresses listed above or to such other address as one party may have furnished to the other in writing. The notice shall be deemed received when delivered or signed for, or on the third day after mailing if not signed for.
ENTIRE AGREEMENT. This Agreement contains the entire agreement of the parties regarding the subject matter of this Agreement, and there are no other promises or conditions in any other agreement whether oral or written. This Agreement supersedes any prior written or oral agreements between the parties.
AMENDMENT. This Agreement may be modified or amended if the amendment is made in writing and signed by both parties.
SEVERABILITY. If any provision of this Agreement shall be held to be invalid or unenforceable for any reason, the remaining provisions shall continue to be valid and enforceable. If a court finds that any provision of this Agreement is invalid or unenforceable, but that by limiting such provision it would become valid and enforceable, then such provision shall be deemed to be written, construed, and enforced as so limited.
WAIVER OF CONTRACTUAL RIGHTS. The failure of either party to enforce any provision of this Agreement shall not be construed as a waiver or limitation of that party's right to subsequently enforce and compel strict compliance with every provision of this Agreement.
GOVERNING LAW. This Cooperation Agreement shall be governed by and construed in accordance with the laws of .
SIGNATORIES. This Agreement shall be signed on behalf of by , and on behalf of by .
IN WITNESS WHEREOF, the parties have signed their names below on the above-mentioned date.
:
,
:
,