MAKE YOUR FREE

Business Plan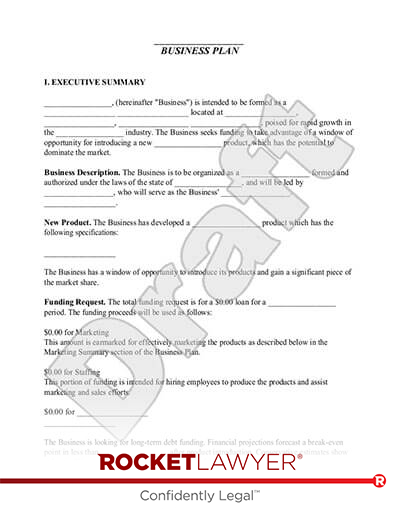 What is a Business Plan?
Making a Business Plan does not need to be a laborious task. Using our Business Plan interview, you can build a professional plan, specific to your state, with minimal effort if you know your business well.
When to use a Business Plan:
You want to start a new business and want to set out the blueprint for the new venture.
You are starting a new business venture or project and would like to present a plan to potential investors which clearly outlines you business goals.
Sample Business Plan
The terms in your document will update based on the information you provide
This document has been customized over 558.9K times
Ask a lawyer questions about your document
CONFIDENTIAL BUSINESS PLAN
This __ day of ____________, ______.
____________________________________
. EXECUTIVE SUMMARY
, (hereinafter "Business") is intended to be formed as a located at , , , poised for rapid growth in the industry. The Business seeks funding to take advantage of a window of opportunity for introducing a new productservice, which has the potential to dominate the market.
Business Description. The Business is to be organized as a formed and authorized under the laws of the State of Commonwealth of , and will be led by , who will serve as .
New Product. New Service. The Business has developed a product service which has the following specifications:
The Business has a window of opportunity to introduce its products services and gain a significant piece of the market share.
. BUSINESS SUMMARY
The business is a start-up business, providing clients with .
Industry Overview. The industry in the United States currently generates in annual sales. Annual revenue for the regional market where the business is located is estimated at .
Position in the Industry.
Legal Issues. The promoters have secured the required patents and trademarks for the products services and processes of the business in accordance with the statutory requirements.
. MARKETING SUMMARY
Target Markets. The main target markets for the business include:
-
__________________________________________________
It is estimated that there are potential customers within the Business defined trading area that are estimated to spend . To seek the most profitable market segments in the target markets overall, the Business will focus on the following areas within the target market:
-
__________________________________________________
Competition. Customer choice of services in this industry is based on
Services. The Business intends to provide exceptional, personalized service, which will be the crucial factor in building and protecting the Business's brand within the community. The Business intends to handle customer concerns and issues with a customer oriented focus with the intent of providing timely resolution and preventing the loss of customers.
. STRATEGY AND IMPLEMENTATION SUMMARY
The Business plans the following tactics as part of sales promotion:
-
Develop a list of businesses in the neighborhood and send brochures by direct mail to the list.
-
Advertising through press releases to industry publications and local newspapers.
-
Posting signage and flyers about the new business on bulletin boards in stores and public places.
In addition, the Business will also engage in the following marketing campaigns:
-
______________________________________________________
-
Strategic Sale/Merger with other similar enterprise
. FINANCIAL PLAN
The Funding Request in this Business Plan outlines the major start-up costs associated with this business. Other costs include repair and maintenance, sales and production expenses. Regular monthly expenses are estimated at for paying the employee salaries and other regular business expenses. The Business is expected to generate in the first year, and gross profit is expected to be .
Business Plan Checklist
Make It Legal™
Find out next steps for your document
___ No signatures are required on this document.
___ Distribute copies. The Business Owner can share a copy of this Business Plan to business partners and potential investors.
Important Details
A copy is securely stored in your account. You can share your document from your account.
Business Plan FAQs
When should I use a Business Plan?

You are starting a business and want to outline your goals and strategies.
You need to communicate your business concept to potential investors.
You want to test your business idea for viability.
You and your partners want to build a plan together.

Our Business Plan builder is suitable for most types of businesses including online companies, service providers, non-profits and home-based businesses. Making a Business Plan helps you see the potential of your business and it can help others see it, as well.

What is included in a Business Plan?

A Business Plan is not simply a description of your business. It includes market analysis, marketing strategies, financial goals, funding and liability information, and company structure details. What this means is that you'll need to do a bit of work before writing to be able to create a comprehensive plan.

The key areas you'll need to concentrate on include:

Product or service
You'll need to be able to tell others, in a few words, exactly what you are offering as products or services. If the product is highly technical or new to the market, you'll want to figure out the best language to use to explain the concept to those who may not be familiar with industry jargon. You should also be able to explain what need this fills for potential customers. You can include images in plan attachments if that helps.

Company structure
You need to define who is part of the business and what their roles are. For investors, you'll also want to show how each member is qualified to fulfill their duties. For example, you'll get more investor confidence if your key members have a proven track record in running a business or working in the industry.

Market
It is critical that you identify your potential market. If there is a lot of competition, what will you offer that is better than your competitors? If you want to open a coffee shop across the street from another coffee shop, you'll need to be able to explain why that makes sense. You should be able to describe your market in quantifiable terms, like how many potential customers are in the market and what you expect them to spend.

Marketing
How exactly do you plan on reaching your new customers? If it is a small local company, are you going to put up signage and attend local events? If your business is online, will you pay for ads or hire an online marketing or SEO company? Do you have strategic relationships with already established businesses? You'll also want to map out your marketing schedule and how you plan to pay for everything.

Financial plans
You'll need to map out how you plan to finance your business. Do you have a business loan? Are you going to take an income from the business? How much of the seed money will be from your own savings? Investors will also want to know if you plan to take on additional debt or if other investors are involved. You'll also want to show how you plan to pay back debt and when you expect to be profitable. They may also want to see a tentative budget.

Funding needs
If you are looking for investors, how much do you need and how exactly are you going to use the funds? How do you plan to pay back investors and when? Do you have collateral you are willing to put up? Are you prepared to give up equity? What other funding options have you tried? How long can you operate without funding?

Once you have done your research and have a solid plan for moving forward, you can sit down and create your Business Plan easily using our online document builder.

Who should review my Business Plan?

Looking at your business like an outsider is difficult for many small business owners. But your investors, unless they are family or friends, are going to look at it objectively. This is one of the reasons you need a Business Plan capable of surviving intense scrutiny. Once you have your Business Plan made, try to look at it as if you were a stranger to your business. Have a few respected colleagues read through it as well and tell them not to be nice, but to find as many weak areas as they can. If you need to keep your business information private, you can ask those reviewing your plan to sign a Non-disclosure Agreement . If you find information you need to change, you can easily edit your plan. In fact, a Business Plan is an evolving, working document, so change it as often as you need.

How do I write an executive summary?

Writing a good executive summary is important because it may be the only thing an investor reads to decide if they even want to bother with reading the rest of your plan. It should be able to grab the reader right away and entice them to want to learn more. Here are a few tips for writing an effective executive summary:

Tailor it to your audience, change whenever needed
Add a sense of urgency, make it timely to the market and ideal to move on now
Include what needs it fills in the market, what real problem it solves
Make it more personable by using language like "us" and "we" rather than "the company"
Use confident and positive words and remove indecisive language
Write it without worrying about the length and then shorten it as much as you can
Avoid cliché terms like "best in the world" or "industry disruptor"—Show it rather than tell it
Test it before you send it
Write it after the rest of the plan is complete and well researched

If you do not need to share your Business Plan with others, you may not need an executive summary. However, it is a good exercise for building your elevator pitch for times when you talk about your business with others.

How do I evaluate my business competition?

Often small business owners are so excited about their product that they forget to consider their competition. If you are planning on opening a local business, you likely know your competitors. But if you are starting an online business or are in a large city, you'll benefit from market research. One way to perform this analysis is to create a side-by-side comparison sheet. Using this type of document, you can compare pricing, product offerings, web presence, user review scores, size of business and market reach, customer profiles and more depending on your business. If it is a restaurant, you could compare menus, pricing, customer loyalty and patron reviews. If it is an online business, you can compare keyword terms, social media presence, subscription pricing models, or customer service responsiveness to find a competitive angle. You may even benefit from hiring someone to do the research for you since they might be more objective than you. Companies with large budgets may even hire a marketing agency to evaluate the market for them. Regardless of your budget, market research is not a step you'll want to skip in the business planning process.

What should I know about budgeting and financial planning?

Like evaluating your market, you also want to make sure you are realistic when it comes to your financial planning. For example, can you really afford to quit your day job and run your new business? Are your sales projections reasonable? Have you planned for issues that may arise? For example, if you intend to open a cafe, you may need money to take care of unexpected compliance issues. What if your location falls through, and you need to afford a more expensive lease? Have you underestimated monthly expenses like water usage or employee salaries? And if business is good, what will you do with the profits? If you are having trouble creating a realistic budget, you may want to consult with a business accountant. A working budget is needed to help run your business even if you do not plan to ask for funding, so it is important to create a realistic budget.

What should I do if I am stuck?

Sometimes it is hard to complete all the parts of your Business Plan in a way that is impenetrable. Again, you may have to look at your business objectively to evaluate whether it makes sense or not. Is the market already saturated? Is there a market at all? Is there a way to test the market? Is there a certain segment of the market more suitable for your product? Do you have the time to run your business properly? Can you realistically afford to meet your objectives? Do you have the right partners? Is it the best time for your product or service to be launched? Are your goals realistic?

If you cannot answer these questions, it may be time to reevaluate your business idea and market. Perhaps somehow you are missing the mark. You may also benefit from reading through our How to Start a Business Guide . Also, try not to overthink it to the point of road-blocking yourself. While it is important, it is better to have a Business Plan that needs work rather than no plan at all.

A good Business Plan is not fabricated around your pie-in-the-sky dreams for your company to "trick" investors into buying into your vision. A good plan is a working document that proves you have a product or service that can be viable in the real market. Even if you are not seeking funding, creating a functional Business Plan is an excellent tool for proving your business idea is a good one.