A benefits package is a great way to entice applicants. It helps distinguish yourself from other companies, especially during the recruiting process. If an applicant is torn between two great companies (yours and a competitor), something like a generous paid time off (PTO) policy could make all the difference.
Additionally, a benefits package could persuade your current employees to stick around for a while. You go through hoops and hurdles to recruit and hire amazing talent. But what's the point if you can't retain them?
What are some popular benefits I can offer?
This isn't an exhaustive list but it should give you a general overview of what a "standard" benefits package might look like.
Retirement

401K options

Paid vacation and sick leave

Time off for voting, jury duty, and military duty

Tuition reimbursement

Extended maternity and paternity leave

Health benefits

Vision and/or dental care

Gym memberships

Paid holidays

Transportation allowance
By staying competitive and improving your company culture, you may be able to decrease your turnover rate.
And that's only the beginning. Some companies offer some really unique, truly interesting benefits. Here are just a few examples to help you think outside the box. After all, you might not be able to match a 401K yet, but you can always provide a never-ending cereal bar.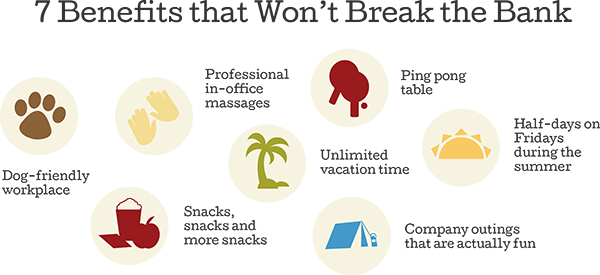 What benefits am I required to offer?
Incentives like the chart above are not required by law, but can be given at your company's discretion. The government requires you to stay compliant with the Family and Medical Leave Act (FMLA), which gives employees the right to leave their job for 12 weeks out of a 12-month period for any of the following reasons. Depending on the employee and the situation, this leave may or may not be paid. But an employee, by law, gets time off for:
The birth and/or care of a child

To care of an immediate family member who has a serious health condition

To care for their own serious health condition
If your business grows to employee 50 full-time employees, you'll want to talk to a lawyer about your compliance with the Affordable Care Act (or ACA).
HUMAN RESOURCES TIP
"Small businesses are bound by FMLA only when they have had 50 or more employees for at least 20 weeks in the current or previous calendar year."
Updating your employee perks?
Give your employees the benefit of legal protection.