MAKE YOUR FREE

Salary Verification Letter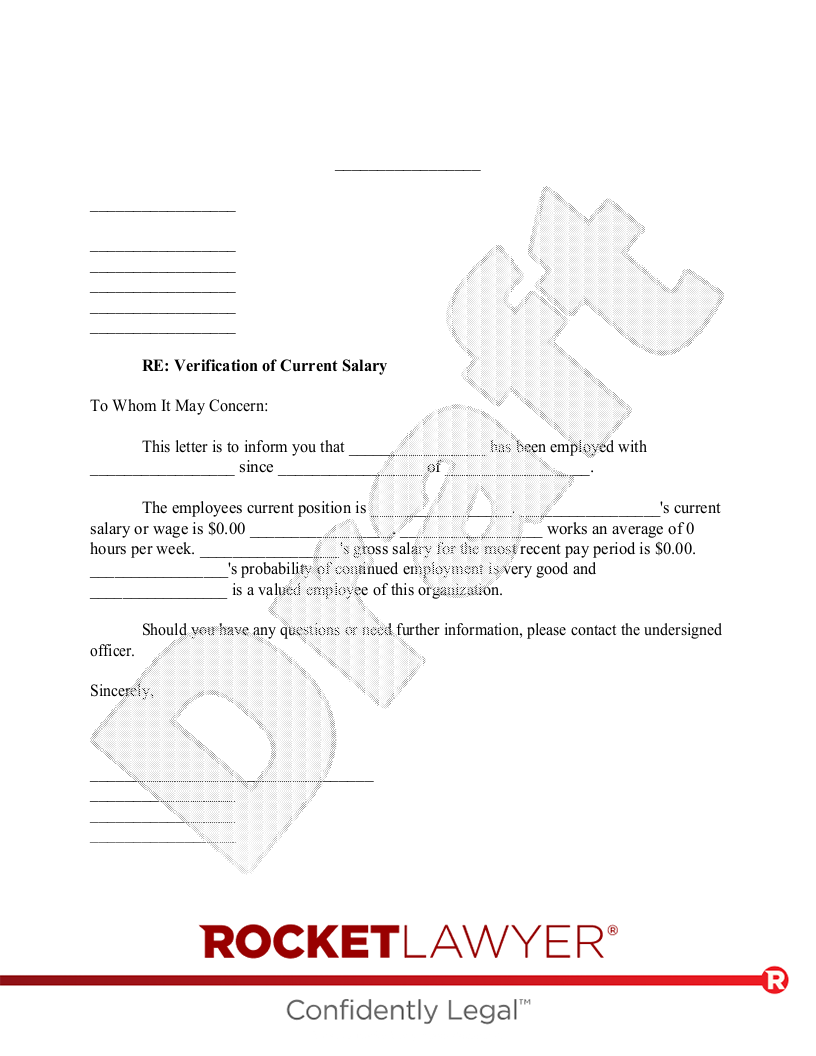 What is a Salary Verification Letter?
A Salary Verification Letter is a document used to verify an employee's salary and other compensation.

Salary Verification Letters are often requested by landlords or lenders when an employee applies for a rental or loan. The letter serves as proof of the applicant's ability to repay the loan or rent. In addition, potential employers may request a Salary Verification Letter to confirm that the employee worked for their previous employer and received the salary stated in their application.

Either the employer or the employee can draft a Salary Verification Letter, but it should be signed by the employer before it is delivered to the requesting party.

By providing a Salary Verification Letter, employers can assist their employees in securing housing or financing, and employees can prove their eligibility for loans or rentals.
When to use a Salary Verification Letter:
You need to provide proof of your employment and or salary
You've been asked to verify your employee's employment and or salary
Sample Salary Verification Letter
The terms in your document will update based on the information you provide
This document has been customized over 171K times

Documents and communicates
Ask a lawyer questions about your document
About Salary Verification Letters
Learn about how to confirm a former or existing employee's salary
How To Write a Salary Verification Letter

A Salary Verification Letter, also called an income verification letter or proof of income letter, is used to verify the salary and other compensation received by an employee. A Salary Verification Letter can be drafted by an employer or an employee, and then delivered to the person who requested it once signed.

In some cases, a potential employer may request a Salary Verification Letter from the previous or current employer of an employee to confirm that the employee worked for the previous employer(s) for the salary stated in the application or resume. An employee can use this letter as proof of representations made in his or her resume. A Salary Verification Letter may also be used to secure a loan from financial institutions as it serves as proof of the applicant's ability to repay.

Following is some of the information typically included in a Salary Verification Letter and some legal points you may want to consider when making your own letter.

What to include in a Salary Verification Letter

Proof and verification of income is usually provided by an employee's current employer. The employer will provide the information in the form of a Salary Verification Letter, which may include the following information:

Current employer's name and the name of the individual who will sign the letter on behalf of the employer.
The date the letter will be sent.
The name and address of the recipient of the letter.
The employee's name.
The date the employee was hired.
The employee's current position (title).
The employee's current base salary.
Average number of hours worked by the employee per week.
Any other compensation received by the employee.
Employee's gross salary for the most recent pay period.

In some cases, it may be prudent to include a statement with regard to the employee's future potential to remain employed, especially if the person has only recently joined the company. For example, "based on the employee's performance review, continued employment seems highly probable." However, if this has not explicitly been requested, then you may not need to include it.

Employee Consent

It's important to note that it's not always appropriate or legal to ask for or disclose someone's salary or income information. Many states have privacy restrictions regarding the kinds of data that employers are authorized to disclose to third parties. Before verifying someone's income, make sure you have a legitimate reason for doing so and obtain the employee's consent if necessary. A Rocket Lawyer network attorney can help clarify the income verification laws in your state.

Printing, Signing and Delivering

Like any formal business correspondence, the Salary Verification Letter may be printed on official letterhead with the company's logo. After completing the Salary Verification Letter, the employer (or the employer's representative) signs the letter and sends it to the person or entity that requested the information.
Salary Verification Letter FAQs
Do you need a Salary Verification Letter to rent an apartment?

Landlords or property management companies often require some proof of income before renting a property to someone. Proof of income, sometimes in the form of a Salary Verification Letter, is typically required in addition to a good credit score and employment stability. While you can still rent if you are unemployed or have a nontraditional source of income, you will likely have a harder time finding a landlord willing to accept your rental application.

How do apartments verify income or salary?

Verifying income is an important part of the tenant screening process and helps landlords ensure that tenants have the financial resources to pay rent and meet other obligations of the Lease Agreement. Landlords might ask for a tenant's most recent pay stub to verify income or request income or salary information from the tenant's employer through a Salary Verification Letter if doing so is legal in the state and local area where the apartment is located.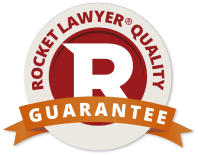 Our quality guarantee
We guarantee our service is safe and secure, and that properly executed Rocket Lawyer legal documents are legally enforceable under applicable US laws.
Need help? No problem!
Ask a question for free or get affordable legal advice when you connect with a Rocket Lawyer network attorney.
Make it Legal™ checklist
Steps to make your free Salary Verification Letter