MAKE YOUR FREE

Leave of Absence Request Form
Other Names:
Leave of Absence Request
LOA Request
Leave of Absence Form
Leave of Absence Letter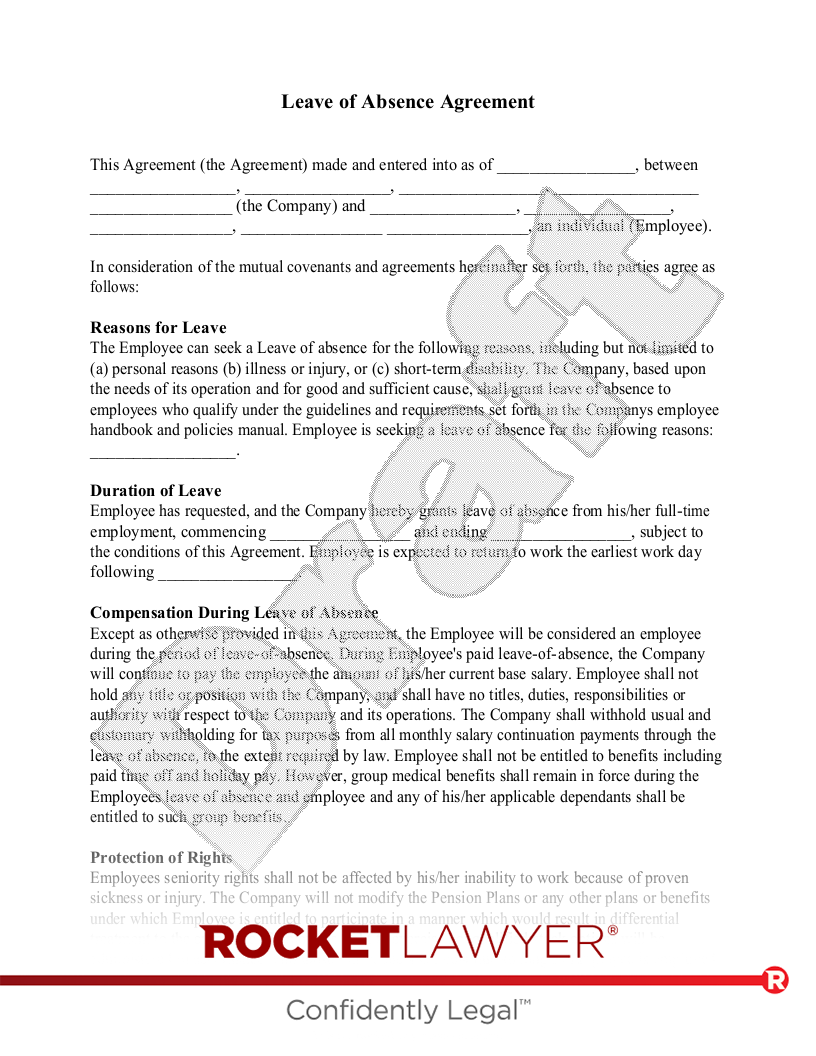 What is a Leave of Absence Request Form?
A Leave of Absence Request Form is a document that specifies and agrees on the terms under which an employee takes a break from work. These forms are typically used when an employee needs time off for personal reasons such as additional training or education, a special research program, or family or health-related reasons. By using a Leave of Absence Request Form, the employer can maintain the employee's position in the company during their absence, ensuring that it is there for them when they return to work.

Leave of Absence Request Forms often include the terms and conditions that the employee needs to fulfill during their time away from the business, as well as the compensation and any other benefits they are entitled to during the specified period. These documents can also specify the length of time away from work and whether the leave is with or without pay.

If you are an employee who needs a break from work, or an employer who wants to grant such a break, you can use a Leave of Absence Request Form to formalize the arrangement.
When to use a Leave of Absence Request Form:
You need to take a leave of absence from work.
You're an employer who needs to work out a leave of absence with an employee.
You're in HR and need to update documents for employees.
Sample Leave of Absence Request Form
The terms in your document will update based on the information you provide
This document has been customized over 26.5K times
Legally binding and enforceable
Ask a lawyer questions about your document
Sign this document online for free with RocketSign®
This Agreement (the Agreement) made and entered into as of , between , , , (the Company) and , , , , an individual (Employee).
In consideration of the mutual covenants and agreements hereinafter set forth, the parties agree as follows:
Reasons for Leave
The Employee can seek a Leave of absence for the following reasons, including but not limited to (a) personal reasons (b) illness or injury, or (c) short-term disability. The Company, based upon the needs of its operation and for good and sufficient cause, shall grant leave of absence to employees who qualify under the guidelines and requirements set forth in the Companys employee handbook and policies manual. Employee is seeking a leave of absence for the following reasons: .
Duration of Leave
Employee has requested, and the Company hereby grants leave of absence from his/her full-time employment, commencing and ending , subject to the conditions of this Agreement. Employee is expected to return to work the earliest work day following .
Compensation During Leave of Absence
Except as otherwise provided in this Agreement, the Employee will be considered an employee during the period of leave-of-absence. During Employee's paid leave-of-absence, the Company will continue to pay the employee the amount of his/her current base salary. Employee shall not hold any title or position with the Company, and shall have no titles, duties, responsibilities or authority with respect to the Company and its operations. Employee shall not be entitled to benefits including paid time off and holiday pay. However, group medical benefits shall remain in force during the Employees leave of absence and employee and any of his/her applicable dependants shall be entitled to such group benefits.
Protection of Rights
Employees seniority rights shall not be affected by his/her inability to work because of proven sickness or injury. The Company will not modify the Pension Plans or any other plans or benefits under which Employee is entitled to participate in a manner which would result in differential treatment to the employee. Employee's right to exercise nonqualified stock options will be administered in accordance with those Plans, and shall continue so long as Employee is employed by the Company and for such period of time as provided by such Plans upon Employee's retirement.
Prohibition
During the period of absence, Employee shall not (i) directly or indirectly, accept any employment, consult for or with, or otherwise provide or perform any services of any nature to, for or on behalf of any person, firm, partnership, corporation or other business or entity that is engaged in similar kind of business done by the Company. Failure to comply with this provision shall result in the complete loss of seniority rights for the Employee.
Extension of Leave of Absence
Termination
If the Employee fails to return to work by the time prescribed in this Agreement, the employee may be terminated from employment.
Miscellaneous Provisions
(a) Governing Law: The laws of the State of shall govern the Agreement.
(b) Severability: In the event, any one or more of the provisions contained in this Agreement shall for any reason be held invalid, illegal, or unenforceable in any respect, that invalidity, illegality, or unenforceability shall not affect any other provision. This Agreement shall be construed as if the invalid, illegal, or unenforceable provision had never been contained in it.
(c) Amendments: This Agreement may be amended by the parties only by a written agreement.
(d) Attorneys' Fees: If any action at law or in equity is brought to enforce or interpret the provisions of this Agreement, the prevailing party will be entitled to reasonable attorneys' fees in addition to any other relief to which that party may be entitled.
(e) Headings: Headings used in this Agreement are provided for convenience only and shall not be used to construe meaning or intent.
(f) Signatures: This Agreement shall be signed by on behalf of and by .