MAKE YOUR FREE

Direct Deposit Form
Other Names:
Direct Deposit Authorization Form
Employee Direct Deposit Form
Payroll Direct Deposit Form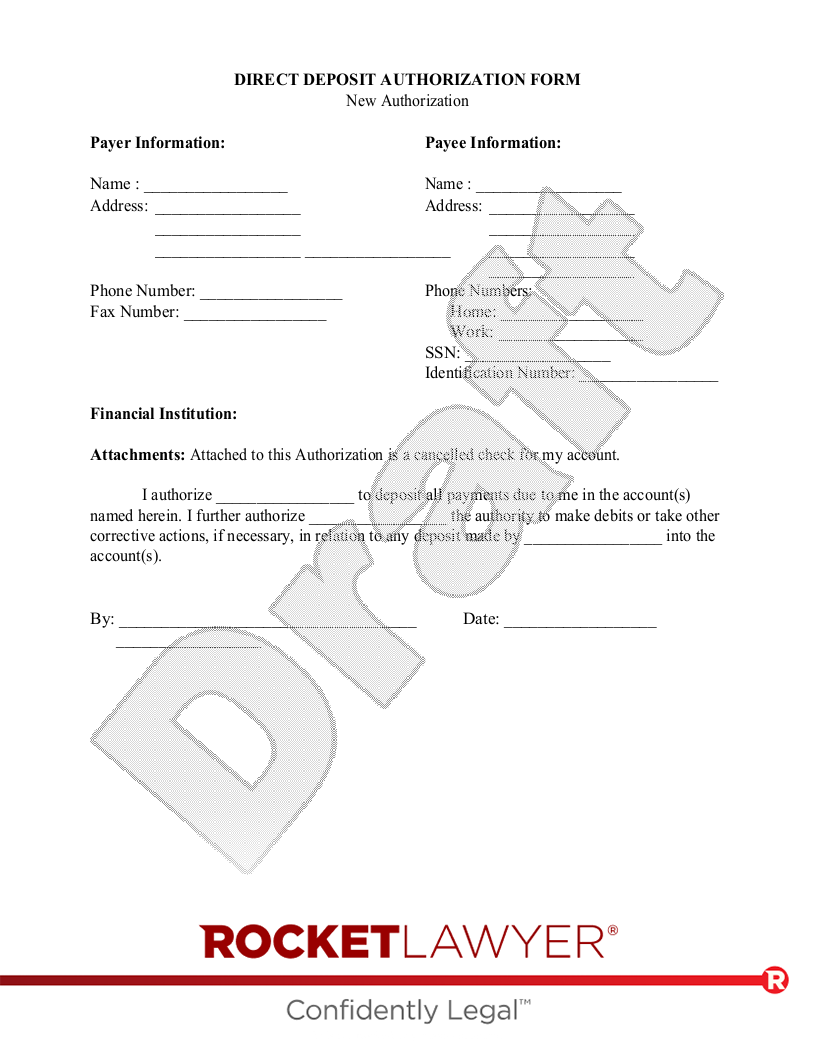 What is a Direct Deposit Form?
A Direct Deposit Authorization Form can be used to collect direct deposit information or to change direct deposit details. Direct Deposit Forms are simple to use and allow employees to send funds to multiple accounts. Depending on the employer, forms can be completed and submitted via email, or forms can be printed.
When to use a Direct Deposit Form:
You're an employer and offer direct deposit to your workers.
Your employer doesn't provide Direct Deposit Authorization Forms.
Sample Direct Deposit Form
The terms in your document will update based on the information you provide
This document has been customized over 92.7K times

Documents and communicates
Ask a lawyer questions about your document
Sign this document online for free with RocketSign®
DIRECT DEPOSIT AUTHORIZATION FORM
New Authorization
Payer Information:
Payee Information:
Phone Number:
Phone Numbers:
Work:
SSN:
Identification Number:
Financial Institution:
Name :
Address: , , ,
Phone Number:
Fax Number:
Bank Routing Number:
Account Number:
Type of Account:
Amount to Deposit:
Attachments: Attached to this Authorization is a cancelled check for my account.
I authorize to deposit all payments due to me in the account(s) named herein. I further authorize the authority to make debits or take other corrective actions, if necessary, in relation to any deposit made by into the account(s).
Direct Deposit Form FAQs
Information needed to complete a Direct Deposit Form (employee)

Direct Deposit Authorization Forms are simple to complete. You'll just need your basic contact details and some banking information. To use our form, you'll need:

Your contact information
Social Security Number (SSN)
Employer Identification Number (EIN)
Employer contact information
Your bank information: location, phone number, routing number and account number
Verification document: a blank check or bank verification letter

Most often routing numbers, account numbers and verification letters can be obtained online using your online banking portal.

How to set up direct deposit (employer)

First thing to note is that direct deposit services are not free. Usually the fees are roughly a few dollars per payment. However, most agree that the advantages offset the associated fees. To begin direct deposit you'll need to choose a service. You have a few options. First, you'll want to contact your business bank or payroll provider to discuss their direct deposit services. If you use accounting software, they may provide direct deposit as an add-on service. Some payment processing services, which also include accounting modules, may also offer direct deposit services.You'll want to shop for the best convenience features for an affordable price.

What are the benefits of direct deposit?

These days, even smaller companies are taking advantage of direct deposit benefits. The benefits for the employees are obvious—they get paid on time, they don't have to visit their bank, simpler money management, and they don't have to be at the office to pick up their check. Benefits for the employers are a bit more complicated. But there are quite a few.

Benefits to employers:

Less labor costs for processing payroll
No need to print paper checks and reissue lost checks
Reconciling is easier since payroll deductions are predictable
Reduces chances of check fraud
Decreases environmental footprint

What if your employees don't have a bank account?

Sometimes for a variety of reasons, employees may not have a bank account. It is not convenient for you to write a check just for the few employees that do not have bank accounts. But there are alternate ways for employees to benefit from direct deposit. Of course, they'll need some kind account for you to deposit funds. The simplest is by using a prepaid card. Prepaid cards do not require a credit check. They'll need to obtain the card and then log in to their account to get direct deposit information such as routing numbers. Other options include payroll cards, which do not require employees to qualify for credit, but they may require that you set them up.