MAKE YOUR FREE

Parent-Teacher Conference Form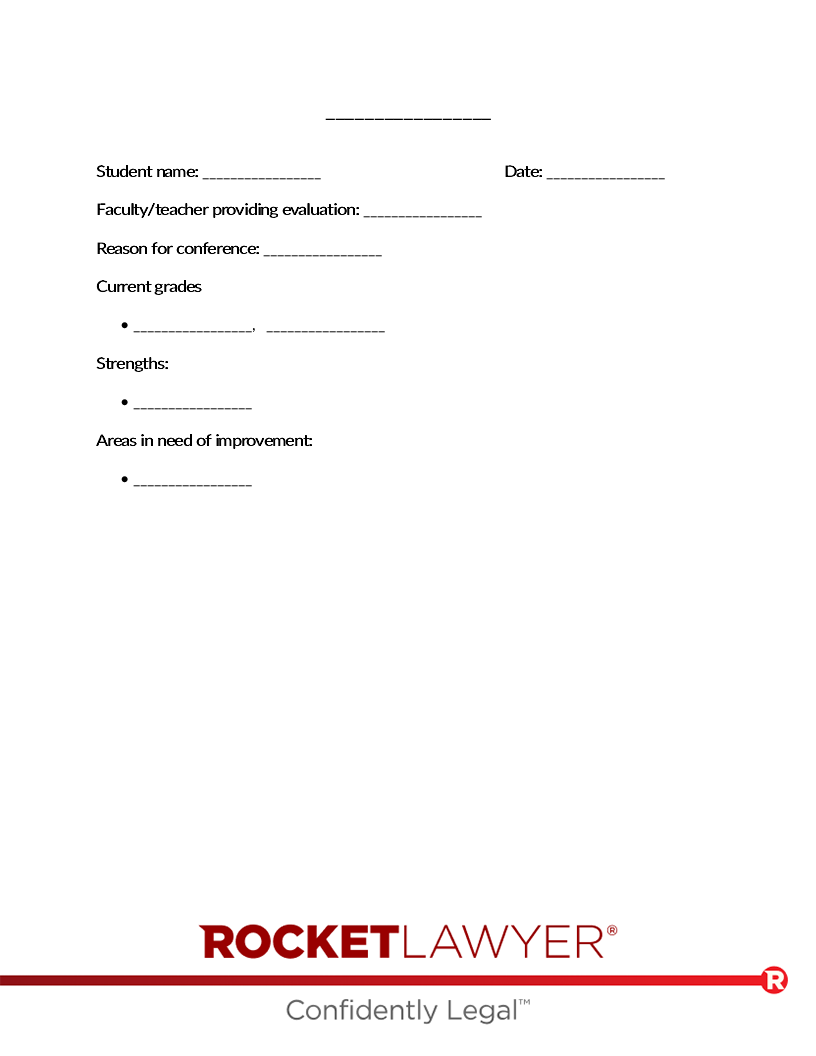 What is a Parent-Teacher Conference Form?
Parent-teacher conferences are an important way to inform parents about the academic progress of their child. Typically, such conferences will discuss topics such as grades, behavior in the classroom, and how the student can improve in the future. To thoroughly outline any relevant talking points, use our Parent-Teacher Conference Form to prepare beforehand.
Sample Parent-Teacher Conference Form
The terms in your document will update based on the information you provide
Rocket Lawyer members have customized over 93.5M documents

Documents and communicates
Ask a lawyer questions about your document
Faculty/teacher providing evaluation:
Reason for conference:
Current grades
Areas in need of improvement:
Parent-Teacher Conference Form FAQs
What topics should teachers address at a parent-teacher conference?

Topics addressed at a parent-teacher conference should center around the theme of reviewing the academic performance and social behavior of the student. A few examples of recommended questions to cover include:

What are the child's strengths and challenges?

Is the child performing on grade level?

How does the school support the child's social development?

What can parents do at home to support what you are doing in the classroom?

How do I get a Parent-Teacher Conference Form?

It's easy to make a customized Parent-Teacher Conference Form with Rocket Lawyer. All you need to do is complete a series of short questions, and you're done! Questions you can expect to answer are:

What is the reason for the conference?

What strengths does the student possess?

What areas can the student improve upon?

If you can't finish the document in one sitting, you can save your document and finish it later.

What do I include in a Parent-Teacher Conference Form?

The level of detail included in your Parent-Teacher Conference Form can be relatively straightforward or it can offer more in-depth information about the student. Typically, Parent-Teacher Conference Forms will include:

Parties who will be in attendance

Reason for the conference

Strengths and areas of improvement for the student

Student's current grades

Rocket Lawyer provides several commonly mentioned strengths and weaknesses for your convenience, but you will have the opportunity to include talking points beyond what is already offered.