MAKE YOUR FREE

Electrical Service Agreement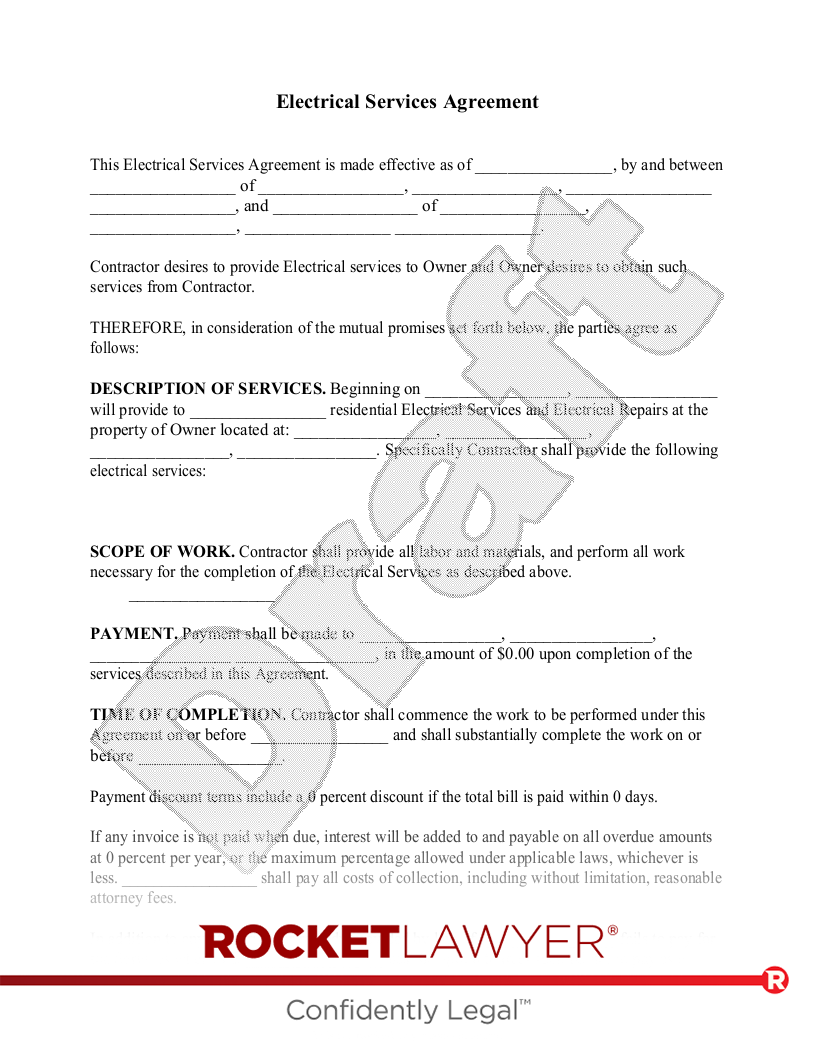 What is an Electrical Service Agreement?
Suited for usage in every US state, an Electrical Service Agreement is often drafted by an electrician to define the terms under which electrical work will be provided. With the appropriate information, this essential legal agreement can reduce the likelihood of disputes between the signers. With Rocket Lawyer, your Electrical Service Contract isn't just a template. If you ever need assistance from a lawyer due to nonpayment or any other issue, your membership offers optional access to Document Defense® protection on each contract.
When to use an Electrical Service Agreement:
You're providing electrical services to another business.
You're hiring an electrical services business for a project.
Sample Electrical Service Agreement
The terms in your document will update based on the information you provide
This document has been customized over 27.3K times
Legally binding and enforceable
Ask a lawyer questions about your document
Sign this document online for free with RocketSign®
Electrical Services Agreement
This Electrical Services Agreement is made effective as of , by and between of , , , and of , , .
Contractor desires to provide Electrical services to Owner and Owner desires to obtain such services from Contractor.
THEREFORE, in consideration of the mutual promises set forth below, the parties agree as follows:
DESCRIPTION OF SERVICES. Beginning on , will provide to residential Electrical Services and Electrical Repairs at the property of Owner located at: , , , . Specifically Contractor shall provide the following electrical services:
SCOPE OF WORK. Contractor shall provide all labor and materials, and perform all work necessary for the completion of the Electrical Services as described above.
PAYMENT. Payment shall be made to
TIME OF COMPLETION. Contractor shall commence the work to be performed under this Agreement on or before and shall substantially complete the work on or before .
Payment discount terms include a percent discount if the total bill is paid within days.
In addition to any other right or remedy provided by law, if fails to pay for the Services when due, has the option to treat such failure to pay as a material breach of this Agreement, and may cancel this Agreement and/or seek legal remedies.
PERMITS. Contractor shall apply for and obtain such permits and regulatory approvals as may be required by the local municipal/county government, the cost thereof shall be included as part of Payment to the Contractor under this Agreement.
INSURANCE. Contractor shall maintain general liability, workers compensation and builder's risk insurance.
SURVEY AND TITLE. The Owner will indicate the property lines to the Contractor and will provide boundary stakes by a licensed land surveyor if the Owners are in doubt about the property boundaries. .
ACCESS. The Owner will allow free access to work areas for workers and vehicles and will allow areas for the storage of materials and debris. Driveways will be kept clear for the movement of vehicles during work hours. The Contractor will make reasonable efforts to protect driveways, lawns, shrubs, and other vegetation.
FINAL INSPECTIONS AND LIENS. Upon notification by the Contractor of substantial completion of the work, the Owner and the Contractor shall inspect the work performed, and shall identify any incomplete work or deficiencies in workmanship or materials. When the Owner finds the work is completed, the Owner shall pay the Contractor any balance of the Payments to the Contractor. Upon receiving the payment the Contractor shall deliver the Owner a release of all liens.
COMPLETION OF SERVICES. Upon the completion of the Electrical services by the Contractor, Contractor shall see to it that Owner's property is restored to the condition they were in prior to the entry by the Contractor, and the Contractor shall see to it that all portions used by the Contractor during the term of this Agreement shall be broom clean and free of debris.
DEFAULT. The occurrence of any of the following shall constitute a material default under this Agreement:
a.
The failure to make a required payment when due.
b.
The insolvency or bankruptcy of either party.
c.
The subjection of any of either party's property to any levy, seizure, general assignment for the benefit of creditors, application or sale for or by any creditor or government agency.
d.
The failure to make available or deliver the Services in the time and manner provided for in this Agreement.
REMEDIES. In addition to any and all other rights a party may have available according to law, if a party defaults by failing to substantially perform any provision, term or condition of this Agreement (including without limitation the failure to make a monetary payment when due), the other party may terminate the Agreement by providing written notice to the defaulting party. This notice shall describe with sufficient detail the nature of the default. The party receiving such notice shall have days from the effective date of such notice to cure the default(s). Unless waived by a party providing notice, the failure to cure the default(s) within such time period shall result in the automatic termination of this Agreement.
, or other labor disputes, or supplier failures
ENTIRE AGREEMENT. This Agreement contains the entire agreement of the parties, and there are no other promises or conditions in any other agreement whether oral or written concerning the subject matter of this Agreement. This Agreement supersedes any prior written or oral agreements between the parties.
SEVERABILITY. If any provision of this Agreement will be held to be invalid or unenforceable for any reason, the remaining provisions will continue to be valid and enforceable. If a court finds that any provision of this Agreement is invalid or unenforceable, but that by limiting such provision it would become valid and enforceable, then such provision will be deemed to be written, construed, and enforced as so limited.
AMENDMENT. This Agreement may be modified or amended in writing, if the writing is signed by the party obligated under the amendment.
GOVERNING LAW. This Agreement shall be construed in accordance with the laws of the State of .
NOTICE. Any notice or communication required or permitted under this Agreement shall be sufficiently given if delivered in person or by certified mail, return receipt requested, to the address set forth in the opening paragraph or to such other address as one party may have furnished to the other in writing.
WAIVER OF CONTRACTUAL RIGHT. The failure of either party to enforce any provision of this Agreement shall not be construed as a waiver or limitation of that party's right to subsequently enforce and compel strict compliance with every provision of this Agreement.
SIGNATORIES. This Agreement shall be signed on behalf of by and on behalf of by and effective as of the date first above written.
Electrical Service Agreement FAQs
Do electricians always need to write an Electrical Contract?

No matter what type of work you will do, an Electrical Service Agreement is a good idea for any electrician. You might prefer to sign an Electrical Service Agreement because, when made correctly, it yields this list of helpful benefits:

Timelines are agreed upon
The electrician and client both understand the scope of their responsibilities
Everyone knows when billing will happen

Any electrician who fails to sign an Electrical Service Contract should anticipate common issues like overdue invoices and the miscommunication of requirements.

What information is needed in an Electrical Service Contract?

The specific details to add are:

Name and address of your client
What specific tasks you will be performing once hired
What the start and end dates are
How much you will charge

As you might hope from a contract like this one, any Electrical Service Agreement made with Rocket Lawyer will also include the standard legal language with regard to the independent work relationship between the parties, dispute resolution methods, and lastly, indemnity for losses. When you make your contract, you'll also have the ability to decide which state's jurisdiction it falls under. Further custom alterations are permitted, as needed.

On average, what would it traditionally cost for me to write a contract agreement for electrical work?

The great news is that you will not need to pay hundreds of dollars in fees to get your contract in writing. When using the document tools on Rocket Lawyer, any electrician is able to produce an Electrical Contract for free online today. Your agreement will be constructed piece by piece, as you enter more details throughout the process. Simply click the "Make document" button above to begin.

If you have any hesitations or questions about the process, ask an attorney , or browse our entire repository of legal documents for business owners and operators .

Will there be any additional actions that I should be sure to take after an Electrical Service Agreement is made?

Attached to your Electrical Service Agreement, there will be a set of next steps you can take once the document is completed. As a Rocket Lawyer member, you may make edits, sign with RocketSign®, make copies, download it as a Word or PDF file, or print it when needed. Most importantly, be sure to give a final copy of the signed agreement to the client.

Could someone check my Electrical Service Contract?

Getting a lawyer to provide feedback on your agreement may take a lot of time if you try to do it on your own. An easier approach could be via attorney services at Rocket Lawyer. Rocket Lawyer members can request guidance from an attorney with business experience or ask other legal questions. As a business owner, you can be confident that Rocket Lawyer is here to support you.