MAKE YOUR FREE

Handyman Contract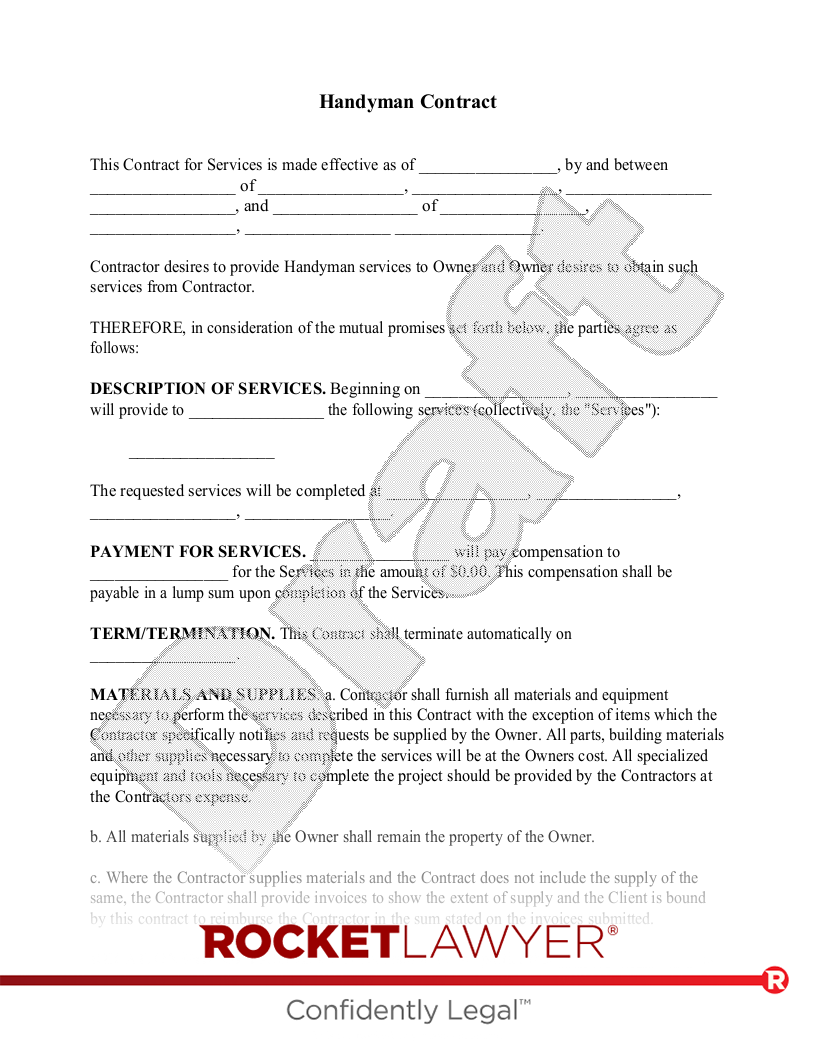 What is a Handyman Contract?
Handyworkers and their clients use Handyman Contracts as a means of laying out the scope and payment terms for tasks to be performed. Whether your home or business fix-it projects are simple or ongoing, this type of service agreement helps ensure that you and your client see eye to eye on the project, cost, and timeline specifics. When you build your Handyman Contract with Rocket Lawyer, you have the option to access Document Defense®, which enables a lawyer to help you get paid or enforce your rights.
When to use a Handyman Contract:
You're hiring an independent contractor for handyman projects at your home or business.
You're being hired as a handyman by an individual or business.
Sample Handyman Contract
The terms in your document will update based on the information you provide
This document has been customized over 46K times
Legally binding and enforceable
Ask a lawyer questions about your document
Sign this document online for free with RocketSign®
Handyman Contract
This Contract for Services is made effective as of , by and between of , , , and of , , .
Contractor desires to provide Handyman services to Owner and Owner desires to obtain such services from Contractor.
THEREFORE, in consideration of the mutual promises set forth below, the parties agree as follows:
DESCRIPTION OF SERVICES. Beginning on , will provide to the services described in the attached Exhibit (collectively, the "Services").
The requested services will be completed at , , , .
PAYMENT FOR SERVICES. will pay compensation to for the Services in the amount of . This compensation shall be payable in a lump sum upon completion of the Services.
TERM/TERMINATION. This Contract shall terminate automatically on .
MATERIALS AND SUPPLIES. a. Contractor shall furnish all materials and equipment necessary to perform the services described in this Contract with the exception of items which the Contractor specifically notifies and requests be supplied by the Owner. All parts, building materials and other supplies necessary to complete the services will be at the Owners cost. All specialized equipment and tools necessary to complete the project should be provided by the Contractors at the Contractors expense.
b. All materials supplied by the Owner shall remain the property of the Owner.
c. Where the Contractor supplies materials and the Contract does not include the supply of the same, the Contractor shall provide invoices to show the extent of supply and the Client is bound by this contract to reimburse the Contractor in the sum stated on the invoices submitted.
RELATIONSHIP OF PARTIES. It is understood by the parties that is an independent contractor with respect to , and not an employee of . will not provide fringe benefits, including health insurance benefits, paid vacation, or any other employee benefit, for the benefit of .
COMPLIANCE WITH APPLICABLE STATUTES, ORDINANCES, AND REGULATIONS. In performing the services required of it under this contract, Contractor shall comply with all applicable federal, state, county, and city statutes, ordinances, and regulations.
INSURANCE. Contractor, at its own cost and expense, shall procure and maintain throughout the term of this contract a workers' compensation insurance policy for the protection of its employees engaged in work under this contract.
INJURIES. acknowledges 's obligation to obtain appropriate insurance coverage for the benefit of (and 's employees, if any). waives any rights to recovery from for any injuries that (and/or 's employees) may sustain while performing services under this Contract and that are a result of the negligence of or 's employees.
ENTIRE AGREEMENT. This Contract contains the entire agreement of the parties, and there are no other promises or conditions in any other agreement whether oral or written concerning the subject matter of this Contract. This Contract supersedes any prior written or oral agreements between the parties.
SEVERABILITY. If any provision of this Contract will be held to be invalid or unenforceable for any reason, the remaining provisions will continue to be valid and enforceable. If a court finds that any provision of this Contract is invalid or unenforceable, but that by limiting such provision it would become valid and enforceable, then such provision will be deemed to be written, construed, and enforced as so limited.
APPLICABLE LAW. This Contract shall be governed by the laws of the State of .
SIGNATORIES. This Contract shall be signed on behalf of by and on behalf of by . This Contract shall be effective as of the date first written above.
Handyman Contract FAQs
Should I write a Handyman Contract for each client that I am hired by?

Even if you are being hired by an acquaintance, it is always recommended that you have them sign a Handyman Contract. You might choose to sign a Handyman Contract because it can present the helpful benefits outlined here:

Fee-related information is well-defined
The duration of the project is established
Roles and responsibilities are understood by everyone

Ultimately, if you opt not to make a Handyman Agreement, neither party will be able to enjoy all of the associated benefits.

How are Handyman Contracts structured?

You should organize the following details:

Your client's contact information
What work you will be doing once hired
What the start and end dates are
How payment will be made

As you might expect, Handyman Contracts that you make with Rocket Lawyer also include the typical legal language about the non-employment relationship between the handyman and property owner, confidentiality, and lastly, indemnification. In the process of building your agreement, you'll also have the ability to select the jurisdiction under which it will be governed. More personalized editing is possible, as needed.

How can I make a handyman contract template for free?

Fortunately, you will not have to reinvent the wheel to put your agreement in writing. When using the document tools on Rocket Lawyer, handymen should feel empowered to draft Handyman Contracts very easily. Your contract is built step by step, as you enter details throughout the process. Typically, given the level of customization, you could end up paying a traditional lawyer a few hundred dollars, if not more, in fees.

If you have any particular concerns or questions before you begin, ask an attorney. You may also wish to check out the other business documents in our library.

Would I need to do anything else after I have made my contract for handyman services?

Your Handyman Contract comes with its own list of suggested next steps to take after your document is completed. You also can take any of these actions related to your document: making edits, signing electronically via RocketSign®, downloading it in PDF format or as a Word file, or printing it out. Most importantly, you should make sure to send a copy of your signed contract to the other party.

Where do I have my Handyman Contracts checked out by a lawyer?

If you do it by yourself, getting a lawyer to check your agreement might be time-intensive and relatively expensive. Certain attorneys will not even accept requests to review a contract if they did not write it. If an attorney does decide to provide advice about your document, they would still demand their standard rate for doing it. An easier option would be via the Rocket Lawyer attorney network. By becoming a Premium member, you can get your documents examined by an attorney with business experience. Whether you decide to make Handyman Agreements or other documents for your business, Rocket Lawyer is here to help.