MAKE YOUR FREE

Lawn Service Contract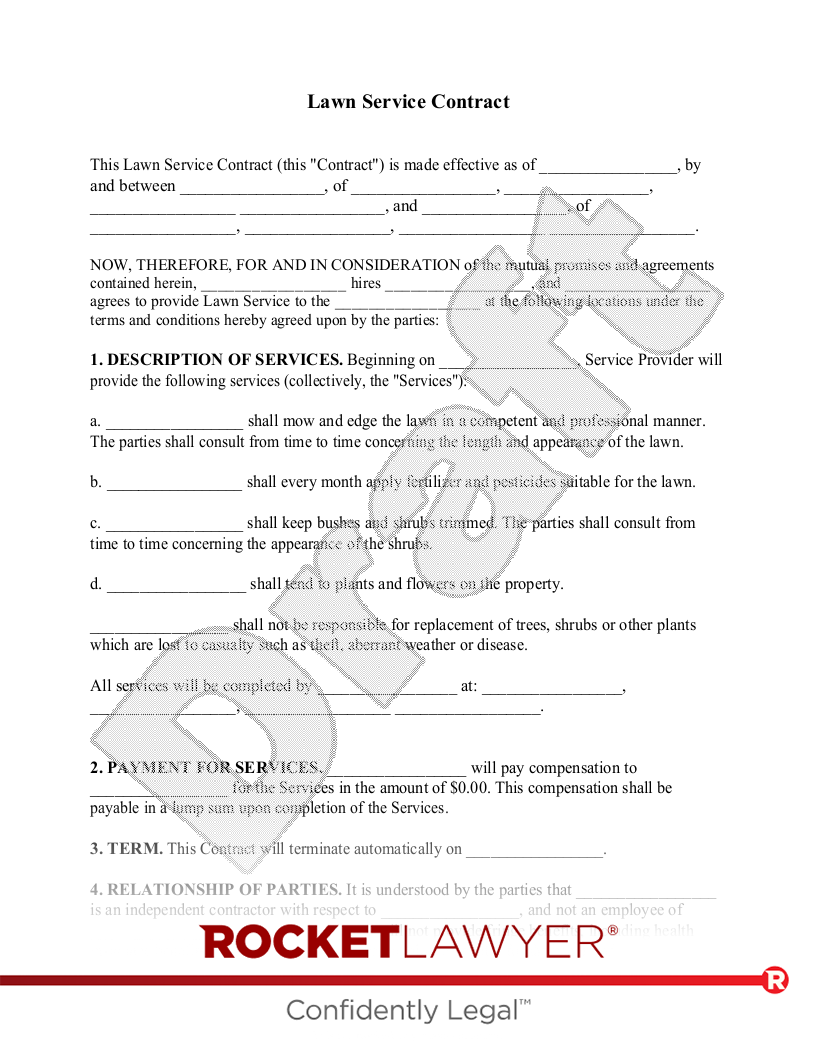 What is a Lawn Service Contract?
As a lawn care provider, you can make and sign Lawn Service Contracts to safeguard your interests as you plan to provide lawn moving or other services. Signed by both the lawn care provider and the property owner, this document can help define each party's respective expectations. When you build your Lawn Service Contract on Rocket Lawyer, you have the option to access Document Defense®, which allows a lawyer to help you get paid or enforce your legal rights.
When to use a Lawn Service Contract:
You will be providing services for a company as an independent contractor and not an employee.
You will be contracting with an independent contractor who will provide services to your company.
Sample Lawn Service Contract
The terms in your document will update based on the information you provide
This document has been customized over 68.7K times
Legally binding and enforceable
Ask a lawyer questions about your document
Sign this document online for free with RocketSign®
Lawn Service Contract
This Lawn Service Contract (this "Contract") is made effective as of , by and between , of , , , and , of , , .
NOW, THEREFORE, FOR AND IN CONSIDERATION of the mutual promises and agreements contained herein, hires , and agrees to provide Lawn Service to the at the following locations under the terms and conditions hereby agreed upon by the parties:
. DESCRIPTION OF SERVICES. Beginning on , Service Provider will provide the following services (collectively, the "Services"):
shall not be responsible for replacement of trees, shrubs or other plants which are lost to casualty such as theft, aberrant weather or disease.
All services will be completed by at: , , .
. PAYMENT FOR SERVICES. will pay compensation to for the Services upon completion of the Services. no later than .
. RELATIONSHIP OF PARTIES. It is understood by the parties that is an independent contractor with respect to , and not an employee of . will not provide fringe benefits, including health insurance benefits, paid vacation, or any other employee benefit, for the benefit of .
. INSURANCE. shall maintain at all times adequate public liability insurance.
. ENTIRE AGREEMENT. This Contract contains the entire agreement of the parties, and there are no other promises or conditions in any other contract whether oral or written.
. SEVERABILITY. If any provision of this Contract shall be held to be invalid or unenforceable for any reason, the remaining provisions shall continue to be valid and enforceable. If a court finds that any provision of this Contract is invalid or unenforceable, but that by limiting such provision it would become valid and enforceable, then such provision shall be deemed to be written, construed, and enforced as so limited.
. APPLICABLE LAW. This Contract shall be governed by the laws of the State of .
. SIGNATORIES. This Contract shall be signed on behalf of by , its , and on behalf of by , its , and shall be effective as of the date first written above.
PARTY CONTRACTING SERVICES:
SERVICE PROVIDER:
Lawn Service Contract FAQs
Why should I always create a Lawn Care Contract?

Regardless of how long your lawn care crew has been in operation, it is always important to get the details of your work in writing. The following list of benefits may help you make the decision to use one:

Neither party is surprised by how long the work takes
Roles and responsibilities are understood by all
Payment requirements are clearly defined

Without this document, you and/or your client may experience one or more of these unwanted outcomes: delayed delivery, unrealistic expectations, unmet standards of quality, difficulty getting paid, and limited legal recourse when problems arise.

How are Lawn Service Contracts structured?

The specific details to add are:

Contact information for your client
What tasks you are committed to performing
How payment will be made
How long the project will last

As you might hope, Lawn Care Contracts that you build using Rocket Lawyer also contain the typical language with regard to the non-employment relationship, confidentiality, and finally, indemnification. While making your agreement, you'll also have the ability to decide which state's jurisdiction it will be subject to. Further adjustments and edits are permitted, as needed.

Can I get my own lawn care contract template online?

The great news is you do not have to start from scratch when putting your agreement in writing. When using the document tools on Rocket Lawyer, any lawn care provider should feel empowered to create Lawn Service Contracts with relative ease. Your agreement will be assembled piece by piece, as you answer simple questions to provide information. Typically, for this level of customization, you could ultimately end up paying a conventional law firm a few hundred dollars, if not more, in fees.

If you have any questions or hesitations before you begin, talk to a lawyer , or check out more business legal documents in our library.

Would I need to take additional actions after making a contract for lawn service?

When you are ready to wrap up your drafted contract, it needs to be signed by both you and the property owner. RocketSign® makes it easy to collect signatures on the go. Be sure to give a final copy of your fully signed agreement to the other party. As a Rocket Lawyer member, you also can download it in PDF format or as a Word file, print, and/or copy it as necessary.

Would Rocket Lawyer be able to review my Lawn Service Agreement before it is signed?

The answer will vary depending on whom you contact, but often some attorneys won't even agree to review your contract if they did not write it. A better approach worth consideration is to go through the On Call network. With a Premium membership, you will be able to ask for advice from an attorney with business experience or send other legal questions about your Lawn Service Agreement. We are always here to help answer any questions.

How do I find lawn care bids?

You can find lawn care bids by networking, searching through weekly ads, browsing online postings, or leveraging customer referrals and social media websites.