MAKE YOUR FREE

Montana Living Will
Other Names:
Montana Advance Directive
Montana Advance Healthcare Directive
Montana Medical Directive
Montana Advance Medical Directive
Montana Advance Health Care Directive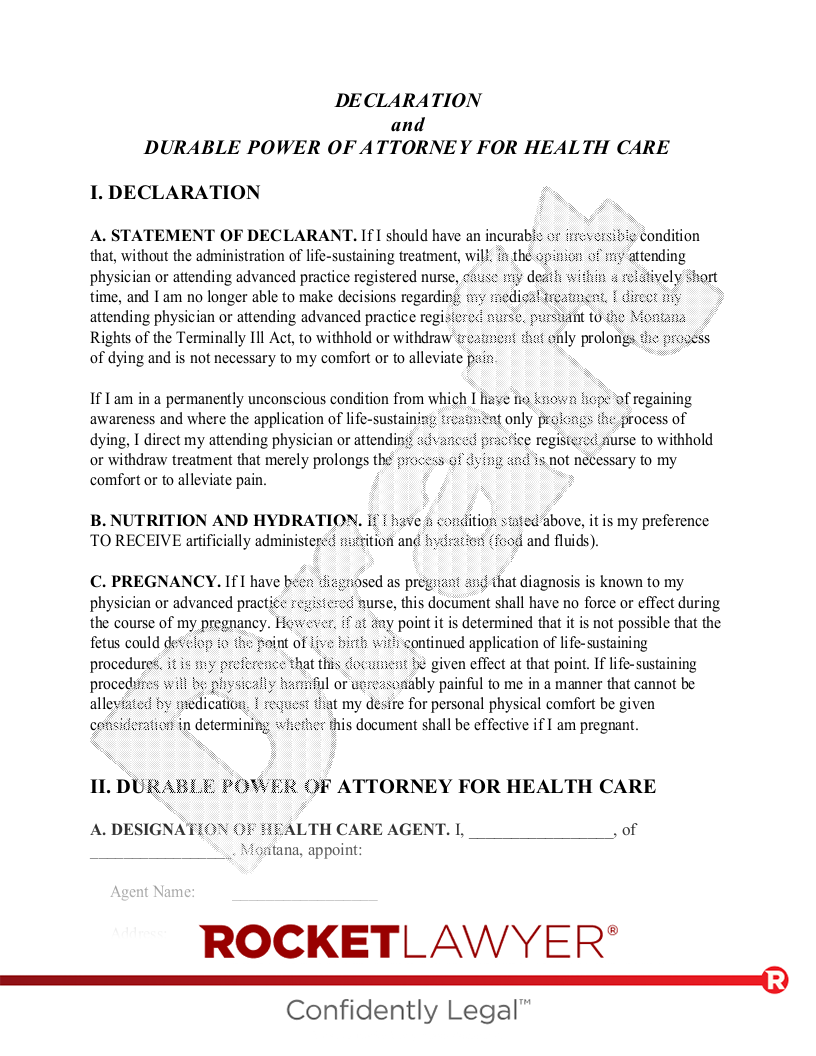 What is a Montana Living Will?
A Montana Living Will is a legal document that outlines your preferences regarding medical care, such as your refusal of or request for a medical treatment, in addition to the (optional) appointment of a chosen healthcare agent.

The individual making a Living Will is called the "principal," while the individuals or entities obtaining authority to carry out the principal's wishes are known as "agents." Suited for residents of Montana, this free Living Will can be used in Gallatin County, Yellowstone County, Missoula County, and in every other region in the state. Any Montana Living Will form from Rocket Lawyer can be customized for your specific circumstances. As a result of having this essential legal document, your healthcare facilities will have a point of reference for your preferences, and your agent(s) will be able to offer confirmation that they have been given the authority to act in your interest when you are not able.
When to use a Montana Living Will:
You want to specify your wishes so that it is more likely they will be carried out.
You are facing the possibility of surgery or a hospitalization.
You have declining health.
You have been diagnosed with a terminal condition.
Montana Living Will FAQs
How do I write a Living Will in Montana?

It is simple and easy to record your medical preferences with a free Montana Living Will template from Rocket Lawyer:

Make your Living Will - Answer a few basic questions, and we will do the rest
Send and share it - Review it with your healthcare agent(s) or get legal help
Sign it - Optional or not, notarization/witnesses are a best practice

This route is, in most cases, notably more affordable and convenient than working with a conventional lawyer. If necessary, you can fill out this Living Will on behalf of your spouse, an elderly parent, or another relative, and then have them sign once you've drafted it. Please remember that for a Living Will to be considered legally valid, the principal must be a mentally competent adult when they sign. In the event that the principal is already unable to make their own decisions, a conservatorship might be necessary. In such a situation, it is best for you to speak to an attorney .

Do I need to make a Living Will?

Every person over 18 years old should have a Living Will. While it is difficult to think about, there may come a day when you can no longer make your own healthcare decisions. Typical situations in which you may consider it useful to make or update your Living Will include:

You've been given a terminal diagnosis
You expect to be hospitalized for a medical procedure
You reside in or are preparing to move into a community care facility
You are getting older or have declining health

Regardless of whether this Montana Living Will has been prepared as part of a forward-looking plan or produced in response to a change in your health, notarization and witnesses are strongly recommended for protecting this document and/or your agent if someone disputes their privileges and authority.

Do I need to work with a lawyer to review my Living Will in Montana?

Making a Living Will is generally simple to do, but you or your agent(s) could still need legal advice. Getting a legal professional to check your Living Will may take a long time if you try to do it on your own. An easier approach might be through attorney services at Rocket Lawyer. Rocket Lawyer members can ask for feedback from an Rocket Lawyer network attorney with relevant experience or send other legal questions. As always, you can be confident that Rocket Lawyer is here by your side.

What would I normally have to pay to make a Living Will in Montana?

The cost of working with a legal provider to make a Living Will can add up to anywhere from $200 to $1,000. When you use Rocket Lawyer, you aren't just filling out a Living Will template. If you ever need help from a lawyer, your Premium membership provides up to a 40% discount when you hire an attorney from our network.

What should I do after making my Montana Living Will?

After making the document with the help of Rocket Lawyer, you'll be able to see it anytime and anywhere. You are encouraged to engage with your document in all of the following ways: making edits, saving it in PDF format or as a Word document, printing it, and/or signing it. Each Montana Living Will form comes with a set of directions for what you can do next. You should ensure that your agent(s), care providers, and other impacted parties receive their copy of the final document. Optionally, you may also choose to file your Living Will in the End of Life Registry maintained by the state.

Does a Living Will need to be notarized or witnessed in Montana?

The specifications vary by state; however, in Montana, your document needs to be signed by two witnesses. As a basic principle, your witnesses should be 18 years old or older, and none should simultaneously be designated as your healthcare agent.