MAKE YOUR FREE

Affidavit of Service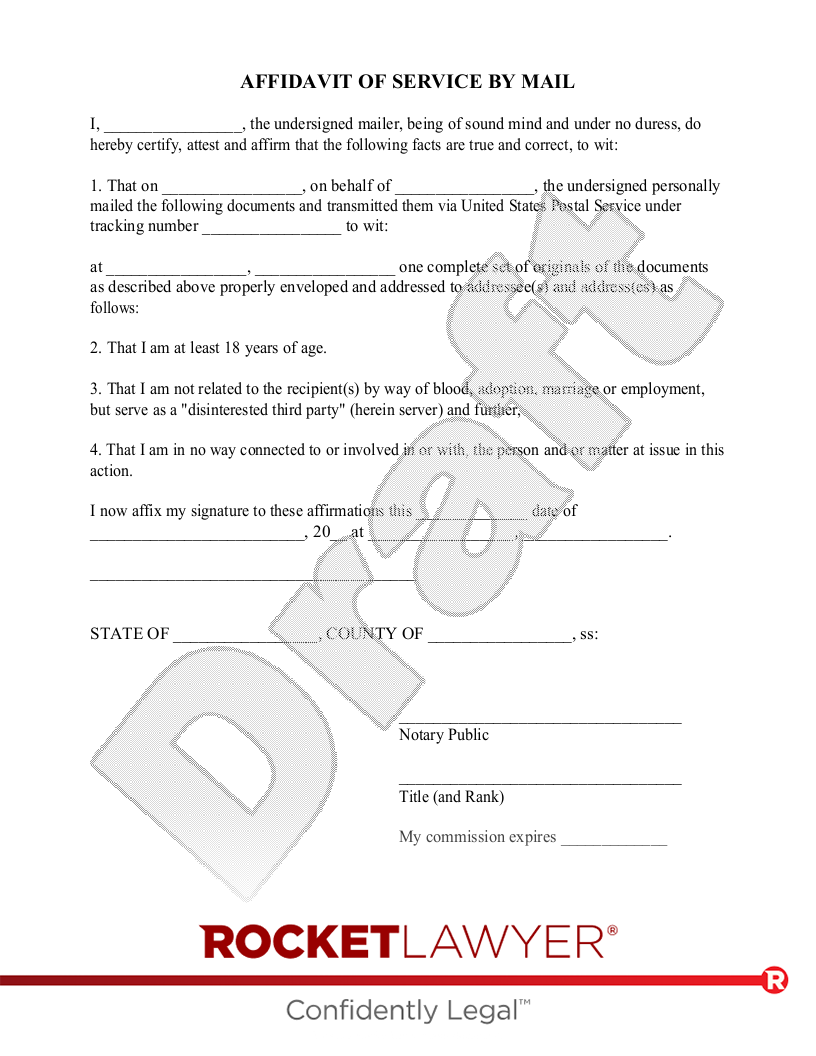 What is an Affidavit of Service?
If you're a process server, you'll need evidence of the people or parties you've served documents to. Creating an Affidavit of Service shows that you've done your job and can even serve as evidence, for example, if a party denies they've been served.
When to use an Affidavit of Service:
You're a process server hired to serve court documents or other important documents to a person or organization.
You've hired someone to serve documents and you need a record that the job has been completed.
Sample Affidavit of Service
The terms in your document will update based on the information you provide
This document has been customized over 47.9K times
Legally binding and enforceable
Ask a lawyer questions about your document
Affidavit of Service FAQs
How do I prepare an Affidavit of Service?

Making an Affidavit of Service online is simple. Just answer a few questions and Rocket Lawyer will build your document for you. Consider these questions beforehand to make the process speedier:

Which carrier did the affiant use to serve the documents?
What documents did the affiant serve?
Were the document(s) originals or copies?
Where will this Affidavit be signed?

If you don't have all of the details you need, you can skip questions and save your document for later.

What is an Affidavit of Attempted Service?

An Affidavit of Attempted Service indicates an individual made an effort to serve a legal document. This affidavit will include information such as who they tried to serve, what they tried to serve, and details concerning when, where, and the result of their service.

What does Affidavit of Non-Service mean?

An Affidavit of Non-Service shows that an individual made a good-faith effort to serve a legal document, but was unable to serve the document.

What is the difference between a Certificate of Service and an Affidavit of Service?

An Affidavit of Service is a formal sworn statement that you have either personally served or mailed specific documents to another individual. A Certificate of Service also indicates that copies of legal documents have been served, however, it can generally be found as a section at the bottom of a pleading or motion.