MAKE YOUR FREE

Affidavit of Correction
Other Names:
Correction Affidavit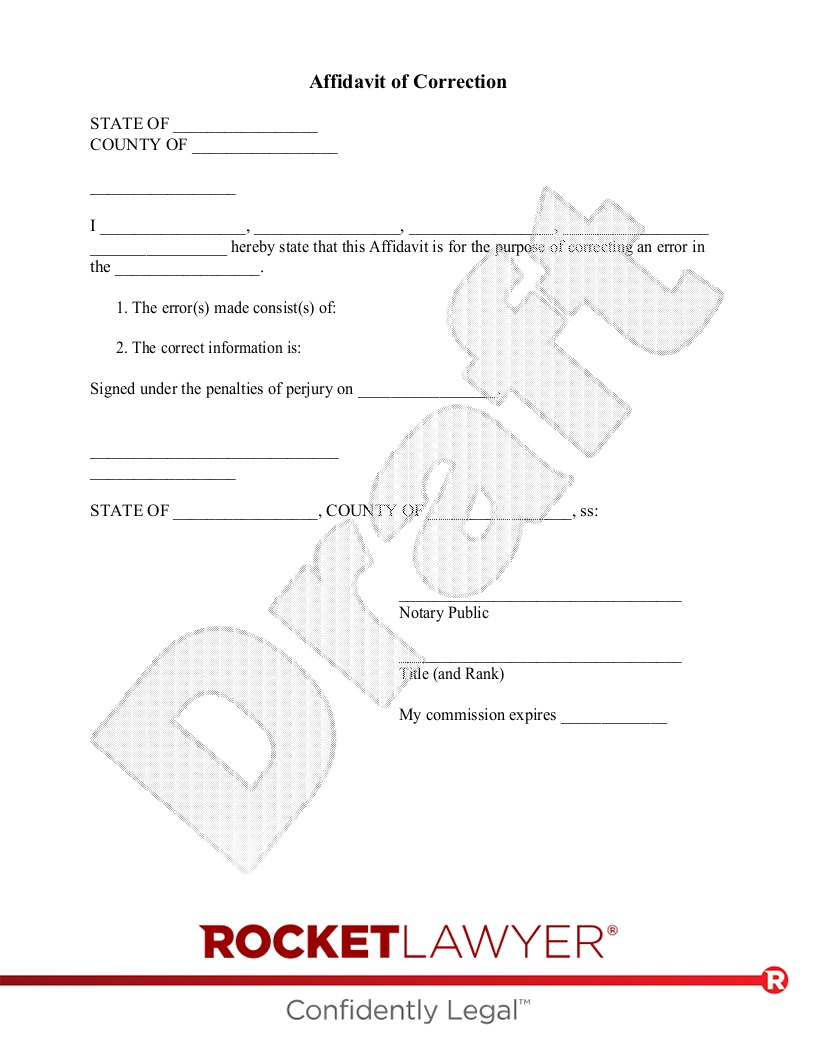 What is an Affidavit of Correction?
An Affidavit of Correction is a legal document that you can use to fix inaccurate information on an official record. If you have made an error on an official court or government document, you can use an Affidavit of Correction to address it. Typically, this Affidavit will outline what the document is, how the error appears on the document, and what the correct information is. Our Affidavit of Correction Form can be used to correct mistakes related to DMV records, such as your car registration or title; property records, like a deed or lien; and vital records, like a birth or death certificate. Before using this document, be sure to check with the state agency that handles your record to determine their preferred or required process for making the correction.
When to use an Affidavit of Correction:
You submitted or filed a document that you now realize has some incorrect information and you would like to inform the court or other party of the error and the correct information.
Sample Affidavit of Correction
The terms in your document will update based on the information you provide
This document has been customized over 39.5K times
Legally binding and enforceable
Ask a lawyer questions about your document
Affidavit of Correction FAQs
How do I make an Affidavit of Correction?

It is quick and easy to get what you need with a free Affidavit of Correction template from Rocket Lawyer:

Make the document - Answer a few questions and we will do the rest
Send or share - Go over the document with an attorney, if needed
Sign it - Sign your Affidavit and make it legal

This method is, in most cases, much more affordable and convenient than meeting and hiring a conventional attorney.

Any Affidavit of Correction Form from Rocket Lawyer can be fully personalized for your specific situation. To start the process, click on the "Make document" button above. Your Affidavit will be built piece by piece so you can be sure that it has the proper details that you'll need.

Do I need a lawyer for my Affidavit of Correction?

Making an Affidavit of Correction is typically simple to do; however, you could need advice. Depending on whom you contact, some lawyers will not even accept requests to review a document that they didn't work on. An easier approach to consider is to request help from attorney services at Rocket Lawyer. If you become a Premium member, you will be able to ask for feedback from an attorney with relevant experience or pose additional legal questions related to your Affidavit. As always, we're here to support you.

On average, how much would it traditionally cost me to make an Affidavit of Correction?

The cost of finding and working with your average legal provider to draft an Affidavit of Correction could add up to anywhere from $200 to $1,000, depending on where you are and how complex it may be. Rocket Lawyer isn't a run-of-the-mill Affidavit template provider. With our service, anyone under a Rocket Lawyer membership has access to up to 40% in savings when hiring an attorney from our network.

Are there any additional steps that I should take once I have written an Affidavit of Correction?

Upon completing your customized Affidavit, you'll be able to get to it in your account anytime and anywhere. With a Rocket Lawyer membership, you can edit, download it as a Word document or PDF file, and/or sign it. Your Affidavit of Correction Form also comes with its own series of proposed actions you can take to finalize the document.

Does an Affidavit of Correction Form need to be notarized or witnessed?

Yes, an Affidavit of Correction Form requires the signature of a notary. Witnesses are not required by law.