Other Names:
Affidavit Letter
Sworn Affidavit
General Affidavit
Sworn Statement
Notarized Statement
Statement Under Oath
Sworn Oath
Sworn Oath Statement
Affidavit Form
Statement of Fact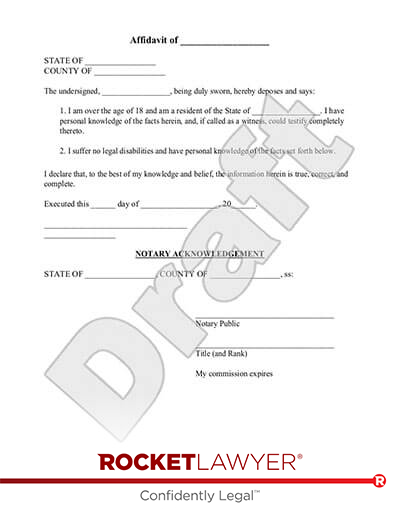 What is an Affidavit?
An Affidavit is simply a written, notarized sworn statement. When you sign an affidavit, you are attesting, under law, that you swear a statement written in the affidavit is true. Affidavits can be used for nearly any reason, such as to attest to someone's death or birth, to state a place of residence, or to be entered as evidence in a court trial. A good way to think of an affidavit is as a type of written court testimony. In court, you would swear to tell the truth and then provide your testimony on the witness stand.
An affidavit is similar in that you are under oath, but your statement is on paper instead of spoken. Many government forms could also be considered affidavits, since lying on such forms can carry with it the charge of perjury.
When to use an Affidavit?
You have been asked to make a declaration or statement of fact under oath as part of a contract or legal process.
Sample Affidavit
The terms in your document will update based on the information you provide
This document has been customized over 82.6K times
Legally binding and enforceable
Complies with relevant laws
Ask a lawyer questions about your document
About Affidavits
Learn how to make a sworn statement to use in any state
How To Write an Affidavit

The Rocket Lawyer Affidavit (also known as an Affidavit Letter or Affidavit Form) is highly customizable and easy to make. Once you start your document, just answer the questions presented to you. Instructions at the end of the process will help you finalize your document. You can print, download, and save our document, and access it from any device. How easy is that?

We've gathered some information below that will help you understand what is in your Affidavit and the information you might need to fill it out.

State

The person making the Affidavit can indicate or choose the state where the Affidavit is being made. The Affidavit will then display the proper format for the notary section of the document.

Name of Person Making the Affidavit

The person who is documenting their statement under oath in the Affidavit is called the "affiant." The affiant usually provides their full legal name or their name as it appears on the personal ID they plan to present to the notary public when they sign the document in the notary's presence.

State of Residence

The affiant's state of residence (where the affiant lives) is also usually included in the Affidavit.

Statement Under Oath

The statement of facts section in the Affidavit provides context to what is being sworn to. The person creating the Affidavit should make certain that what they are attesting to is the truth and be prepared to swear upon its authenticity in court if necessary. If the information turns out to be false, the affiant risks prosecution for the crime of perjury or giving false statements under oath. Below are tips on how to properly write statements of facts to be included in your Affidavit.

Write only what you know to be true. Do not include information that was told to you or that you simply assume to be true.
Use the first person. For instance, the Affidavit should be a list of "I" statements (e.g., "I have been the president of ABC, Inc. for the last 10 years.").
Your beginning facts should provide background information about you and perhaps why you are making the Affidavit.
Limit each statement of fact to one or two main points. You can have as many facts as needed but just make sure to separate them out.
Organize the facts so they are in some sort of order. Typically, Affidavits are either in chronological order or in order of importance.
It may be helpful to number each fact and organize each fact into separate paragraphs. The statement of facts should include names, dates, addresses and other important details that will help support the truthfulness of the Affidavit.

Signatures and Copies

This Affidavit must be signed by the person making the statement, in the presence of a notary public. The format of the notary section is customized for the state where it is being signed.

The original Affidavit should be filed with the Clerk of Court or delivered to the requesting business. The affiant should keep a copy of the Affidavit in a safe place.

Definitions of Affidavit Terms

| Term | Definition |
| --- | --- |
| Affiant | The person making a statement, under oath, in an Affidavit. |
| Notary Public | A notary is an official of the state that is tasked with the important duty of verifying that signers are who they say they are (verifying their identities), that they are not signing under duress, and that they are aware of the contents of the document(s) they are signing. |
| Oath | A promise that the statements being made are true to the best of the affiant's knowledge and belief. |

Common Types of Affidavits

Affidavits can be used for many reasons, but they all share a common trait: the person signing is making a declaration, under oath, that what's in the Affidavit is true to the best of their knowledge and belief. Here are some common types of Affidavits and what they're used for.

These are just a few of the most commonly used Affidavits. For a more complete list, see our list of Affidavits.
Affidavit FAQs
What does an Affidavit do?

A General Affidavit is a sworn statement of fact on any topic. Our Affidavit is such an Affidavit. It includes a space for entering a unique statement. It is for general purposes rather than designed specifically for a certain situation, such as a statement of name change. This Affidavit can be made suitable for most situations. We offer Affidavits for specific scenarios if that would suit your needs better.

How do I write an Affidavit?

You can easily make an Affidavit within a few minutes using our document builder. You simply fill in some information then print the form to bring to a Notary Public for signing. To complete the Affidavit, you'll submit the following information:

Location: state and county
Your information: name and state
Statement: what you are going to declare as true

The Affidavit will automatically generate to suit the state the document will be signed in and will include the necessary Notary Public legalese required.

Who can sign an Affidavit?

The first qualification is that the signee is competent, which in most cases means "of sound mind," or capable of understanding what they are signing, and at least 18 years old. They should also be someone who has first-hand knowledge of the information they are attesting to and they should not feel pressured or coerced into signing the document. They should understand that if they are proven to have made false statements that they are violating the law and committing perjury. They should also possess the legal ID required for the notary services, such as a state-issued driver's license or ID, U.S. Military ID, Resident alien ID, or U.S. passport.

If you are signing an affidavit, make sure you read what you are attesting to in its entirety. If you can agree to all of the statements in the document, feel free to sign. You will have to sign in front of a notary public or similar authority to make the affidavit fully legal.

What is the notarization process for signing an Affidavit?

Affidavits need to be notarized. Notary Publics are not difficult to find. Your bank or credit union may even offer free notary services. Having the document notarized is necessary, especially if it is to be used in court. When you bring this form to a Notary Public, they will:

Check your ID to confirm that you are who you say you are.
Administer an oath or affirmation.
Verify that you appeared before the notary.
Verify that they saw you sign the Affidavit.
Note that you signed without duress.
Verify that you swore or affirmed under penalty of perjury.

You will sign the document in front of the notary public, who will then sign their name, attesting that you knew what you were signing and that they witnessed the signature.

Do I need a lawyer to make an Affidavit Letter?

In most cases, no. Affidavits are simple to make. Our document builder can generate the letter for you easily after you submit a bit of information. It just needs to be signed and notarized to be valid. If stakes are high, you may benefit from having a lawyer review the statement that is to be signed. They may be able to suggest edits to the statement before it is signed that may help your case.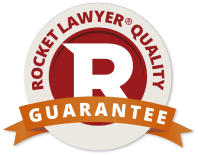 Our quality guarantee
We guarantee our service is safe and secure, and that properly executed Rocket Lawyer legal documents are legally enforceable under applicable US laws.
Need help? No problem!
Ask a question for free or get affordable legal advice when you connect with a Rocket Lawyer network attorney.
Affidavit checklist
Complete your free Affidavit with our Make it Legal™ checklist