Transcript Request Basics
Whether you're looking for a new job or applying for college, a Transcript Request letter can be an essential tool to get the information you need. It shows that you were being honest and forthright about your grades and achievements in school and gives the interested party a concrete record of your scholastic records.
Use the Transcript Request document if:
You are changing schools and need a transcript sent to a new school.
You are applying for a job and the prospective employer would like a copy of your transcript.
What to include in your Transcript Request
Beyond the sort of information you'd expect---things like your full name, date of birth, and address---you'll need to include a few important details in your Transcript Request.
Enrollment details: Schools, of course, have a rather long list of alumnis. To help your high school or college locate your transcript, you should write the dates you were enrolled, especially the year you graduated.
Who you are sending the transcript to: Often, people choose to ask their school to send the transcript to the original requester. In other words, if you're contacting your high school about your transcript, you can ask that they send it directly to the college you're applying to, as opposed to having the high school send your transcript to you at home.
Amount and type of transcripts: You can request official transcripts or unofficial ones. Unofficial transcripts can be acceptible for certain scenarios, such as applying to some jobs, but generally, you'll want to request an official transcript. Colleges will almost certainly require one of these, which will be stamped or sealed in some capicity.
Social security number: Since your transcript is important, private information, you'll need to prove who you are. If you're uncomfortable submitting your social security number online, don't worry. There's an option to print out the document and simply write it in.
Payment: Find out how much your college or high school charges to send a transcript. You'll need to pay to ensure this document is sent. This information should be accessible via your school's website or via a short phone conversation with your school's acting administration.
How to use a Transcript Request
It's very important to note that completing a Transcript Request does not in itself get you a copy of your transcript. Once you've completed your Transcript Request, you'll need to send it off to the school in question, generally with some kind of payment, and let them know who to send your transcript to.
It's a fairly straightforward process and our step-by-step interview will help you get started.
---
<![CDATA[ ]]>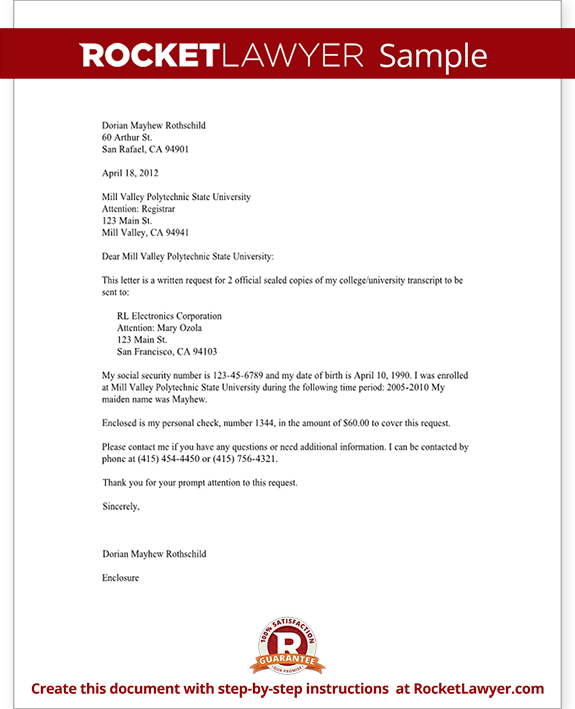 View Sample
Sample Transcript Request
More than just a template, our step-by-step interview process makes it easy to create a Transcript Request.

Save, sign, print, and download your document when you are done.

Sample Transcript Request
Our step-by-step interview process makes creating a printable Transcript Request easy.
Make Document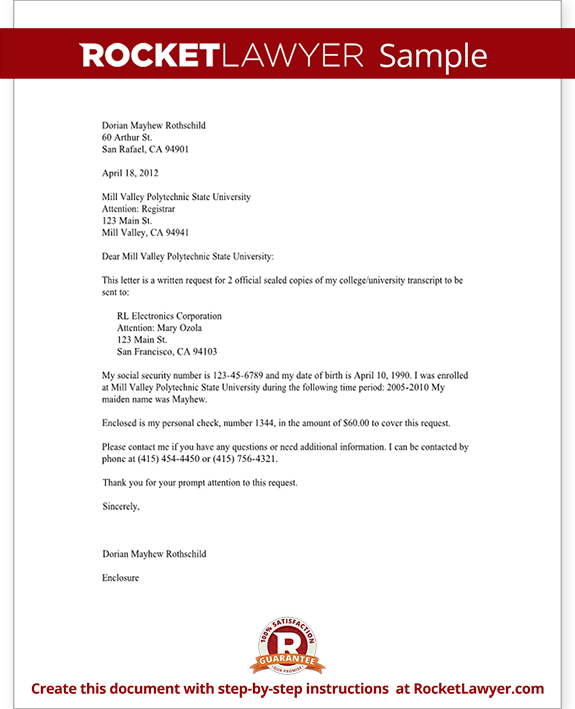 Why choose Rocket Lawyer?
Legally reviewed
Researched by lawyers
and legal staff.
Specialists to help
We're here to answer your
questions.
Free Trial
Your document is free with your subscription.
Our quality guarantee
We guarantee our service is
safe and secure.