MAKE YOUR FREE
Employee Warning Letter
Answer simple questions to create your document

Sign & share your document online

Save progress and finish on any device; download & print at home
Start Now

Preparing your document questions
We've sent you an email
with information about how to access your document from any device

Make your Free
Employee Warning Letter
Employee Warning Letter Basics
When you need to make a hard decision about an underperforming employee, using an Employee Warning Letter is an HR best practice. Use it when you have to warn the employee about unacceptable conduct. An Employee Warning Letter helps protect an employer against future disputes.
Use the Employee Warning Letter document if:
You want to officially warn an employee about attendence, performance, behavior or other issues that must be addressed.
You expect to have great employees, but if you face the difficult task of warning someone who's not cutting it, write an Employee Warning Letter to your employee. The Letter informs your employee your business standards haven't been met, letting the employee know you're aware that they have conducted themselves in an inappropriate way. The letter includes steps the employee must take and a timeframe to correct the situation. If possible, an Employee Warning Letter needs to be backed up with other documentation: attendance records and performance reviews are common proof of an employee's poor performance. If you later terminate the employee, they'll have a difficult time suing you or causing a labor dispute if you gave them ample, written warning.

Looking for more information? Our Human Resources Guide can help you through the intricacies of hiring and managing employees.

Other names for this document: Warning Letter to Employee, Employee Conduct Warning Letter
---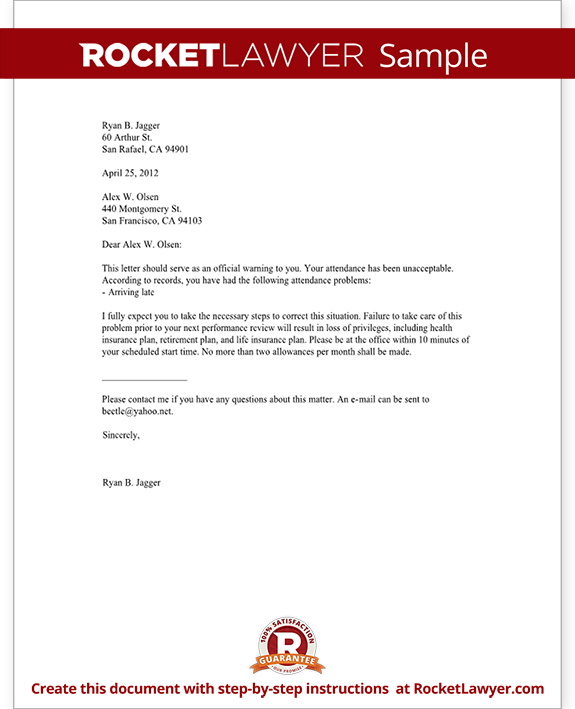 View Sample
Sample Employee Warning Letter
More than just a template, our step-by-step interview process makes it easy to create an Employee Warning Letter.

Save, sign, print, and download your document when you are done.

Sample Employee Warning Letter
Our step-by-step interview process makes creating a printable Employee Warning Letter easy.
Make Document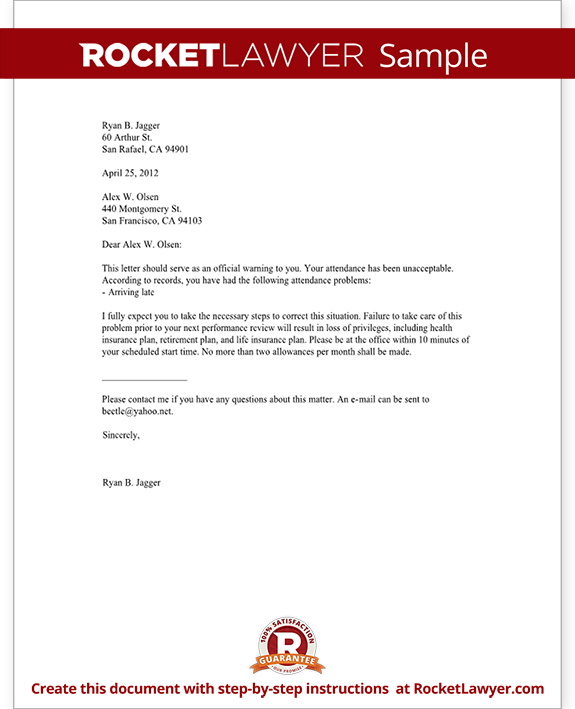 ---
Ready to create your Free Employee Warning Letter?
Your document is free within your one week membership trial.
Make Document