MAKE YOUR FREE

Letter of Recommendation
Other Names:
Recommendation Letter
Reference Letter
Job Recommendation Letter
College Recommendation Letter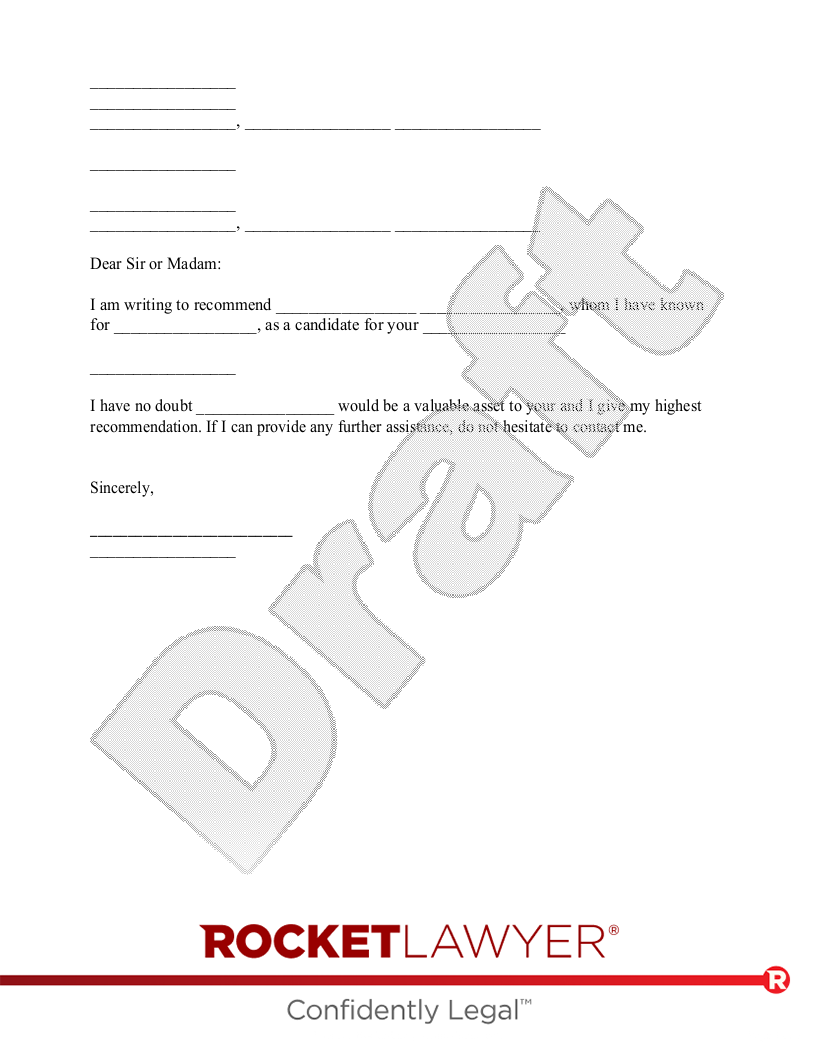 What is a Letter of Recommendation?
Recommendation Letters can help open doors for people. If you have been asked to write one, you may be having a tough time getting started. Our template makes it simple for you to compose an effective Letter of Recommendation.

While letters of recommendation are not as common as they used to be, people still ask for them from time to time, especially if the sought position (employment or school) is highly specialized and competitive.
When to use a Letter of Recommendation:
You've been asked to provide a recommendation for a former employee.
You've been asked to write a recommendation for a student.
You've been asked to vouch for someone's qualifications.
You've been tasked with writing a letter that another will sign.
What is often included in a Recommendation Letter
Letters of Recommendations are usually quite simple and less than a page in length. Most written recommendations include the following,
Your contact information
Address of your company or school plus your job title. Nowadays it is also common to include your phone number and email address as well.
Addressees contract information
If you know who the letter is going to, it should be addressed to that person specifically. Also include address and job title.
Relationship to applicant
It is customary to include how long you have known the applicant and what your working relationship is (or was).
Skills and abilities
You should highlight skills and talents they possess that are specific to the job or school they are applying to if possible.
States have different rules about what information can be shared. For example, you may not be able to provide salary histories. Your company or school may also have restrictions on the information you can share. You'll want to check with your human resource department before writing the letter, so you don't unintentionally share protected information. If you do not have an HR department or you do not know your state laws, you can ask a lawyer for advice.
How to ask for a letter of recommendation
Perhaps the first thing to do is to assess your relationship with the person who you are intending to ask for a recommendation. Did you part on good terms? How well do they know you? Try to choose those who you think can best write a positive reference. It is often more effective to ask them in person if possible and always follow up with an email. Provide a tentative due date, so the person prioritizes the letter. Follow up a few days before the due date to ensure the request is still on their to-do list. If you have the information, tell them where you are applying and give them a brief job or program description. If they are busy, you can ask them if it is okay if you write the letter yourself and have them sign it.
What if I cannot provide a recommendation?
Sometimes you may not want to write the letter of recommendation. It is your professional reputation on the line, you can refuse the request. Perhaps the student or employee was not remarkable or was difficult to work with. Maybe, you don't think their skills fit the job they are seeking. You can simply tell the applicant that you do not feel you are the best one to write the recommendation. Or, your company may have a policy against you writing a letter of recommendation and you can get out of it that way. No matter the circumstances, it is better to refuse to write the letter than to write a mediocre letter.
Online recommendations
Often former employees or coworkers now request an online recommendation. They may ask you for a letter for their online portfolio or career site. Like a traditional Letter of Recommendation, you'll want to mention how you know the person and highlight their best skills as is applicable to the type of jobs they are looking for. You should use positive and upbeat language and keep it short but packed with information. If you are writing a traditional Recommendation Letter to be published to a personal site or portfolio, you can use our template.
Writing a Letter of Recommendation may not be high on your priority list, but the letter can potentially greatly help the one requesting it. You can begin with our template and save time creating a letter that may help change someone's life.
Sample Letter of Recommendation
The terms in your document will update based on the information you provide
This document has been customized over 656K times
Ask a lawyer questions about your document