MAKE YOUR FREE

Employment Verification Letter
Other Names:
Verification of Employment Letter
Proof of Employment Letter
Income Verification Letter
Job Verification Letter
Proof of Income Letter
Verification of Income Letter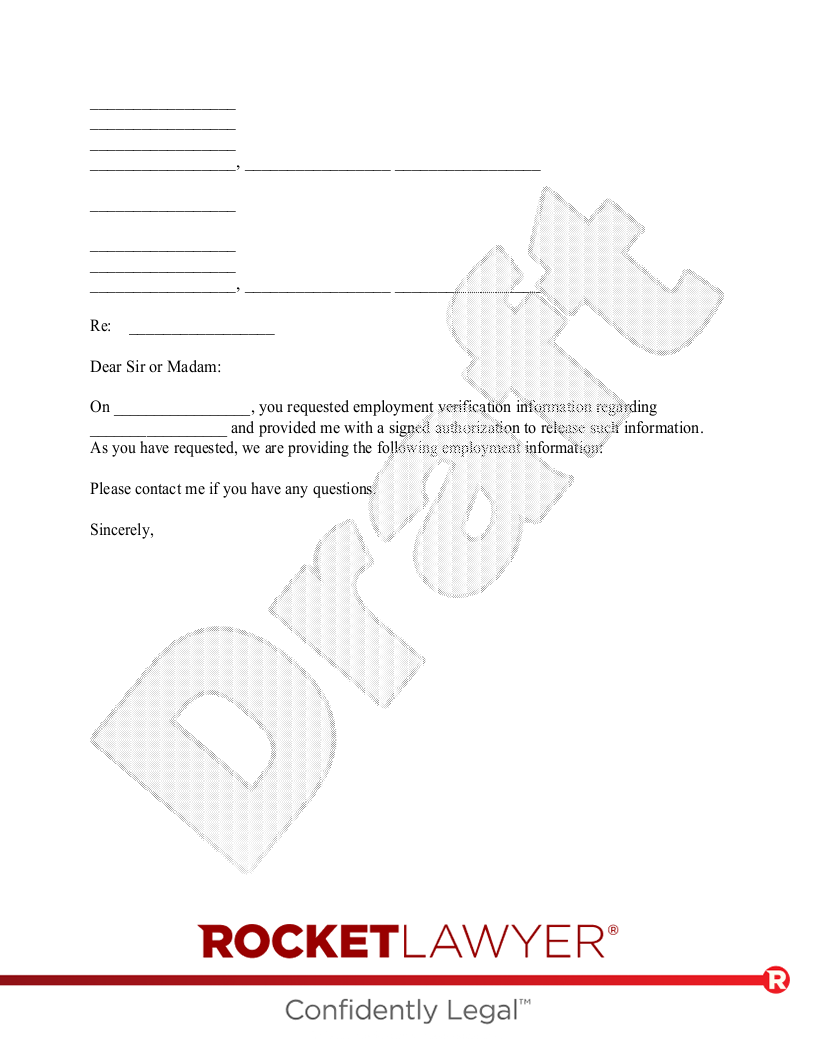 What is an Employment Verification Letter?
An Employment Verification Letter certifies that an employee works for your company, verifies the date their employment started, may include their position within the company, and provides information on the employee's salary. These letters also verify whether an employee is a permanent or temporary employee, and whether they are considered a full- or part-time employee. You may also be asked to provide this information for a former employee, especially if they have applied for a mortgage.

Employment Verification Letters are utilized by mortgage companies and banks when considering a mortgage or loan application, a loan modification, or when reviewing a student loan application. Landlords often request these letters to ensure a potential tenant has the financial means to pay security deposits and ongoing rent payments. When an employee is seeking new opportunities, a potential employer may also request an employment verification as part of their background check.
When to use an Employment Verification Letter:
You need to respond to a written or verbal request from a landlord, bank, or other organization for employment verification of one of your current or former employees.
Sample Employment Verification Letter
The terms in your document will update based on the information you provide
This document has been customized over 242.2K times

Documents and communicates
Ask a lawyer questions about your document
Sign this document online for free with RocketSign®
,
,
Dear Sir or Madam:Dear :
On , you requested employment verification information regarding and provided me with a signed authorization to release such information. As you have requested, we are providing the following employment information:
Position:
Dates Position Held:
Likelihood of Continued Employment:
Undetermined. No current obstacles to continued employment.
Final Checklist for Employment Verification Letter
Company:
Party Requesting Information:
Employee:
Make It Legal
Copies
*
Keep a copy of the letter for your own records.
When to Consult a Lawyer
*
A lawyer should be consulted regarding any unique issues not addressed by this program.
*
It is important that any information regarding 's likelihood of continued employment state only facts which can be substantiated and not opinions. Statements regarding the employee's quality of work should generally not be given. If you are in doubt, consult with an employment attorney regarding whether information about the quality of work or the likelihood of continued employment should be provided.
Other Information
*
Maintain a written summary of all telephone communications relating to this Employment Verification Letter.
Reasons to Update
*
To respond to another request for employment verification.
*
To provide additional information or clarify information previously provided.
About Employment Verification Letters
Learn about how to help your employees prove their employment
Understanding Employment Verification Letters

Banks, lending institutions, mortgage companies, and other credit providers often seek verification of an applicant's employment when making a decision whether to extend credit. Usually this is requested verbally, via a telephone call. However, some institutions request the information in writing, via a proof of employment letter or employment verification form to be filled out by the employer. An Employment Verification Letter is used to respond to such a request and provide verification of employment information. Here are some of the issues to consider when preparing a verification of employment letter.

Employer Responsibilities

Any time you release information about a current or former employee, there is a risk of potential liability for the improper release of confidential information or the making of defamatory statements. As a general rule, it is best that all requests for employment information be sent to your company's human resource department for handling, if you have one. If not, then requests should be handled by company management. The manager who responds to the request may appear on the letter.

Employment Information

Employment information can include personal and confidential information which is generally protected from disclosure. As a result, there are essentially only three safe responses to a request for employment verification information. These responses are:

If in doubt, make no statement at all. Simply state that you are unable to serve as a reference or that you would prefer not to discuss the employee in question.
Provide only the name, dates of employment, and job title of the employee.
Require a signed authorization from the employee before releasing information beyond that included in response number two, above.

If you have been provided with a signed authorization from the employee in question which authorizes the release of the requested information, then you may release information beyond the name, dates and positions held. The employee may provide such authorization by signing a separate document or by signing the bottom of the employment information request letter.

Continued Employment

If you are asked to indicate the employee's likelihood of continued employment, it is important that you state only facts which can be substantiated and not opinions. For example, if the employee is still in an initial probationary period, this can be indicated. However, statements regarding the employee's quality of work should generally not be given. If such statements are given, they generally should be based on facts, such as information from performance evaluations or disciplinary reports. If in doubt, you might want to consult with an employment attorney regarding whether information about the quality of work or the likelihood of continued employment should be provided.

Contact Information

The recipient of this letter may have questions about some of the information that you have provided or may require additional information. Therefore, you may want to include information about how you would like to be contacted.
Employment Verification Letter FAQs
How do I write an Employment Verification Letter?

The type of Employment Verification Letter you write will depend on the needs of the party requesting the verification. Typically, someone responsible for handling human resources issues should handle these matters because the requesting party will generally ask for information which will be found in an employee's HR file. The letter should be signed by an authorized representative of the company.

With Rocket Lawyer, you can make an Employment Verification Letter for free in just a few minutes. Simply answer the questions to build your document and easily sign online, download, or print your Employment Verification Letter for submission.

What should an employment verification letter contain?

An employment verification letter contains information which your organization has previously agreed to release when requested. However, most employment verification requests will explain to you exactly what information they require.

A basic Employment Verification Letter might include the name of the company requesting the verification as well as their address, contact person's name, and phone number if available. A response to the request should include your company name, address, and telephone number as well as a person to contact in the event that additional information is necessary. There may be additional information your company is willing to share depending on the purpose of the verification.

How do I get verification of employment?

Should you require a verification of employment, you should typically contact a human resources representative at your company. It is important to keep in mind that some companies may limit the amount of information they will share on an Employment Verification Letter, so in general, you should make sure the request contains information you specifically need to have.

When making a request to your employer, you should include what information you need, who has asked you to obtain the information, the contact information for the person who needs the verification including their address and how they wish to take receipt of the information. In the case of a bank or other financial institution, they may require the document to be sent via U.S. mail versus being able to accept it by email. Landlords who merely need to verify that you work where you claim to work may be willing to accept the verification by email.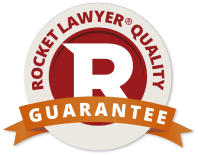 Our quality guarantee
We guarantee our service is safe and secure, and that properly executed Rocket Lawyer legal documents are legally enforceable under applicable US laws.
Need help? No problem!
Ask a question for free or get affordable legal advice when you connect with a Rocket Lawyer network attorney.
Employment Verification Letter checklist
Complete your free Employment Verification Letter with our Make it Legal™ checklist