MAKE YOUR FREE
Completion Guarantee
Answer simple questions to create your document

Sign & share your document online

Save progress and finish on any device; download & print at home
Start Now

Preparing your document questions
We've sent you an email
with information about how to access your document from any device

Make your Free
Completion Guarantee
Completion Guarantee Basics
When you lend money for a construction project, you want to insure that it will be finished. A Completion Guarantee is a useful way to guarantee that the project will be realized. Perhaps you're a lender who provides loans to construction workers. Or you're a guarantor who is insuring a project. Maybe you're even the contractor who needs a loan. A Completion Guarantee is an important tool to minimize financial risk for lenders.
Use the Completion Guarantee document if:
You're a guarantor who wants to insure a project.
You're a lender who wants a project insured before approving a loan.
You're a construction professional who wants to borrow money for a project.
You manage a construction company, guaranty office, or company that provides loans.
With a Completion Guarantee, a "Guarantor" unconditionally and absolutely guarantees to the "Lender" that if the "Borrower" fails to complete the project, as required by the Construction Loan Agreement, that they (the Guarantor) will complete it. A Completion Guarantee can insure that if the project isn't completed, the lender is protected from risk.

Other names for this document: Completion Bond, Legal Completion Guarantee
---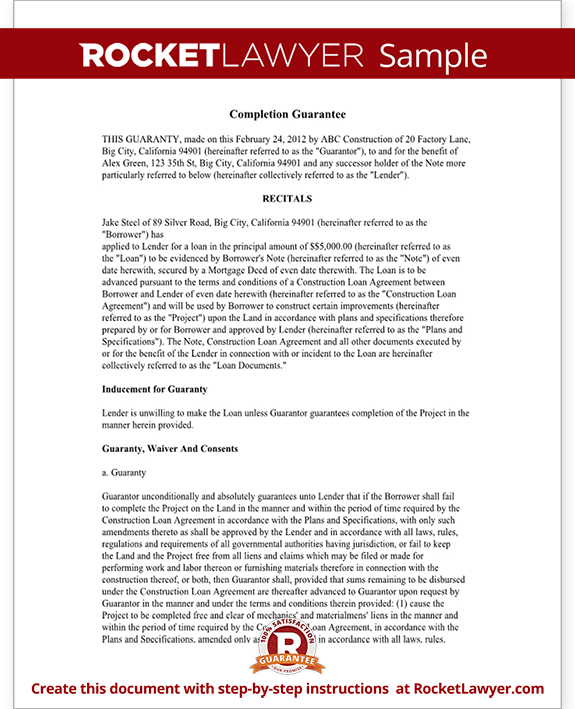 View Sample
Sample Completion Guarantee
More than just a template, our step-by-step interview process makes it easy to create a Completion Guarantee.

Save, sign, print, and download your document when you are done.

Sample Completion Guarantee
Our step-by-step interview process makes creating a printable Completion Guarantee easy.
Make Document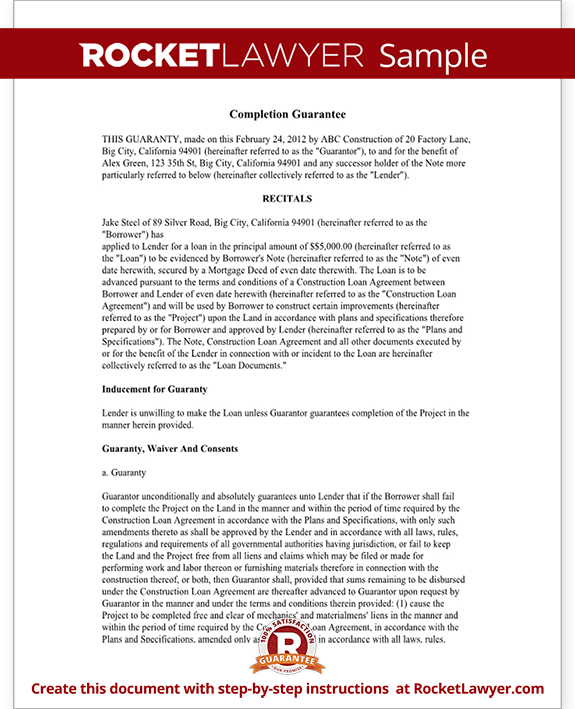 ---
Ready to create your Free Completion Guarantee?
Your document is free within your one week membership trial.
Make Document