Affidavit of Domicile Basics
As an executor or administrator, you have a lot to handle wrapping up an estate. When your duties require you to transfer stocks or bonds of the deceased, our Affidavit of Domicile can help you get the job done. Use our Affidavit of Domicile as required evidence to prove the home of the deceased prior to their death.


Affidavit of Domicile
You are administrator or executor of an estate and want to transfer stocks or bonds that were owned by the deceased.
As executor or administrator of an estate, you are required to produce an Affidavit of Domicile when transferring or cashing in stocks or other investment assets of a deceased person. You'll need an Affidavit of Domicile along with several other pieces of information required by an investment firm or broker prior to releasing the assets. An Affidavit confirms the state where the deceased person resided at their time of death, which will be needed to determine which state may levy death taxes against the assets of the decedent. Other documents required by a broker or investment firm include a Stock Power letter, Letters of Appointment and/or an Affidavit of Heirship.

Other names for this document: Notarized Affidavit of Domicile, Affidavit of Residence (erroneously)
---
<![CDATA[ ]]>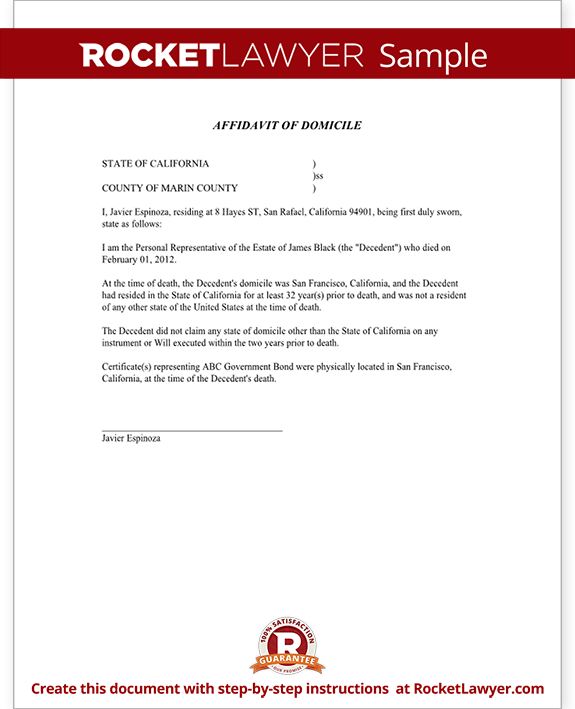 View Sample
Sample Affidavit of Domicile
More than just a template, our step-by-step interview process makes it easy to create an Affidavit of Domicile.

Save, sign, print, and download your document when you are done.

Sample Affidavit of Domicile
Our step-by-step interview process makes creating a printable Affidavit of Domicile easy.
Make Document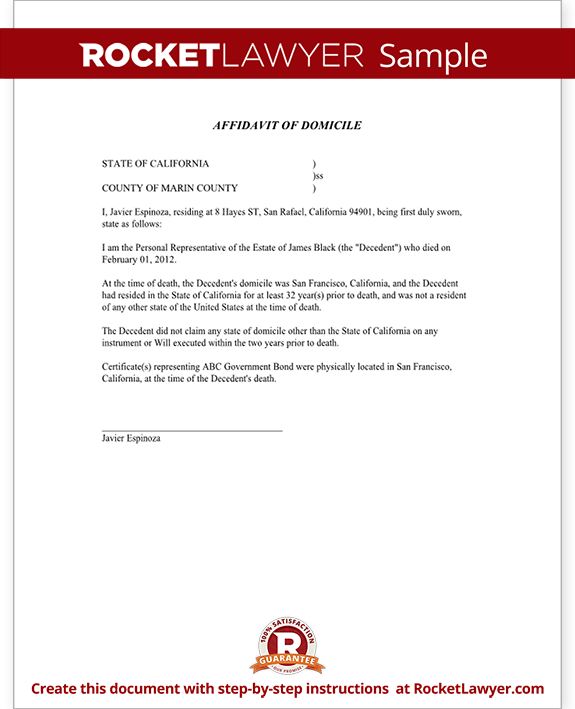 Why choose Rocket Lawyer?
Legally reviewed
Researched by lawyers
and legal staff.
Specialists to help
We're here to answer your
questions.
Free Trial
Your document is free with your subscription.
Our quality guarantee
We guarantee our service is
safe and secure.