MAKE YOUR FREE

Affidavit of Survivorship
Other Names:
Survivorship Affidavit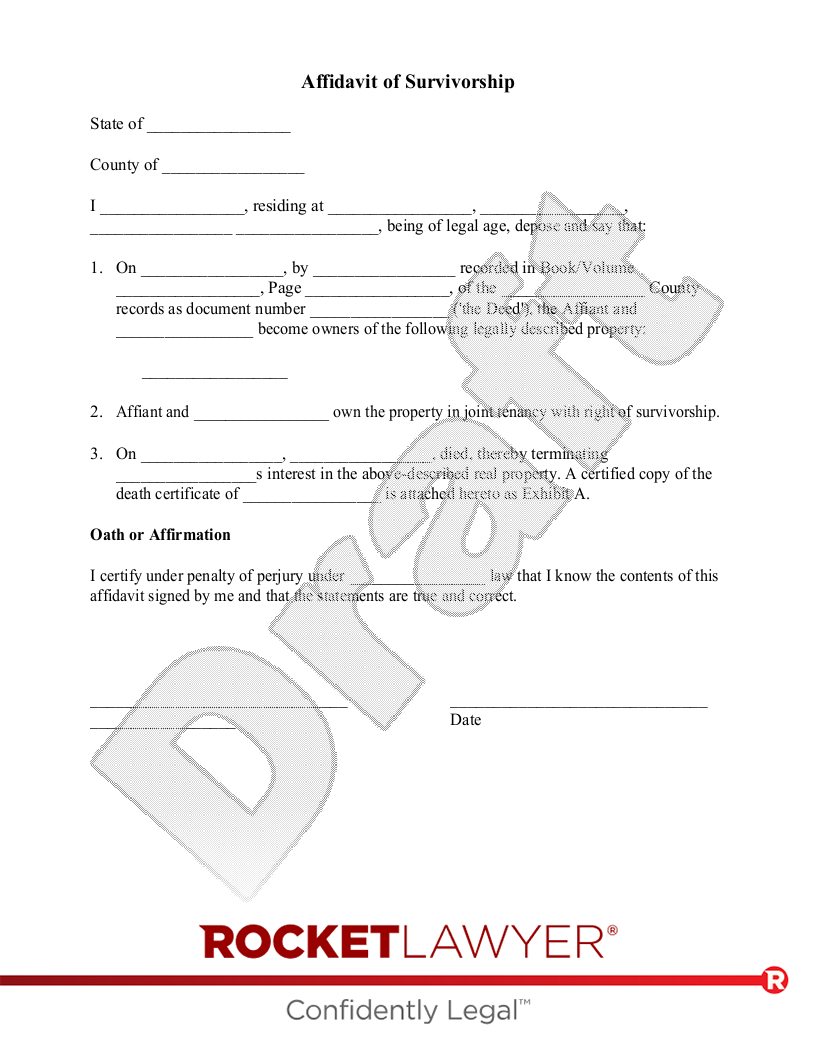 What is an Affidavit of Survivorship?
An Affidavit of Survivorship is a legal document that can be used to claim property that you co-own with a person who has died. If you own joint property with someone who has since passed away an Affidavit of Survivorship helps you invoke your legal rights and take full ownership of the property. Sometimes a court will want more than a death certificate; an Affidavit of Survivorship might help you make a tough situation a little easier after the loss of a spouse, relative, or business partner.
When to use an Affidavit of Survivorship:
You're owned joint property with someone who's passed away.
You currently own joint property, and want to be prepared with the right documents
Sample Affidavit of Survivorship
The terms in your document will update based on the information you provide
This document has been customized over 40.7K times
Legally binding and enforceable
Ask a lawyer questions about your document
Affidavit of Survivorship
State of
County of
I , residing at , , , being of legal age, depose and say that:
1.
On , by recorded in Book/Volume , Page , of the County records as document number ('the Deed'), the Affiant and become owners of the following legally described property:
2.
Affiant and own the property in joint tenancy with right of survivorship.
3.
On , , died, thereby terminating s interest in the above-described real property. A certified copy of the death certificate of is attached hereto as Exhibit A.
Oath or Affirmation
I certify under penalty of perjury under law that I know the contents of this affidavit signed by me and that the statements are true and correct.
______________________________
______________________________
Affidavit of Survivorship FAQs
How can I create an Affidavit of Survivorship Form for free?

It is fast and simple to get what you need using a free Affidavit of Survivorship template from Rocket Lawyer:

Make the document - Answer a few general questions and we will do the rest
Send or share - Discuss the document with a lawyer, if needed
Sign it - Sign your Affidavit and make it legal

Any Affidavit of Survivorship Form from Rocket Lawyer can be modified for your particular scenario. When you're ready to start the process, you can tap or click "Make document" above. Your document will be constructed step by step so you can be sure that it contains all of the relevant details that you'll need.

Do I need to work with a lawyer to review my Affidavit of Survivorship?

Making an Affidavit of Survivorship is usually straightforward, but you might still need advice. Depending on whom you approach, some lawyers won't even agree to review documents that they did not write. A better approach to consider is to go through Rocket Lawyer attorney services. By signing up for a Premium membership, you will be able to ask for feedback from an attorney with relevant experience or send other questions about your Affidavit. As always, we're here to support you.

How much might I traditionally pay for a lawyer to help me make an Affidavit of Survivorship?

The cost of finding and working with a traditional law firm to make an Affidavit of Survivorship might total anywhere from two hundred to one thousand dollars, depending on where you are located and how complicated it may be. Rocket Lawyer offers much more than many other Affidavit template websites that you might discover elsewhere. As a Rocket Lawyer Premium member, you can get up to 40% in savings when hiring an attorney.

What steps should I take after writing an Affidavit of Survivorship?

After making your Affidavit with the help of Rocket Lawyer, you'll be able to get to it on any device. With a membership, you will be able to make edits, download it in PDF format or as a Word document, print it out, and sign it. Attached to your Affidavit of Survivorship Form, you'll also discover a checklist of recommended actions you can take to finalize the document.

Does an Affidavit of Survivorship Form need to be notarized or witnessed?

Yes, an Affidavit of Survivorship Form must be acknowledged by a notary public. Witnesses are not legally required.