MAKE YOUR FREE

Housekeeping Agreement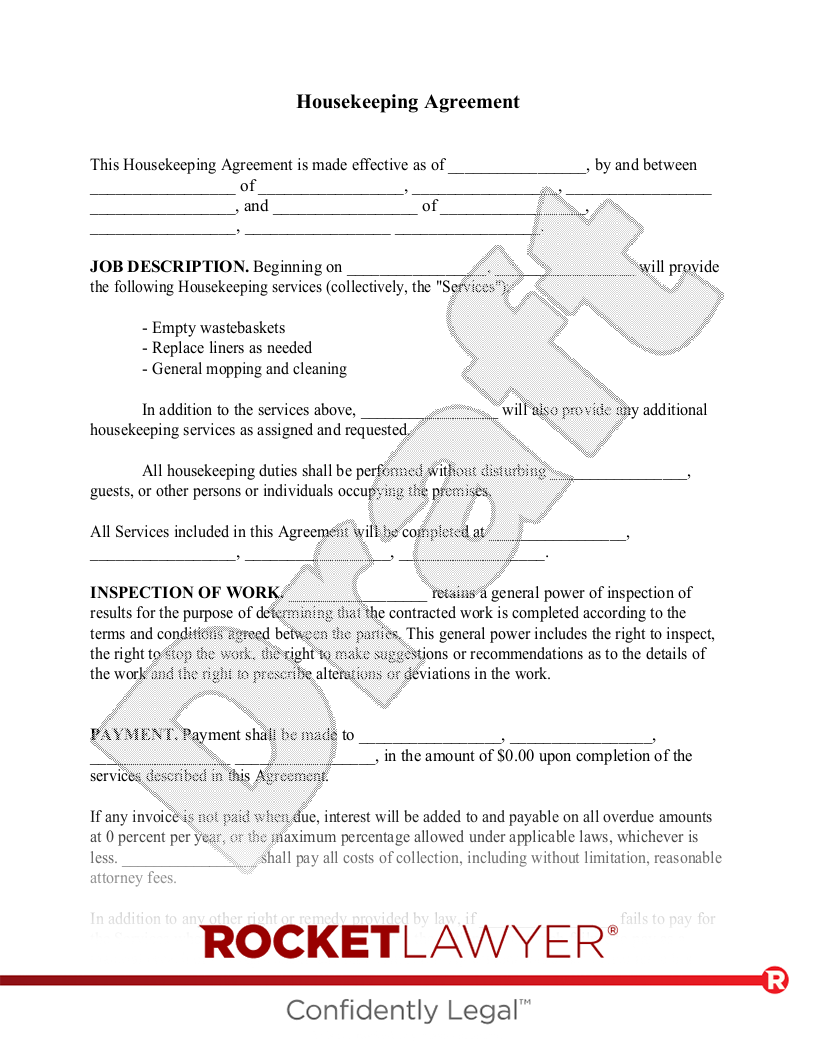 What is a Housekeeping Agreement?
If you are a housekeeper, you can make and sign Housekeeping Agreements in order to protect yourself when you are planning to provide housekeeping to clients. With signatures from both the client and the housekeeper, this document helps each party to set expectations. Different from the blank templates that you might discover on another website, each Housekeeping Contract that is built on Rocket Lawyer comes with the option of Document Defense®, so an attorney can review the situation and take action if you need to demand payment or face any other problem.
When to use a Housekeeping Agreement:
You're hiring a housekeeper for your home or business.
You're being hired as a housekeeper by an individual or business.
Sample Housekeeping Agreement
The terms in your document will update based on the information you provide
This document has been customized over 53.6K times
Legally binding and enforceable
Ask a lawyer questions about your document
Sign this document online for free with RocketSign®
Housekeeping Agreement
This Housekeeping Agreement is made effective as of , by and between of , , , and of , , .
JOB DESCRIPTION. Beginning on , will provide the following Housekeeping services (collectively, the "Services"):
In addition to the services above, will also provide any additional housekeeping services as assigned and requested.
All housekeeping duties shall be performed without disturbing , guests, or other persons or individuals occupying the premises.
All Services included in this Agreement will be completed at , , , .
INSPECTION OF WORK. retains a general power of inspection of results for the purpose of determining that the contracted work is completed according to the terms and conditions agreed between the parties. This general power includes the right to inspect, the right to stop the work, the right to make suggestions or recommendations as to the details of the work and the right to prescribe alterations or deviations in the work.
PAYMENT. Payment shall be made to
In addition to any other right or remedy provided by law, if fails to pay for the Services when due, has the option to treat such failure to pay as a material breach of this Agreement, and may cancel this Agreement and/or seek legal remedies.
HOURS OF WORK. The the Services described herein should be performed a days a week with certain tasks requiring more frequency than others. is responsible for establishming a set work schedule. However, the services performed by shall be performed so as to avoid inconvenience to , guests or other individuals or persons utilizing the premises.
HIRING, SUPERVISING,AND PAYING ASSISTANTS. may employ and direct such personnel as they require to perform the contracted work as herein indicated and shall secure any or all permits that may be required in order to perform the work herein contemplated. shall exercise full and complete authority over any hired personnel, shall comply with all Worker's Compensation, employer's liability and other federal, state and municipal laws, ordinances, rules, and regulations required of an employer performing services as herein contemplated and shall make all reports and remit all withholding or other deductions from the compensation paid their personnel as may be required by any federal, state, county, or municipal laws, ordinances, rules, or regulations.
FURNISHING OF EQUIPMENT. shall provide for their own equipment and materials necessary for performance of this Agreement. may purchase and/or lease and/or use any equipment and materials from with the consent of .
INSURANCE. , at its own cost and expense, shall procure and maintain throughout the term of this agreement a workers' compensation insurance policy for the protection of its employees engaged in work under this Agreement.
DEFAULT. The occurrence of any of the following shall constitute a material default under this Agreement:
a.
The failure to make a required payment when due.
b.
The insolvency or bankruptcy of either party.
c.
The subjection of any of either party's property to any levy, seizure, general assignment for the benefit of creditors, application or sale for or by any creditor or government agency.
d.
The failure to make available or deliver the Services in the time and manner provided for in this Agreement.
REMEDIES. In addition to any and all other rights a party may have available according to law, if a party defaults by failing to substantially perform any provision, term or condition of this Agreement (including without limitation the failure to make a monetary payment when due), the other party may terminate the Agreement by providing written notice to the defaulting party. This notice shall describe with sufficient detail the nature of the default. The party receiving such notice shall have days from the effective date of such notice to cure the default(s). Unless waived by a party providing notice, the failure to cure the default(s) within such time period shall result in the automatic termination of this Agreement.
, or other labor disputes, or supplier failures
ENTIRE AGREEMENT. This Agreement contains the entire agreement of the parties, and there are no other promises or conditions in any other agreement whether oral or written concerning the subject matter of this Agreement. This Agreement supersedes any prior written or oral agreements between the parties.
SEVERABILITY. If any provision of this Agreement will be held to be invalid or unenforceable for any reason, the remaining provisions will continue to be valid and enforceable. If a court finds that any provision of this Agreement is invalid or unenforceable, but that by limiting such provision it would become valid and enforceable, then such provision will be deemed to be written, construed, and enforced as so limited.
AMENDMENT. This Agreement may be modified or amended in writing, if the writing is signed by the party obligated under the amendment.
GOVERNING LAW. This Agreement shall be construed in accordance with the laws of the State of .
NOTICE. Any notice or communication required or permitted under this Agreement shall be sufficiently given if delivered in person or by certified mail, return receipt requested, to the address set forth in the opening paragraph or to such other address as one party may have furnished to the other in writing.
WAIVER OF CONTRACTUAL RIGHT. The failure of either party to enforce any provision of this Agreement shall not be construed as a waiver or limitation of that party's right to subsequently enforce and compel strict compliance with every provision of this Agreement.
SIGNATORIES. This Agreement shall be signed on behalf of by and on behalf of by and effective as of the date first above written.
Housekeeping Agreement FAQs
Why is it necessary to write a House Cleaning Contract?

Regardless of whether your housekeeping business is new or many years old, it is always crucial to get the details of your work in writing. These benefits may help to persuade you:

There is no confusion about the payment schedule
Neither party is surprised by how long the engagement lasts
Roles and responsibilities are understood by all

If you don't have a Housekeeping Contract, you and/or your client may suffer these unwanted repercussions: not being paid on time, unmet standards of quality, unrealistic expectations, delayed delivery, and, not to mention, limited ability to demand a remedy if something goes wrong.

What should be included in contracts for house cleaning services?

To complete your Housekeeping Agreement with Rocket Lawyer, you'll need to have the following details:

Your client's contact information
What tasks you are committed to performing
What the duration of the engagement is
What fees will be charged and when

As usual, the contract will also contain typical legal language about the independent work relationship between the parties, the protection of confidential information, liability, and finally, dispute resolution methods. When you build your contract, you'll also have the ability to pick which state's jurisdiction it falls under. With the document tool, you have the ability to implement additional adjustments and edits, if needed.

What might I usually pay for an attorney to make a housekeeping contract template for me?

Fortunately, you will not have to pay an expensive lawyer to put your contract in writing. When using Rocket Lawyer, any house cleaner should feel empowered to produce a Housekeeping Agreement for free today. Your document will be built section by section, as you answer simple questions to enter information along the way. Simply tap or click the "Make document" button above to begin.

If you have any questions or concerns before getting started, you can ask an attorney today. You should also feel free to check out more business legal documents in our library.

Am I required to do anything else once I draft my Housekeeping Agreement?

Each Housekeeping Agreement has a set of instructions on what comes next after your document is completed. Feel free to try any or all of the following actions with your contract: editing, signing electronically with RocketSign®, downloading it as a Word or PDF document, and printing it. Most importantly, as a best practice, you should give a copy of the fully signed agreement to the client.

Can my Housekeeping Contract template be evaluated by a lawyer before I sign?

Seeking out a lawyer to comment on your contract may take longer than you'd think if you do it alone. Another approach worth consideration is to request help from attorney services at Rocket Lawyer. Rocket Lawyer members can ask for guidance from an experienced attorney or send additional legal questions. As a business owner, you can Work Confidently® knowing that Rocket Lawyer is by your side.