MAKE YOUR FREE

Writing Contract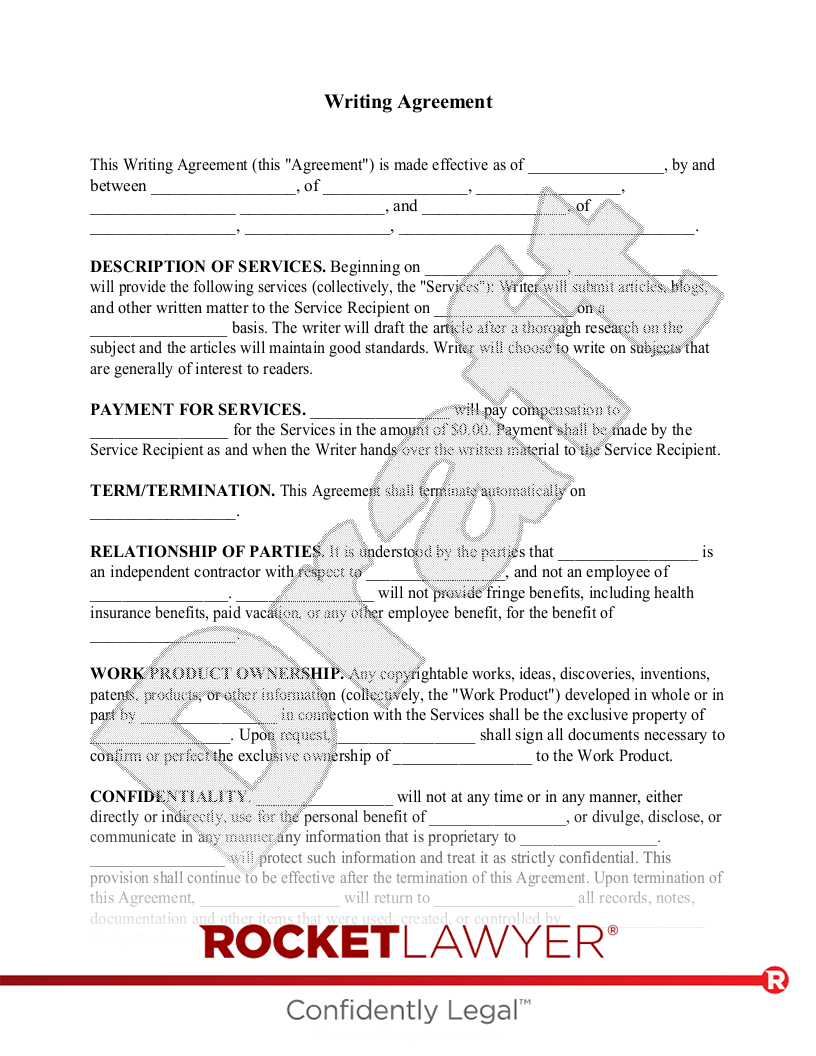 What is a Writing Contract?
Writers and their clients use Writing Contracts as a means of documenting the details of work that will be delivered. Signed by the writer and the client, this essential document can help define each party's expectations. Unlike the blank PDF templates that you may discover on another website, your Writing Agreement comes with the option of Document Defense®, so an attorney can assess the situation and take action if you don't get paid or have any other problem.
When to use a Writing Contract:
You own commercial property that will be leased to a new tenant.
You own commercial property that will be converted to a rental property.
You want to lease commercial rental property from a landlord who does not have a lease form.
Sample Writing Contract
The terms in your document will update based on the information you provide
This document has been customized over 24.8K times
Legally binding and enforceable
Ask a lawyer questions about your document
Sign this document online for free with RocketSign®
Writing Agreement
This Writing Agreement (this "Agreement") is made effective as of , by and between , of , , , and , of , , .
DESCRIPTION OF SERVICES. Beginning on , will provide the following services (collectively, the "Services"): Writer will submit articles, blogs, and other written matter to the Service Recipient on on a basis. The writer will draft the article after a thorough research on the subject and the articles will maintain good standards. Writer will choose to write on subjects that are generally of interest to readers.
PAYMENT FOR SERVICES. will pay compensation to for the Services in the amount of . Payment shall be made by the Service Recipient as and when the Writer hands over the written material to the Service Recipient.
TERM/TERMINATION. This Agreement shall terminate automatically on .
RELATIONSHIP OF PARTIES. It is understood by the parties that is an independent contractor with respect to , and not an employee of . will not provide fringe benefits, including health insurance benefits, paid vacation, or any other employee benefit, for the benefit of .
Upon termination of this Agreement, will return to all records, notes, documentation and other items that were used, created, or controlled by during the term of this Agreement.
ENTIRE AGREEMENT. This Agreement contains the entire agreement of the parties, and there are no other promises or conditions in any other agreement whether oral or written.
SEVERABILITY. If any provision of this Agreement shall be held to be invalid or unenforceable for any reason, the remaining provisions shall continue to be valid and enforceable. If a court finds that any provision of this Agreement is invalid or unenforceable, but that by limiting such provision it would become valid and enforceable, then such provision shall be deemed to be written, construed, and enforced as so limited.
APPLICABLE LAW. This Agreement shall be governed by the laws of the State of .
SIGNATORIES. This Agreement shall be signed by on behalf of and by on behalf of . This Agreement is effective as of the date first above written.
SERVICE RECIPIENT:
WRITER:
Writing Contract FAQs
Do writers always need to write Writing Contracts?

Whether you are doing technical writing, marketing writing, or otherwise, a Writing Contract is a good idea for every writer. Using this document most likely will be good for your business because of these benefits:

Payment requirements are clearly defined
The length of the engagement is agreed upon
The writer and client both know what they are responsible for

If you and/or the client decide against signing a Writing Agreement, neither party will be able to experience the associated protections.

What should my contract for writing contain?

Specifics that you may want to add are:

The contact information for the client
How much you will charge
Whether the project will be ongoing or if it will last for a distinct period of time
What type of services will be provided

As you may expect, Writing Contracts made with Rocket Lawyer also include the typical legalese regarding the non-employer relationship, dispute resolution methods, and reimbursement for losses. During the process of making your agreement, you also can designate the jurisdiction under which it will be governed. Further personalized editing is permitted, as well.

Where can I make a Writing Agreement for free?

With Rocket Lawyer, every Writing Contract that you make can be tailored to you and your specific needs. Simply click on the "Make document" button and answer a few questions. You might also consider having an attorney in our Rocket Lawyer attorney network review it for you. This solution is often going to be much less expensive than finding and working with your average lawyer, whose hourly fees could add up to anywhere from hundreds of dollars to thousands.

If you have any concerns or questions about how to move forward, ask an attorney today. You might also like to browse the other business documents in our library.

Am I required to do anything else after a Writing Contract is made?

Attached alongside each Writing Contract, there will be a set of instructions for what is next with regard to finalizing your document. You also can engage with the contract in any of the following ways: making edits, saving it in PDF format or as a Word file, printing it out, and signing it using RocketSign® electronic signatures. Most importantly, everyone should get a copy of the final agreement.

How can I have my Writing Contract reviewed by an attorney?

The answer may vary depending on whom you approach, but sometimes a lawyer may not even agree to review contracts that they did not work on. A more favorable approach would be through attorney services at Rocket Lawyer. As a Premium member, you can ask for guidance from an attorney with experience in business or ask additional questions related to your Writing Agreement. As always, Rocket Lawyer is here to help.