MAKE YOUR FREE

Event Photography Contract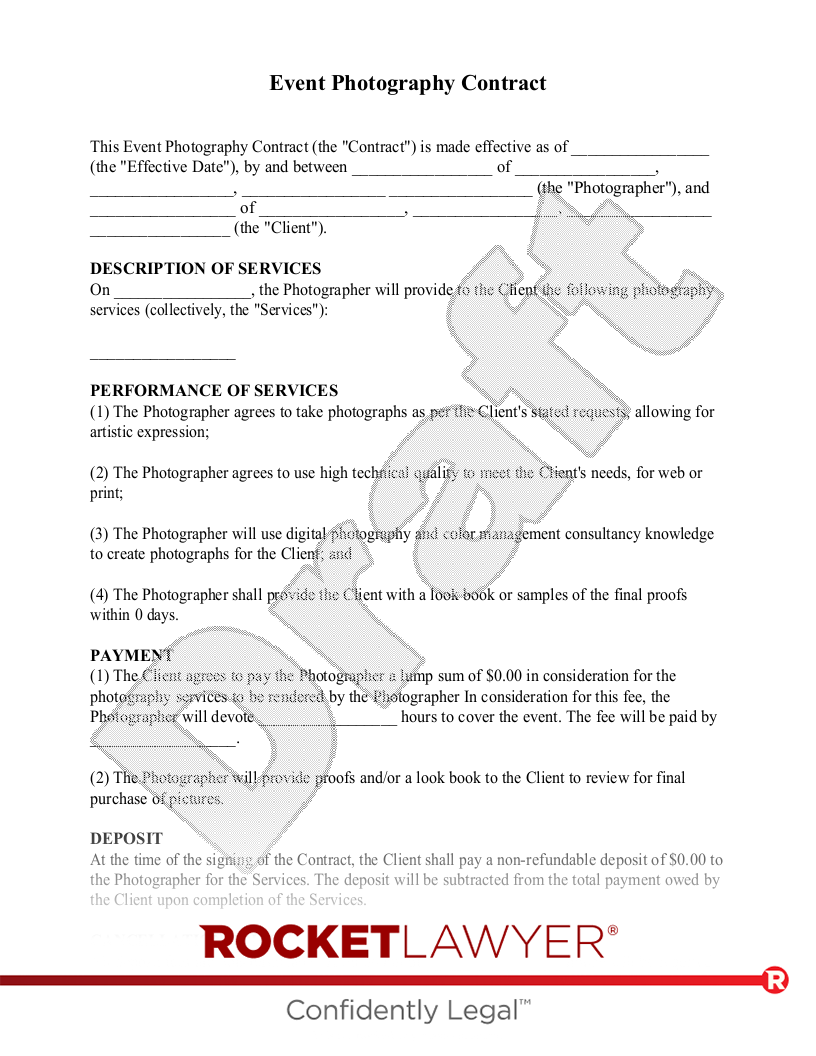 What is an Event Photography Contract?
An Event Photography Contract is a document that is designed to allow photographers to outline the terms associated with their relationship with a client. Event Photography Contracts can be used for any occasion, from family festivities like engagement parties and other wedding-related gatherings to corporate events like holiday parties and fundraisers. This document covers the obligations of both parties on the day of the event, and it allows the hiring party to request specific photos they want taken. The contract also defines payment methods, payment schedules, cancellation policies, and copyright agreements, if any. When it is drafted properly, this legal agreement may reduce conflicts by ensuring that there is a shared understanding between the signing parties. Different from many other sites you might stumble upon, there is a lot more to Rocket Lawyer than templates. If the client refuses to pay or there is a different issue, your membership offers the optional benefit of Document Defense® support from an attorney in our network.
When to use an Event Photography Contract:
You are a freelancer photographer being hired for an event
You want to hire a photographer for a personal event
You want to hire a photographer for a corporate event
Sample Event Photography Contract
The terms in your document will update based on the information you provide
This document has been customized over 2.3K times
Legally binding and enforceable
Ask a lawyer questions about your document
This Event Photography Contract (the "Contract") is made effective as of (the "Effective Date"), by and between of , , (the "Photographer"), and of , , (the "Client").
DESCRIPTION OF SERVICES
On , the Photographer will provide to the Client the following photography services (collectively, the "Services"):
PERFORMANCE OF SERVICES
(1) The Photographer agrees to take photographs as per the Client's stated requests, allowing for artistic expression;
(2) The Photographer agrees to use high technical quality to meet the Client's needs, for web or print;
(3) The Photographer will use digital photography and color management consultancy knowledge to create photographs for the Client; and
(4) The Photographer shall provide the Client with a look book or samples of the final proofs within days.
PAYMENT
(1) The Client agrees to pay the Photographer a lump sum of in consideration for the photography services to be rendered by the Photographer In consideration for this fee, the Photographer will devote hours to cover the event. The fee will be paid by .
(2) The Photographer will provide proofs and/or a look book to the Client to review for final purchase of pictures.
DEPOSIT
TERMS
The Photographer and the Client agree that this Contract shall commence on the above date and that same shall terminate on . Said agreement may be extended and/or renewed by agreement of all parties memorialized in a subsequent amendment thereafter.
WORK PRODUCT OWNERSHIP
Any copyrightable works, ideas, discoveries, products, or other information (collectively, the "Work Product") developed in whole or in part by the Photographer in connection with the Services will be the exclusive property of the . Upon request, the Photographer will execute all documents necessary to confirm or perfect the exclusive ownership of the to the Work Product.
RELATIONSHIP OF PARTIES
It is understood by the parties that the Photographer is an independent contractor with respect to the Client, and not an employee of the Client.
COURTESY
The photography schedule and selected methodology are designed to accomplish the goals and wishes of the Client. The Client and the Photographer agree that positive cooperation and punctuality are therefore essential.
INDEMNIFICATION
DEFAULT
The occurrence of any of the following shall constitute a material default under this Contract:
a. The failure to make a required payment when due.
b. The insolvency or bankruptcy of either party.
c. The subjection of any of either party's property to any levy, seizure, general assignment for the benefit of creditors, application or sale for or by any creditor or government agency.
d. The failure to make available or deliver the Services in the time and manner provided for in this Contract.
REMEDIES
In addition to any and all other rights a party may have available according to law, if a party defaults by failing to substantially perform any provision, term or condition of this Contract (including without limitation the failure to make a monetary payment when due), the other party may terminate the Contract by providing written notice to the defaulting party. This notice shall describe with sufficient detail the nature of the default. The party receiving such notice shall have days from the effective date of such notice to cure the default(s). Unless waived by a party providing notice, the failure to cure the default(s) within such time period shall result in the automatic termination of this Contract.
Any controversies or disputes arising out of or relating to this Agreement will be submitted to mediation in accordance with any statutory rules of mediation. If mediation is not successful in resolving the entire dispute or is unavailable, any outstanding issues will be submitted to final and binding arbitration under the rules of the American Arbitration Association. The arbitrator's award will be final, and judgment may be entered upon it by any court having proper jurisdiction.
ENTIRE CONTRACT
This Contract contains the entire Contract of the parties, and there are no other promises or conditions in any other contract whether oral or written concerning the subject matter of this Contract. This Contract supersedes any prior written or oral agreements between the parties.
SEVERABILITY
If any provision of this Contract shall be held to be invalid or unenforceable for any reason, the remaining provisions shall continue to be valid and enforceable. If a court finds that any provision of this Contract is invalid or unenforceable, but that by limiting such provision it would become valid and enforceable, then such provision shall be deemed to be written, construed, and enforced as so limited.
AMENDMENT
This Contract may be modified or amended in writing, if the writing is signed by the party obligated under the amendment.
GOVERNING LAW
This Contract shall be governed by the laws of the .
NOTICE
Any notice or communication required or permitted under this Contract shall be sufficiently given if delivered in person or by certified mail, return receipt requested, to the address set forth in the opening paragraph or to such other address as one party may have furnished to the other in writing.
WAIVER OF CONTRACTUAL RIGHT
The failure of either party to enforce any provision of this Contract shall not be construed as a waiver of limitation of that party's right to subsequently enforce and compel strict compliance with every provision of this Contract.
ASSIGNMENT
Neither party may assign or transfer this Contract without the prior written consent of the non-assigning party, which approval shall not be unreasonably withheld.
SIGNATORIES.
This Agreement shall be signed by and by , .
Event Photography Contract FAQs
Does a freelance photographer always need to write an Event Photography Contract?

Whether you are paid by an acquaintance or a stranger, your Event Photography Contract is a document that should never be forgotten. You may decide that you want this document because, when done correctly, it can yield the following list of benefits:

Timelines are agreed upon
Everyone knows when invoicing will happen
Roles and responsibilities are understood by all

Some repercussions of not having this document in place might include confusion on timing, incorrect assumptions, underpayment, and more potential concerns.

How should a contract for event photography be organized?

To make your Event Photography Contract with Rocket Lawyer, you will need the following:

The event organizer's full name and address
What photography and/or editing will be provided
How much it will cost and when payment is due
What the duration of the event is

As you probably expect from a contract like this one, your Event Photographer Agreement will also include the standard legal language with regard to the independent work relationship, confidentiality, and lastly, liability. During the process of making your agreement, you also will have the ability to choose the state under which it will be governed. Additional custom editing is possible, as needed.

How do I write my own Event Photographer Agreement online?

Luckily, you will not have to reinvent the wheel to get your contract in writing. When using Rocket Lawyer, any event photographer should feel empowered to make Event Photography Contracts with ease. Your agreement is built step by step, so you can be sure that it contains all of the relevant information that you'll need. Ordinarily, given the level of customization, you could end up paying a conventional lawyer fees in the hundreds of dollars, if not more. If you've got any hesitations about how to move forward, ask a lawyer , or explore the other business legal documents in our library.

Is anything else required after my Event Photography Contract has been created?

Each Event Photography Contract will come with its own series of instructions on what's next after your document is finished. As a Rocket Lawyer member, you may edit, add electronic signatures via RocketSign®, print, make a copy, or download it as a Word or PDF document as needed. Most importantly, as a best practice, you should provide a copy of the signed agreement to the other party.

Where do I get my Event Photography Contracts checked out by a lawyer?

Finding someone to give feedback on your document could take a long time if you do it alone. Another approach would be to request help from the On Call network. Rocket Lawyer Premium members can ask for a contract review from an experienced attorney or pose other questions. As a business owner, you can be confident that Rocket Lawyer is by your side.