MAKE YOUR FREE

Movie Production Agreement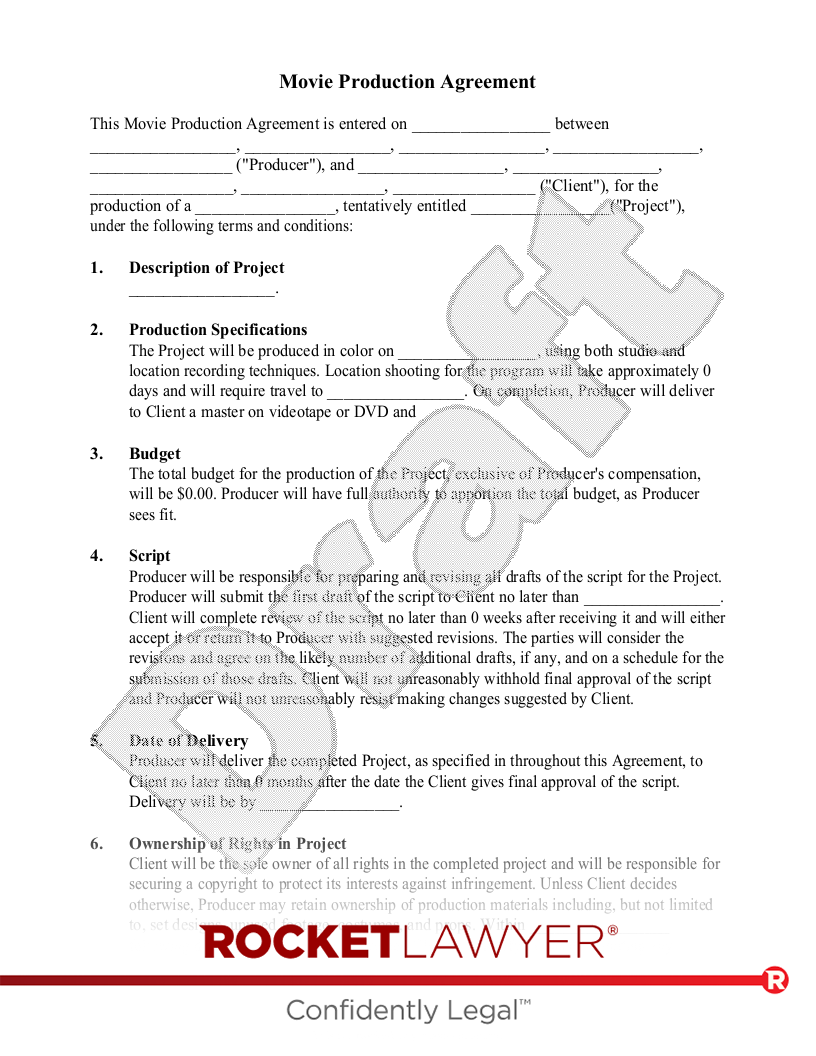 What is a Movie Production Agreement?
Generally, the primary purpose of drafting a Movie Production Agreement is to record the terms and payment details for film production that will be provided. As a result of this agreement, both parties will know what to expect. With Rocket Lawyer, your Movie Production Contract is not a generic template. In case you ever require help from an attorney in the event of missed payments or any other issue, your Premium membership offers optional access to Document Defense®.
When to use a Movie Production Agreement:
You'd like to hire a producer to oversee a movie, documentary or other type of film project.
You're a producer being hired to complete a movie project.
Sample Movie Production Agreement
The terms in your document will update based on the information you provide
This document has been customized over 26.9K times
Legally binding and enforceable
Ask a lawyer questions about your document
Sign this document online for free with RocketSign®
Movie Production Agreement
This Movie Production Agreement is entered on between , , , , ("Producer"), and , , , , ("Client"), for the production of a , tentatively entitled ("Project"), under the following terms and conditions:
1.
Description of Project
.
2.
Production Specifications
The Project will be produced in color on , using both studio and location recording techniques. Location shooting for the program will take approximately days and will require travel to . On completion, Producer will deliver to Client a master on videotape or DVD and
The total budget for the production of the Project, exclusive of Producer's compensation, will be . Producer will have full authority to apportion the total budget, as Producer sees fit.
Producer will be responsible for preparing and revising all drafts of the script for the Project. Producer will submit the first draft of the script to Client no later than . Client will complete review of the script no later than weeks after receiving it and will either accept it or return it to Producer with suggested revisions. The parties will consider the revisions and agree on the likely number of additional drafts, if any, and on a schedule for the submission of those drafts. Client will not unreasonably withhold final approval of the script and Producer will not unreasonably resist making changes suggested by Client.
Producer will deliver the completed Project, as specified in throughout this Agreement, to Client no later than months after the date the Client gives final approval of the script. Delivery will be by .
6.
Ownership of Rights in Project
Client will be the sole owner of all rights in the completed project and will be responsible for securing a copyright to protect its interests against infringement. Unless Client decides otherwise, Producer may retain ownership of production materials including, but not limited to, set designs, unused footage, costumes, and props. Within following delivery of the completed Project, Client will notify Producer regarding any production materials Client does not want Producer to retain, and Producer will make those materials available for disposition or storage by Client. Producer will store a copy of the Project on videotape or on DVD in its program library for at least years from completion of the Project. During that time, Producer will have the right to show selected three minute excerpts from project for the limited purpose of inclusion in Producer's sampler tapes or DVDs.
Producer will receive prominent credit as "Producer" on the completed project and may include in the credits the names and roles of other persons who have participated in the project, at Producer's discretion. Client may submit a list of additional credits to be included in the completed project and Producer shall include those credits in addition to the credits otherwise included by Producer.
8.
Right to Enter Project in Competitions
Both Producer and Client will have the right to enter the Project in competitions for awards anywhere in the world. However, both parties are prohibited from submitting the Project in any competition without first notifying the other party of its intention to do so.
Client will pay Producer a total amount of for Producer's services under this Agreement, according to the following schedule:
Date/Event/Milestone
Payment Amount
10.
Dealings with Third Parties
Producer will arrange for all permits, releases, licenses, national clearances for the use of copyrighted material, third party contracts, and similar matters, including but not limited to the payment of fees and compensation, within the budget specified by Client in Compensations. Producer will not include any material or sources in Project that might in any way interfere with distribution of the Project or infringe on any standard copyrights.
Producer will not be responsible under this Agreement for any services related to the development of publicity, merchandising, distribution, or other similar campaign to promote the Project. Client will contract separately for these services with Producer or a third party. If Client enters into an agreement for these services with a third party who requires materials or incidental services from Producer, Producer will be entitled to charge standard fees for those materials or services.
Either party may terminate this Agreement on days written notice to the other party at the address set forth at the beginning of this Agreement. If Client terminates this agreement, Producer will be entitled to reasonable compensation for services rendered through the date of termination.
Any disputes that may arise between Client and Producer regarding the terms of this Agreement will be submitted to final and binding arbitration in accordance with the applicable state statutes. The arbitrator's award will be final and binding on the parties, and judgment may be entered on it by a court of competent jurisdiction.
All notices to the parties will be in writing and will be sent to the address of the party stated in the beginning of this agreement.
This document contains the entire agreement between Client and Producer and cannot be changed orally, but only by a written agreement signed by both parties.
16.
Severability of Invalid Provisions
If any provision of this agreement is deemed unenforceable, that provision will be omitted only to the extent necessary to make this agreement valid and enforceable, and the remaining provisions will remain in full force and effect.
If any action at law or in equity is brought to enforce or interpret the provisions of this Agreement, the prevailing party will be entitled to reasonable attorneys' fees in addition to any other relief to which that party may be entitled.
This agreement will be governed in all respects by the law of the State of .
Executed with the intent of being legally bound.
Movie Production Agreement FAQs
What type of producer needs to use a Film Production Agreement?

Whether or not the engagement is long- or short-term, having a record of your agreements with the client is key. This list of benefits may help to persuade you:

Roles and responsibilities are understood by everyone
Both parties know when billing will happen
Neither party is surprised by how long the engagement lasts

Some outcomes from not having one might include confusion on timing, incorrect assumptions, and late payments, among other concerns.

How are Movie Production Agreements structured?

You might want to prepare these critical details:

Contact information for your client
What tasks you will be responsible for
How payment will be made
What the start and end dates are

The agreement will also contain typical legal language about the independent work relationship, liability, confidentiality, and dispute resolution methods. During the process of making your contract, you also can determine which state's jurisdiction it is subject to. More modifications are permitted, as well.

What might I usually have to pay for an attorney to create a video production contract template?

Luckily, you won't need to pay hundreds of dollars to put your contract in writing. When using Rocket Lawyer, you can make a Movie Production Agreement for free today. Your contract will be assembled section by section, so you can feel confident that it contains all of the appropriate information that you'll need. Simply tap or click on "Make document" to start.

If you have any hesitations or questions about how to move forward, ask a lawyer , or browse our full repository of contracts and other documents for small business owners .

What should I do after drafting my agreement for film production?

Attached to your Movie Production Agreement, there is a list of directions for what you should do next. You also may try any of the following actions with your contract: editing, getting signatures with RocketSign®, saving it as a Word document or PDF file, and/or printing it. Most importantly, everyone should always receive copies of the fully executed agreement.

Can my Movie Production Agreement be reviewed by an attorney before it is signed?

Finding someone to review your agreement may take a long time if you attempt to do it on your own. Another approach could be via the Rocket Lawyer On Call® network of attorneys. Premium members have the ability to ask for a contract review from an Rocket Lawyer network attorney with business experience or pose other legal questions. As a small business owner or operator, you can Work Confidently® knowing that Rocket Lawyer is here to support you.