MAKE YOUR FREE

Web Development Agreement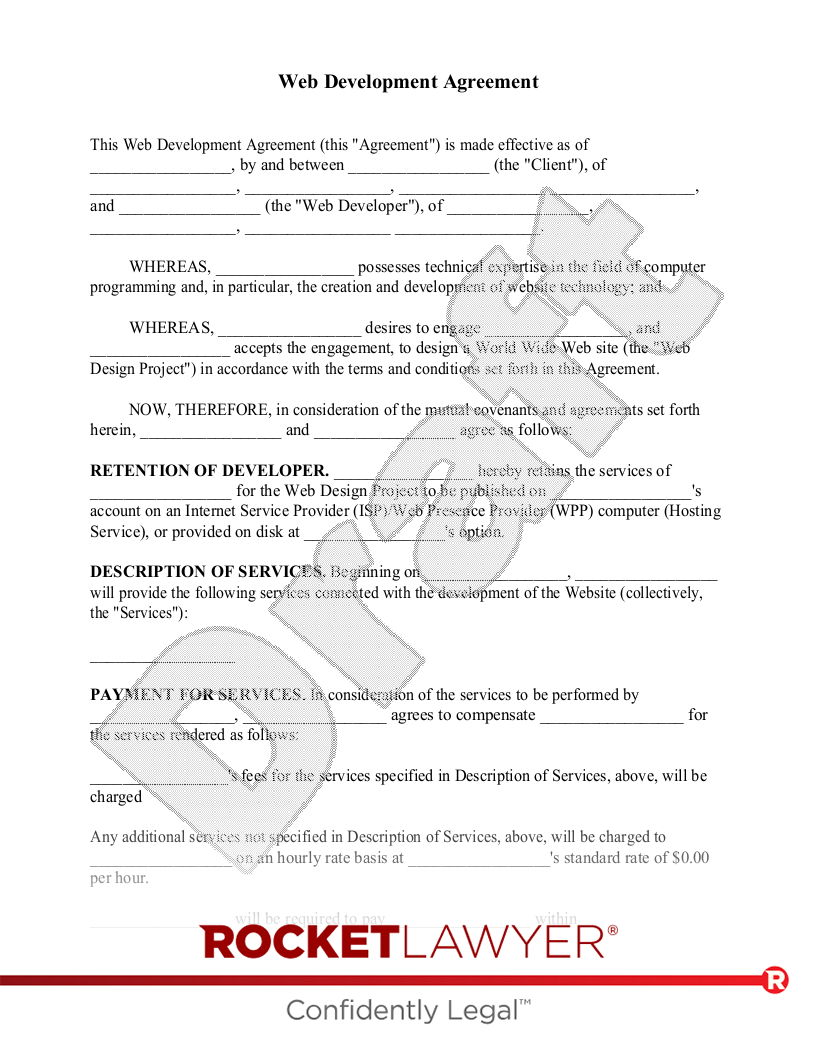 What is a Web Development Agreement?
Web Development Agreements typically are drafted to document the terms and payment details for web development that will be provided. With signatures from the developer and the website owner, this essential document helps each party to set expectations. Different from the other sites you may come across, there's more to Rocket Lawyer than templates. In the event of missed payments or another problem, your Rocket Lawyer membership offers optional access to Document Defense® protection.
When to use a Web Development Agreement:
You're hiring a web developer for a website design project.
You're being hired as a web developer for a website development project.
Sample Web Development Agreement
The terms in your document will update based on the information you provide
This document has been customized over 53.7K times
Legally binding and enforceable
Ask a lawyer questions about your document
Sign this document online for free with RocketSign®
Web Development Agreement
This Web Development Agreement (this "Agreement") is made effective as of , by and between (the "Client"), of , , , and (the "Web Developer"), of , , . In this Agreement, the Client shall be referred to as "", and the Web Developer shall be referred to as "".
WHEREAS, possesses technical expertise in the field of computer programming and, in particular, the creation and development of website technology; and
WHEREAS, desires to engage , and accepts the engagement, to design a World Wide Web site (the "Web Design Project") in accordance with the terms and conditions set forth in this Agreement.
NOW, THEREFORE, in consideration of the mutual covenants and agreements set forth herein, and agree as follows:
RETENTION OF DEVELOPER. hereby retains the services of for the Web Design Project to be published on 's account on an Internet Service Provider (ISP)/Web Presence Provider (WPP) computer (Hosting Service), or provided on disk at 's option.
DESCRIPTION OF SERVICES. Beginning on , will provide the following services connected with the development of the Website (collectively, the "Services"):
PAYMENT FOR SERVICES. In consideration of the services to be performed by , agrees to compensate for the services rendered as follows:
's fees for the services specified in Description of Services, above, will be charged at a rate of per hour. at a rate of per month. at a rate of per quarter. at a rate of , payable on 's completion of the services specified in Description of Services. according to the following schedule:
Any additional services not specified in Description of Services, above, will be charged to on an hourly rate basis at 's standard rate of per hour.
will be required to pay within days of receiving the bill.
will pay 's costs and expenses .
WEB HOSTING. understands and agrees that any web hosting services require a separate contract with a web hosting service. agrees to select a web hosting service which allows full access to the website.
TERM/TERMINATION. This Agreement shall terminate automatically on . may be terminated by either party upon days' written notice to the other party. shall terminate according to the following arrangement:
RELATIONSHIP OF PARTIES. It is understood by the parties that is an independent contractor with respect to , and not an employee of . will not provide fringe benefits, including health insurance benefits, paid vacation, or any other employee benefit, for the benefit of .
WORK PRODUCT OWNERSHIP. Any copyrightable works, ideas, discoveries, inventions, patents, products, or other information (collectively, the "Work Product") developed in whole or in part by in connection with the Services shall be the exclusive property of . Upon request, shall sign all documents necessary to confirm or perfect the exclusive ownership of to the Work Product.
LAWS AFFECTING ELECTRONIC COMMERCE. agrees that is solely responsible for complying with laws, taxes, and tariffs that governments enact and fix from time to time in connection with Internet electronic commerce, and shall indemnify, hold harmless, protect, and defend and its subcontractors from any cost, claim, suit, penalty, or tariff, including attorneys' fees, costs, and expenses, arising from 's exercise of Internet electronic commerce.
CONFIDENTIALITY. will not at any time or in any manner, either directly or indirectly, use for the personal benefit of , or divulge, disclose, or communicate in any manner any information that is proprietary to . will protect such information and treat it as strictly confidential. This provision shall continue to be effective after the termination of this Agreement. Upon termination of this Agreement, will return to all records, notes, documentation and other items that were used, created, or controlled by during the term of this Agreement.
EMPLOYEES. 's employees, if any, who perform services for under this Agreement shall also be bound by the provisions of this Agreement. At the request of , shall provide adequate evidence that such persons are 's employees.
ASSIGNMENT. 's obligations under this Agreement may not be assigned or transferred to any other person, firm, or corporation without the prior written consent of .
INDEMNIFICATION. agrees to indemnify and hold harmless from all claims, losses, expenses, fees including attorney's fees, costs, and judgments that may be asserted against that result from the acts or omissions of , 's employees, if any, and 's agents.
ENTIRE AGREEMENT. This Agreement contains the entire agreement of the parties, and there are no other promises or conditions in any other agreement whether oral or written.
SEVERABILITY. If any provision of this Agreement shall be held to be invalid or unenforceable for any reason, the remaining provisions shall continue to be valid and enforceable. If a court finds that any provision of this Agreement is invalid or unenforceable, but that by limiting such provision it would become valid and enforceable, then such provision shall be deemed to be written, construed, and enforced as so limited.
AMENDMENT. No amendment, waiver, or discharge of any provision of this Agreement shall be effective against or without the written consent of both and .
NOTICES. Any notice required to be given pursuant to this Agreement shall be in writing and mailed by certified or registered mail, to the addresses mentioned above.
APPLICABLE LAW. This Agreement shall be governed by the laws of the State of Commonwealth of .
SIGNATURES. This Agreement shall be signed by , on behalf of and by , on behalf of . This Agreement is effective as of the date first above written.
Web Developer Agreement Checklist
Make It Legal™
Find out next steps for your document
___Sign this document. This document needs to be signed by
The Agreement can be signed online. It becomes effective as of the date specified in the Agreement.
___Everyone gets a copy. Anyone named in the document should receive a copy of the signed document. If you sign this contract online, a copy will be securely stored in your account. You can share your document from your account.
Important Information
The Web Development Agreement should only be used for a party who is an "independent contractor" with respect to the Client. If the arrangement between the Client and the Web Developer conforms more closely to the characteristics of an employee/employer relationship, the Employment Agreement may be more appropriate.
Web Development Agreement FAQs
Should freelance web developers always write Web Development Agreements?

No matter how few hours the work will take, creating documentation of your agreements with the client is key. Making this document most likely will be helpful to you because of the benefits listed below:

The length of the contract is established
Both parties know when invoicing will happen
Roles and responsibilities are understood by both parties

A few unfavorable outcomes from not having this document in place might include impractical expectations, dragged out timelines, incomplete payments, and more potential concerns.

What information does a web development contract template usually contain?

The basic details that you may be prompted to cover in your Web Development Agreement are:

The website owner's contact information
What tasks you will be responsible for (design, development, testing, etc.)
How long the contract will last
What fees will be charged and at which milestones

As usual, this contract built on Rocket Lawyer also includes the standard legal language regarding the independent work relationship between the parties, the protection of private information, ownership of assets, liability for losses, and lastly, the method(s) of dispute resolution. While building your contract, you also can determine the jurisdiction under which it will be governed. Further information, such as change and approval processes or QA documentation can be added, if necessary.

Who provides the website design contract?

If you are the designer and work with small clients, you will likely be the one putting together the contract. Your client may not know what is involved in building a website and they will need to rely on your expertise to make sure everything is included. Advantages to making your own contract are that you can set realistic deadlines for yourself and can address common issues up front.Sometimes larger clients have their own documents for working with contractors. In either case, it can be helpful to have a lawyer review your agreement before you sign.

How much might I usually pay for a lawyer to create a contract for website development?

The cost of finding and hiring a conventional law firm could be from a few hundred dollars to thousands. If you choose to create a Web Development Agreement for free with Rocket Lawyer, click on "Make document" to begin the process. You may also consider asking an attorney in our Rocket Lawyer attorney network to look at it for you after creating it.

If you've got any concerns about the process, connect with an attorney . Also feel free to check out our full selection of business legal documents .

Is anything else required after I have created a Web Development Agreement?

Attached to each Web Development Agreement, there's a series of helpful tips on what to do next. You should feel free to take any of the following actions with your contract: editing, printing, saving it in PDF format or as a Word file, or adding electronic signatures with RocketSign®. Most importantly, your client should get a copy of the final agreement.

How do I get my Web Development Agreement checked out by a professional?

Seeking out an attorney to look over your contract may take a lot of time if you do it alone. Another approach to consider is to request help from the On Call network. Premium members have the ability to ask for guidance from an Rocket Lawyer network attorney with business experience or pose other legal questions. As a business owner or operator, you can Work Confidently® knowing that Rocket Lawyer is by your side.