MAKE YOUR FREE

Wedding Photography Contract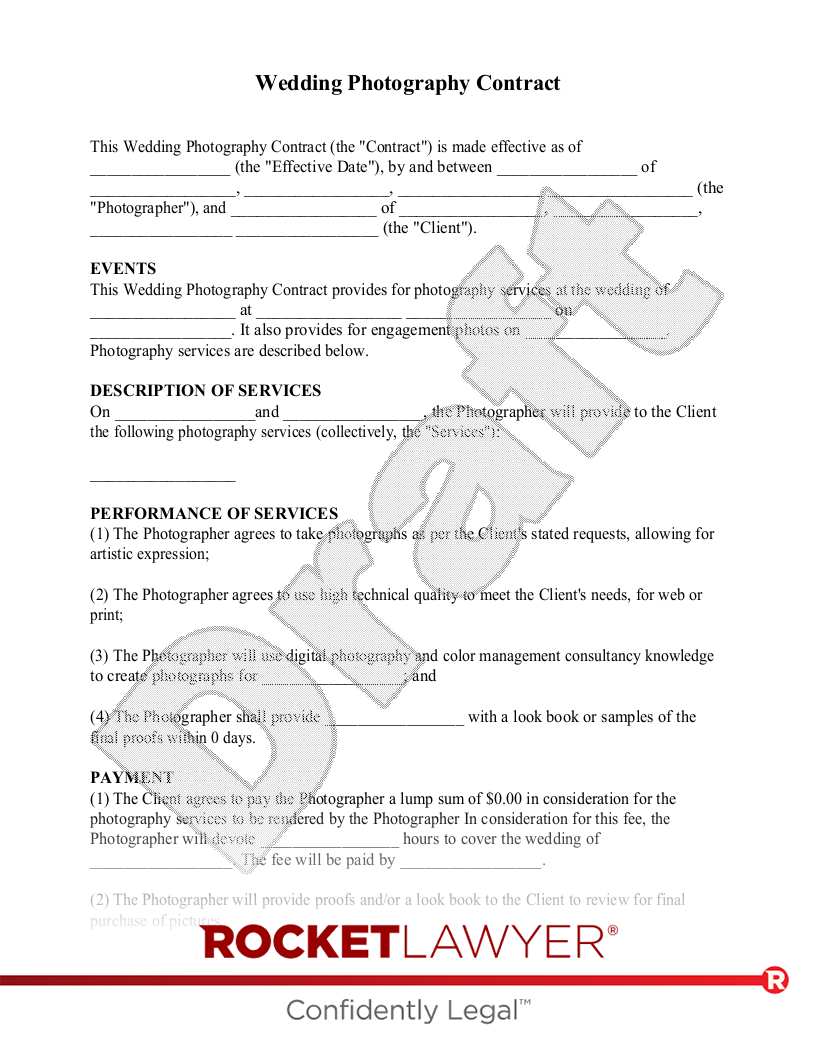 What is a Wedding Photography Contract?
If you are a wedding photographer, you can create Wedding Photography Contracts in order to safeguard your interests when offering photography to a client. As a result of making this agreement, all signers will know what to expect. This agreement covers when and how payment will be made, along with other factors, such as cancellation policies and copyright protection. As a Rocket Lawyer member, you may opt to activate Document Defense®, which enables an attorney to help you demand payment or otherwise enforce your legal rights.
When to use a Wedding Photography Contract:
You are looking to hire a photographer for an upcoming wedding.
You are a wedding photographer and would like to get your agreements in writing
Sample Wedding Photography Contract
The terms in your document will update based on the information you provide
This document has been customized over 3.8K times
Legally binding and enforceable
Ask a lawyer questions about your document
This Wedding Photography Contract (the "Contract") is made effective as of (the "Effective Date"), by and between of , , (the "Photographer"), and and of , , (the "Client").
EVENTS
This Wedding Photography Contract provides for photography services at the wedding of at on . Photography services are described below.
DESCRIPTION OF SERVICES
On , the Photographer will provide to the Client the following photography services (collectively, the "Services"):
PERFORMANCE OF SERVICES
(1) The Photographer agrees to take photographs as per the Client's stated requests, allowing for artistic expression;
(2) The Photographer agrees to use high technical quality to meet the Client's needs, for web or print;
(3) The Photographer will use digital photography and color management consultancy knowledge to create photographs for ; and
(4) The Photographer shall provide with a look book or samples of the final proofs within days.
PAYMENT
(1) The Client agrees to pay the Photographer in consideration for the photography services to be rendered by the Photographer In consideration for this fee, the Photographer will devote hours to cover the wedding of . The fee will be paid by .
(2) The Photographer will provide proofs and/or a look book to the Client to review for final purchase of pictures.
DEPOSIT
TERMS
The Photographer and the Client agree that this Contract shall commence on the above date and that same shall terminate on . Said agreement may be extended and/or renewed by agreement of all parties memorialized in a subsequent amendment thereafter.
WORK PRODUCT OWNERSHIP
Any copyrightable works, ideas, discoveries, products, or other information (collectively, the "Work Product") developed in whole or in part by the Photographer in connection with the Services will be the exclusive property of the . Upon request, the Photographer will execute all documents necessary to confirm or perfect the exclusive ownership of the to the Work Product.
RELATIONSHIP OF PARTIES
It is understood by the parties that the Photographer is an independent contractor with respect to the Client, and not an employee of the Client.
COURTESY
The photography schedule and selected methodology are designed to accomplish the goals and wishes of the Client. The Client and the Photographer agree that positive cooperation and punctuality are therefore essential.
INDEMNIFICATION
DEFAULT
The occurrence of any of the following shall constitute a material default under this Contract:
a. The failure to make a required payment when due.
b. The insolvency or bankruptcy of either party.
c. The subjection of any of either party's property to any levy, seizure, general assignment for the benefit of creditors, application or sale for or by any creditor or government agency.
d. The failure to make available or deliver the Services in the time and manner provided for in this Contract.
REMEDIES
In addition to any and all other rights a party may have available according to law, if a party defaults by failing to substantially perform any provision, term or condition of this Contract (including without limitation the failure to make a monetary payment when due), the other party may terminate the Contract by providing written notice to the defaulting party. This notice shall describe with sufficient detail the nature of the default. The party receiving such notice shall have days from the effective date of such notice to cure the default(s). Unless waived by a party providing notice, the failure to cure the default(s) within such time period shall result in the automatic termination of this Contract.
Any controversies or disputes arising out of or relating to this Agreement will be submitted to mediation in accordance with any statutory rules of mediation. If mediation is not successful in resolving the entire dispute or is unavailable, any outstanding issues will be submitted to final and binding arbitration under the rules of the American Arbitration Association. The arbitrator's award will be final, and judgment may be entered upon it by any court having proper jurisdiction.
ENTIRE CONTRACT
This Contract contains the entire Contract of the parties, and there are no other promises or conditions in any other contract whether oral or written concerning the subject matter of this Contract. This Contract supersedes any prior written or oral agreements between the parties.
SEVERABILITY
If any provision of this Contract shall be held to be invalid or unenforceable for any reason, the remaining provisions shall continue to be valid and enforceable. If a court finds that any provision of this Contract is invalid or unenforceable, but that by limiting such provision it would become valid and enforceable, then such provision shall be deemed to be written, construed, and enforced as so limited.
AMENDMENT
This Contract may be modified or amended in writing, if the writing is signed by the party obligated under the amendment.
GOVERNING LAW
This Contract shall be governed by the laws of the .
NOTICE
Any notice or communication required or permitted under this Contract shall be sufficiently given if delivered in person or by certified mail, return receipt requested, to the address set forth in the opening paragraph or to such other address as one party may have furnished to the other in writing.
WAIVER OF CONTRACTUAL RIGHT
The failure of either party to enforce any provision of this Contract shall not be construed as a waiver of limitation of that party's right to subsequently enforce and compel strict compliance with every provision of this Contract.
ASSIGNMENT
Neither party may assign or transfer this Contract without the prior written consent of the non-assigning party, which approval shall not be unreasonably withheld.
SIGNATORIES.
This Agreement shall be signed by and , and by , .
Wedding Photography Contract FAQs
Does a photographer always need to use a Wedding Photography Contract?

Regardless of what type of work you plan to do, a Wedding Photography Contract is a good idea for every photographer. The following benefits might inform your decision:

The photographer and client both understand their responsibilities
There are no surprises about how long the engagement will last
Both parties know when payments are due

Anyone who decides against signing a Wedding Photographer Contract can anticipate issues like past due invoices and last-minute changes.

What details should a contract for wedding photography include?

Key details that you may find necessary to include in your Wedding Photography Contract are:

The contact information for the client
What kind of services will be delivered
How payment will be made
What the start and end dates are

The agreement will also contain typical legalese with regard to the independent work relationship between the parties, indemnity, and the method(s) of dispute resolution. During the process of making your agreement, you'll also have the ability to pick which state's jurisdiction it falls under. With the document tool, you are able to make more alterations, if needed. It will be important to include what kinds of shots will be taken and what the cost will be. In addition to deciding who owns the copyright and who will be responsible for any broken photography equipment, you should also consider a cancellation policy, in case the photographer or the client needs to cancel, and whether the photographer will receive a deposit.

What might I usually need to pay to have a wedding photography contract template made by a lawyer?

Luckily, you don't need to pay hundreds of dollars to get your agreement in writing. With the document tools on Rocket Lawyer, any photographer should feel empowered to make a Wedding Photography Contract for free today. Your agreement will be assembled step by step, as you answer simple questions to provide more details. Simply click on "Make document" above to begin.

If you have any particular hesitations or concerns about how to move forward, talk to an attorney . You should also feel free to explore our repository of legal documents for independent contractors .

Are there any additional steps that I will need to take next after creating my Wedding Photography Contract?

After completing this customized document on Rocket Lawyer, you'll have the ability to retrieve it on any device. Feel free to try any of these actions with your document: making edits, printing, downloading it as a PDF document or Word file, or adding signatures electronically via RocketSign®. Alongside each Wedding Photography Contract, there's a series of instructions on what you should do next. The client should receive a copy of your final contract.

Would Rocket Lawyer be able to check my Wedding Photography Agreement?

Depending on whom you ask, some lawyers may not even agree to review your contract if they weren't the person who drafted it. A better approach might be to request help from the Rocket Lawyer On Call® network. When you sign up for a Premium membership, you have the ability to ask for a document review from an attorney with experience in business or get answers to other questions about your Wedding Photography Agreement. We're here to support you.