MAKE YOUR FREE

Model Contract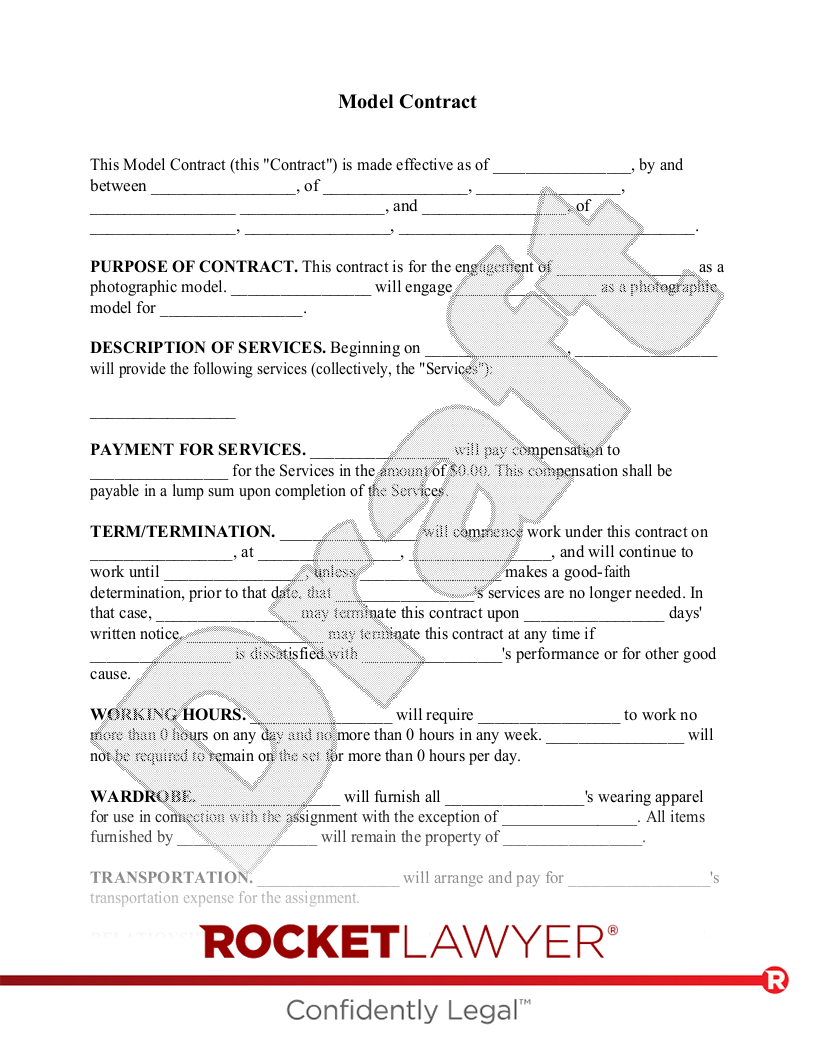 What is a Model Contract?
Models and their clients often use Model Contracts for the purpose of laying out the scope and payment terms for work that will be delivered. Making this essential contract can help both parties to avoid potential disputes ahead. More than a generic PDF template, any Model Agreement under a Premium membership also comes with optional access to Document Defense® support from an attorney when you need it.
When to use a Model Contract:
You're providing modeling services to an individual or business.
You're hiring a model for an event or another project.
Sample Model Contract
The terms in your document will update based on the information you provide
This document has been customized over 75.6K times
Legally binding and enforceable
Ask a lawyer questions about your document
Sign this document online for free with RocketSign®
Model Contract
This Model Contract (this "Contract") is made effective as of , by and between , of , , (hereinafter referred to as ""), and , of , , (hereinafter referred to as "").
PURPOSE OF CONTRACT. This contract is for the engagement of as a photographic model. will engage as a photographic model for .
DESCRIPTION OF SERVICES. Beginning on , will provide the following services (collectively, the "Services"):
PAYMENT FOR SERVICES. will pay compensation to for the Services in the amount of . This compensation shall be payable in a lump sum upon completion of the Services. no later than . . at a rate of per . in the amount of . Payments will be made as follows:
TERM/TERMINATION. will commence work under this contract on , at , , and will continue to work until , unless makes a good-faith determination, prior to that date, that 's services are no longer needed. In that case, may terminate this contract upon days' written notice. may terminate this contract at any time if is dissatisfied with 's performance or for other good cause.
WORKING HOURS. will require to work no more than hours on any day and no more than hours in any week. will not be required to remain on the set for more than hours per day.
WARDROBE. will furnish all 's wearing apparel for use in connection with the assignment with the exception of . All items furnished by will remain the property of .
TRANSPORTATION. will arrange and pay for 's transportation expense for the assignment.
RELATIONSHIP OF PARTIES. It is understood by the parties that is an independent contractor with respect to , and not an employee of . will not provide fringe benefits, including health insurance benefits, paid vacation, or any other employee benefit, for the benefit of .
WORK PRODUCT OWNERSHIP. Any copyrightable works, ideas, discoveries, inventions, patents, products, or other information (collectively, the "Work Product") developed in whole or in part by in connection with the Services shall be the exclusive property of . Upon request, shall sign all documents necessary to confirm or perfect the exclusive ownership of to the Work Product.
CONFIDENTIALITY. will not at any time or in any manner, either directly or indirectly, use for the personal benefit of , or divulge, disclose, or communicate in any manner any information that is proprietary to . will protect such information and treat it as strictly confidential. This provision shall continue to be effective after the termination of this Contract. Upon termination of this Contract, will return to all records, notes, documentation and other items that were used, created, or controlled by during the term of this Contract.
INJURIES. acknowledges 's obligation to obtain appropriate insurance coverage for the benefit of (and 's employees, if any). waives any rights to recovery from for any injuries that (and/or 's employees) may sustain while performing services under this Contract and that are a result of the negligence of or 's employees.
INDEMNIFICATION. agrees to indemnify and hold harmless from all claims, losses, expenses, fees including attorney fees, costs, and judgments that may be asserted against that result from the acts or omissions of , 's employees, if any, and 's agents.
ENTIRE AGREEMENT. This Contract contains the entire agreement of the parties, and there are no other promises or conditions in any other contract whether oral or written.
SEVERABILITY. If any provision of this Contract shall be held to be invalid or unenforceable for any reason, the remaining provisions shall continue to be valid and enforceable. If a court finds that any provision of this Contract is invalid or unenforceable, but that by limiting such provision it would become valid and enforceable, then such provision shall be deemed to be written, construed, and enforced as so limited.
APPLICABLE LAW. This Contract shall be governed by the laws of the State of Commonwealth of .
SIGNATORIES. This Agreement shall be signed on behalf of by , and on behalf of by , and effective as of the date first written above.
PARTY CONTRACTING SERVICES:
MODEL:
Final Checklist for Model Contract
Company:
Model:
Rocket Lawyer is the easy and affordable legal service for everyone -- giving you the legal help you need at a price you'll love. Our legal plans give families and businesses free legal documents, affordable access to licensed attorneys, plus a whole lot more.
Make It Legal
_____
The Model Contract should be signed by both parties and becomes effective as of the date specified in the Contract. This document can be e-signed. Using E-sign function will automatically send a signed copy of the Agreement to both parties and store it for future reference at RocketLawyer.com.
_____
Use the easy e-signature service to sign electronically without having to print, sign and deliver hard copies. Or, print and sign hard copies of your Contract. Have both the Parties sign and date the Model Contract in duplicate.
_____
If signing this Contract by hand, it is advisable to sign two copies of the so that each party will have a hard copy with original signatures.
_____ The parties should consider completing a Model Release using RocketLawyer.com. The Model Release will clarify the Model's understanding that all rights to the photos will remain those of the Service Recipient and not the Model.
Copies
Give a signed copy of the document to:
_____
_____
When to Consult a Lawyer
*
A lawyer should be consulted regarding any unique issues not addressed by this program. You can find a lawyer and share your document automatically for review at RocketLawyer.com.
Other Information
*
This document may be signed electronically (e-signed). If signing by hand, it is not necessary that the signatures be witnessed or notarized.
*
Make sure all attachments have been included. You should scan and upload a copy of any attachments to your Rocket Lawyer account using your Rocket Lawyer account to ensure you have a complete record of all documents involved in this transaction.
*
The Model Contract should only be used for a party who is an "independent contractor" with respect to the Service Recipient. If the arrangement between the parties conforms more closely to the characteristics of an employee/employer relationship, the Employment Agreement may be more appropriate.
Reasons to Update
*
Change in the conditions or terms of the Contract.
Members can always consult an attorney at no extra cost!
*
If you have quick questions or wish to review this document with an attorney, you can do so for free. Rocket Lawyer's On Call® service makes it fast and easy to speak with a local attorney. Get started by visiting the Find a Lawyer tab on our site, or calling (866) 243-2183.
Model Contract FAQs
Who should create Model Contracts?

Regardless of how few hours the modeling work will take, it is critical to capture the details of any agreements with the client in writing. Signing this document could be helpful for you due to these benefits:

Everyone knows when billing will happen
The model and client both understand their responsibilities
Timelines are established

Any model choosing not to use a Model Agreement should prepare for some issues, including unrealistic requests and late or unpaid invoices.

Do models sign contracts?

Yes, models do sign contracts. The three most common types of contracts that models sign are:

Exclusive Models can sign an exclusive contract to work with a single agency.
Non-exclusive Models can sign non-exclusive contracts to work with multiple agencies or other parties simultaneously.
One-time A model can sign contracts on a job-by-job basis with a single photographer or other client

What is a contract model?

A contract model is an individual who models under contract for a specific agency.

What details does a typical modeling contract template include?

Making a Model Contract with Rocket Lawyer is simple and easy. Specifics that you may want to cover are:

Your client's full name and address
What the modeling project will entail
Where will the photoshoot be held?
How much it will cost and when payment is due
What the duration of the engagement is

As usual, your contract will also include standard legal language regarding the independent work relationship, the protection of confidential information, and dispute resolution. While making your agreement, you'll also have the ability to choose its state of jurisdiction. More adjustments and edits are allowed, as needed.

How can I make a contract for modelling online?

Luckily, you will not have to start from scratch when getting your contract in writing. When using the document tools on Rocket Lawyer, any model should feel empowered to produce a free Model Contract online with relative ease. Your document will be assembled section by section, as you enter more details along the way. Normally, for this level of personalization, you could ultimately pay a conventional law firm fees in the hundreds of dollars, if not more.

If you've got any particular concerns or questions about how to move forward, you can connect with a lawyer . You may also wish to explore our entire collection of documents for small business owners and operators .

Would Rocket Lawyer be able to check my Model Contract?

Depending on whom you approach, some lawyers will not even accept requests to review your document if they didn't write it. An easier approach would be to request help from the Rocket Lawyer attorney network. By signing up for a Premium membership, you have the ability to request guidance from an experienced attorney or ask other questions about your Model Agreement. We are always available to answer any questions.

What are my next steps after making my Model Contract?

Attached to your Model Contract, you'll find a list of next steps to take after your document is completed. You also can engage with your contract in any of these ways: making edits, signing it by means of RocketSign®, saving it in PDF format or as a Word document, and/or printing it. Finally, the client should always receive copies of the final agreement.

How much do models get paid?

The amount models get paid varies significantly depending on experience, the specific project, and the type of work. Models can make anywhere from $32,000 to $600,000+ per year.